Saturday, December 5, 2015
Boston University Nets Final Three Goals To Defeat Vermont, 5-3
Sophomore defenseman Brandon Hickey scores game-winning goal for Terriers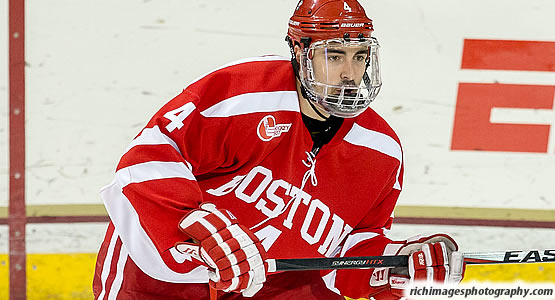 Sophomore defenseman Brandon Hickey scored the game-winning goal for the Terriers
| | | | | | | |
| --- | --- | --- | --- | --- | --- | --- |
| Prd | Time | Team | Score | Type | Scored By | Assists |
| 1st | 7:58 | VER | 1-0 | EV | Conor O'Neil (1) | Rob Darrar/1, Rob Hamilton/4 |
| 1st | 10:23 | VER | 2-0 | EV | Brendan Bradley (3) | Mario Puskarich/9 |
| 1st | 14:08 | BU | 1-2 | EV | Ahti Oksanen (8) | Jordan Greenway/4, Matt Lane/4 |
| 2nd | 0:32 | BU | 2-2 | EV | Danny O'Regan (5) | Jakob Forsbacka Karlsson/10, A.J. Greer/4 |
| 3rd | 10:45 | VER | 3-2 | EV | Anthony Petruzzelli (5) | - |
| 3rd | 16:31 | BU | 3-3 | EV | Matt Lane (6) | Jordan Greenway/5, Brandon Fortunato/9 |
| 3rd | 17:36 | BU | 4-3 | PP GW | Brandon Hickey (5) | Brandon Fortunato/10, Ahti Oksanen/7 |
| 3rd | 19:59.7 | BU | 5-3 | PP EN | Brandon Fortunato (4) | Matt Lane/5, Danny O'Regan/14 |
| | | | | |
| --- | --- | --- | --- | --- |
| Scoring | 1st | 2nd | 3rd | Final |
| Vermont | 2 | 0 | 1 | 3 |
| Boston University | 1 | 1 | 3 | 5 |
| | | | | |
| --- | --- | --- | --- | --- |
| Shots on Goal | 1st | 2nd | 3rd | SOG |
| Vermont | 12 | 9 | 6 | 27 |
| Boston University | 18 | 16 | 17 | 51 |
| | | | |
| --- | --- | --- | --- |
| Team Stats and Records | PP | PIM | SHGF |
| Vermont (4-10-2) | 0/3 | 5/21 | 0 |
| Boston University (8-5-3) | 2/5 | 3/6 | 0 |
| | | | | | | |
| --- | --- | --- | --- | --- | --- | --- |
| Vermont Goaltending | MIN | GA | 1 | 2 | 3 | Saves |
| Mike Santaguida | 56:31 | 3 | 17 | 15 | 9 | 41 |
| Pat Feeley (L, 0-1-0) | 2:59 | 1 | 0 | 0 | 5 | 5 |
| Empty Net | 0:30 | 1 | | | | |
| | | | | | | |
| --- | --- | --- | --- | --- | --- | --- |
| Boston University Goaltending | MIN | GA | 1 | 2 | 3 | Saves |
| Connor LaCouvee (W, 6-2-3) | 59:57 | 3 | 10 | 9 | 5 | 24 |
| Empty Net | 0:03 | 0 | | | | |
BOSTON - A late rally lifted the No. 11/12 Boston University men's ice hockey team to a 5-3 win over Vermont on Saturday afternoon at Agganis Arena, securing a weekend split with the Catamounts.
Senior Matt Lane scored to make it a 3-3 affair with 3:29 remaining in regulation and sophomore Brandon Hickey provided the go-ahead goal on a major power play.
Sophomore Brandon Fortunato, who assisted on the game-tying and and game-winning tallies, added an empty-netter in the final second to make it a 5-3 final.
Lane had a pair of assists for a career-best three points while Fortuanto's three-piont effort matched a career high. Seniors Danny O'Regan and Ahti Oksanen each registered a goal and an assist.
BU improves to 8-5-3 overall and 4-3-2 in Hockey East play. The Catamounts fall to 4-10-2 with a 3-5-2 league mark.
Vermont got early goals from freshman Conor O'Neil and junior Brendan Bradley, but the Terriers were able to erase the 2-0 deficit with tallies by Oksanen and O'Regan.
Vermont sophomore Anthony Petruzzelli but the visitors back up by a goal at 3-2 midway through the third when he capitalized off a BU turnover.
BU recorded a season-high 51 shots and sophomore Connor LaCouvee stopped 24 of Vermont's 27 shots in the game to pick up his sixth win in goal.
The Terriers will return to action on Friday when they kick off a Connecticut road trip with a visit to No. 10 Yale. Game time at Ingalls Rink is set for 7 p.m.