Saturday, January 9, 2016
Maine Defeated By Colgate, 5-1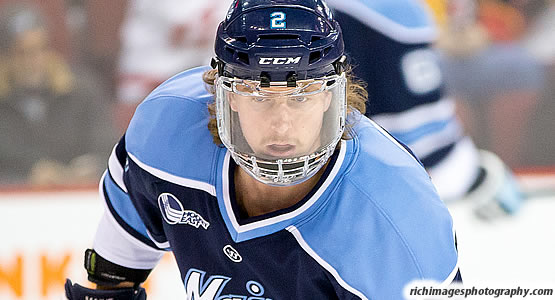 Junior defenseman Dan Renouf scored a goal for the Black Bears
| | | | | | | |
| --- | --- | --- | --- | --- | --- | --- |
| Prd | Time | Team | Score | Type | Scored By | Assists |
| 1st | 17:17 | CLG | 1-0 | PP | Darcy Murphy (5) | Tyson Spink/12, Tylor Spink/13 |
| 2nd | 3:53 | MNE | 1-1 | EV | Dan Renouf (5) | Dane Gibson/1 |
| 2nd | 5:39 | CLG | 2-1 | EV GW | Jake Kulevich (3) | Tyson Spink/13, Mike Borkowski/3 |
| 3rd | 5:26 | CLG | 3-1 | PP | Mike Borkowski (9) | Tylor Spink/14, Tyson Spink/14 |
| 3rd | 8:28 | CLG | 4-1 | EV | Evan Peterson (5) | Adam Dauda/2, Jake Kulevich/5 |
| 3rd | 10:12 | CLG | 5-1 | EV | Tylor Spink (4) | Tyson Spink/15, Tim Harrison/3 |
| | | | | |
| --- | --- | --- | --- | --- |
| Scoring | 1st | 2nd | 3rd | Final |
| Colgate | 1 | 1 | 3 | 5 |
| Maine | 0 | 1 | 0 | 1 |
| | | | | |
| --- | --- | --- | --- | --- |
| Shots on Goal | 1st | 2nd | 3rd | SOG |
| Colgate | 12 | 7 | 9 | 28 |
| Maine | 3 | 14 | 12 | 29 |
| | | | |
| --- | --- | --- | --- |
| Team Stats and Records | PP | PIM | SHGF |
| Colgate (6-14-1) | 2/3 | 5/10 | 0 |
| Maine (5-12-4) | 0/5 | 3/6 | 0 |
| | | | | | | |
| --- | --- | --- | --- | --- | --- | --- |
| Colgate Goaltending | MIN | GA | 1 | 2 | 3 | Saves |
| Zac Hamilton (W, 1-0-0) | 60:00 | 1 | 3 | 13 | 12 | 28 |
| | | | | | | |
| --- | --- | --- | --- | --- | --- | --- |
| Maine Goaltending | MIN | GA | 1 | 2 | 3 | Saves |
| Matt Morris (L, 4-4-2) | 58:45 | 5 | 11 | 6 | 6 | 23 |
| Empty Net | 1:15 | 0 | | | | |
ORONO, Maine -- The University of Maine Men's Ice Hockey team falls to Colgate Saturday night 5-1 at Alfond Arena.
With the loss, Maine drops to 5-12-4 on the season while Colgate improves to 6-14-1.
Matt Morris received the start in goal for Maine and Zac Hamilton started for Colgate in net.
Colgate had two power play opportunities in the first period and opened with an aggressive offensive attack. The Raiders were able to convert on one of the power play opportunities 17:17 into the first, Darcy Murphy scored off of assists from Tyson and Tyler Spink. Colgate held a 1-0 advantage heading into the first intermission.
Maine was outshot 12-3 in the first.
The Black Bears tied the game, Dan Renouf shot a laser over the left glove side of Hamilton to bring the score 1-1.
Colgate responded two minutes later, Jake Kuelvich scored to give the Raiders a 2-1 lead. Maine outshot Colgate 14-7 in the second period.
After hooking penalty on Maine, Colgate capitalized for their second power play goal of the game. Mike Borkowski gave the Raiders a 3-1 advantage.
Three minutes later, Colgate scored again for their fourth goal of the game from Evan Peterson for a 4-1 lead.
Tylor Spink scored the fifth Colgate goal which was his third point scored of the night and his brother Tyson had the assist which was his fourth point scored of the game to give Colgate a commanding 5-1 lead.
Maine pulled Matt Morris with 1:15 remaining in the third but were unable to score another goal.
Matt Morris finished with 23 saves and Zac Hamilton had 28.
The Black Bears return to action January 15 as they host Hockey East opponent UCONN, puck drop is at 7:00 p.m.