Saturday, November 28, 2015
Northeastern Rolls Past Colgate, 7-1, At Friendship Four
Junior forward Ryan Rosenthal and senior forward Mike McMurtry each register three points for Huskies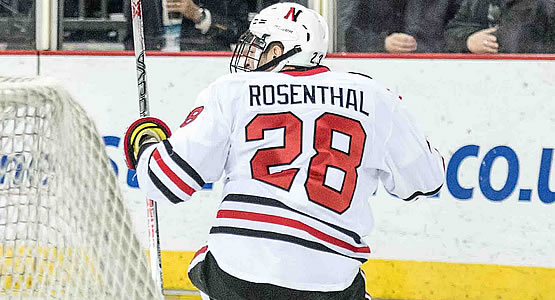 Junior forward Ryan Rosenthal had a goal and two assists for the Huskies
| | | | | | | |
| --- | --- | --- | --- | --- | --- | --- |
| Prd | Time | Team | Score | Type | Scored By | Assists |
| 1st | 8:24 | NOE | 1-0 | EV | Zach Aston-Reese (3) | Colton Saucerman/3, Nolan Stevens/4 |
| 1st | 13:45 | CLG | 1-1 | PP | Willie Brooks (1) | Tylor Spink/8, Tyson Spink/7 |
| 2nd | 3:31 | NOE | 2-1 | EV GW | Brendan Collier (2) | Mike McMurtry/2, Matt Benning/3 |
| 2nd | 4:08 | NOE | 3-1 | EV | Ryan Rosenthal (2) | Mike McMurtry/3, Garret Cockerill/3 |
| 2nd | 7:27 | NOE | 4-1 | EV | Brendan Collier (3) | Ryan Rosenthal/2, Mike McMurtry/4 |
| 2nd | 17:20 | NOE | 5-1 | EV | Zach Aston-Reese (4) | Patrick Schule/1, Eric Williams/4 |
| 2nd | 19:16 | NOE | 6-1 | EV | Nolan Stevens (5) | John Stevens/4 |
| 3rd | 14:04 | NOE | 7-1 | EV | Mike McMurtry (1) | Ryan Rosenthal/3 |
| | | | | |
| --- | --- | --- | --- | --- |
| Scoring | 1st | 2nd | 3rd | Final |
| Colgate | 1 | 0 | 0 | 1 |
| Northeastern | 1 | 5 | 1 | 7 |
| | | | | |
| --- | --- | --- | --- | --- |
| Shots on Goal | 1st | 2nd | 3rd | SOG |
| Colgate | 3 | 5 | 4 | 12 |
| Northeastern | 11 | 9 | 10 | 30 |
| | | | |
| --- | --- | --- | --- |
| Team Stats and Records | PP | PIM | SHGF |
| Colgate (4-10-1) | 1/2 | 6/12 | 0 |
| Northeastern (2-11-2) | 0/6 | 2/4 | 0 |
| | | | | | | |
| --- | --- | --- | --- | --- | --- | --- |
| Colgate Goaltending | MIN | GA | 1 | 2 | 3 | Saves |
| Charlie Finn (L, 4-10-1) | 40:00 | 6 | 10 | 4 | 0 | 14 |
| Bruce Racine | 20:00 | 1 | 0 | 0 | 9 | 9 |
| | | | | | | |
| --- | --- | --- | --- | --- | --- | --- |
| Northeastern Goaltending | MIN | GA | 1 | 2 | 3 | Saves |
| Derick Roy (W, 2-3-1) | 59:55 | 1 | 2 | 5 | 4 | 11 |
| Empty Net | 0:05 | 0 | | | | |
BELFAST - A five-goal second period, along with a pair of goals from both Brendan Collier and Zach Aston-Reeseset the tone for the Northeastern men's ice hockey team, which blew past Colgate in the consolation game of the Friendship Four on Saturday in Belfast, Northern Ireland, 7-1.
With the score tied at one through 20 minutes, NU came out and dominated play during the second period to take control of the game. Mike McMurtry had a strong night for the Huskies, tallying one goal and two assists, while Derick Roy made 11 saves in his first action since Oct. 31.
NU outshot Colgate 30-12 in the game and won 19-of-48 faceoffs. Ryan Rosenthal and Nolan Stevens also scored for the Huskies, whose seven goals are a season-high.
Goal descriptions:
- Northeastern jumped out to a 1-0 lead with 11:36 to play in the first period as Aston-Reese, positioned atop the crease, was able to deflect a shot from Nolan Stevens that beat Finn five-hole.
- Colgate struck back on its lone power play of the first period as Willie Brooks fired a low one-timer from the point off the right post and in off a feed from Tyson Spink.
- Collier got the Huskies started during a wild second period, scoring the first of five goals in the middle frame when he took a pass from Mike McMurtry in the neutral zone, sped through a couple of Raider defenders before tucking a shot past Finn five-hole.
- Ryan Rosenthal gave Northeastern a 3-1 advantage just 29 seconds later, finishing off a strong play from NU before Rosenthal knocked the puck off a Colgate defenseman and past Finn for Rosenthal's second of the year.
- Collier buried his second of the afternoon with 12:33 to play in the second period following some tic-tac-toe passing from the Huskies. McMurtry began the play by finding Rosenthal between the hashmarks before Rosenthal took a big hit to make a play down to Collier near the crease, and Collier did the rest to best Finn low for a 4-1 Northeastern lead.
- Not to be outdone, Aston-Reese tacked on his second of the game with 2:40 left in the stanza as he banged home a rebound off a shot from Patrick Schule, giving NU a commanding 5-1 advantage.
- The Huskies then capitalized on a Colgate turnover in the final minute of the second period as John Stevenspounced on a clearing attempt before finding his brother Nolan in the slot, and Nolan went bar down on Finn for his fifth of the year.
- McMurtry would get one of his own with 5:56 remaining in regulation, burying his first of the season off a pass from Rosenthal, beating Bruce Racine top shelf. The road ahead:
Northeastern will be back in action on Saturday when the Huskies travel to No. 2/2 Boston College for a 7 p.m. puck drop at Conte Forum. The teams will then travel across town to Matthews Arena for a Sunday matinee at 4 p.m.