Saturday, February 20, 2016
Northeastern Earns Weekend Sweep With 4-1 Win Over UConn
Freshman goaltender Ryan Ruck makes 23 saves for Huskies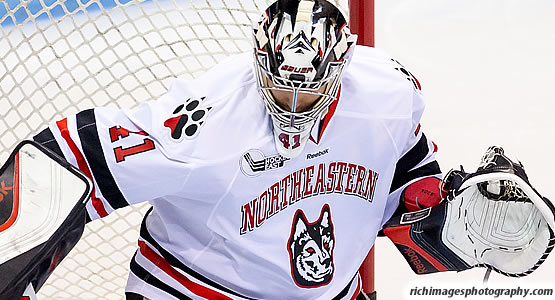 Freshman goaltender Ryan Ruck made 23 saves for the Huskies
| | | | | | | |
| --- | --- | --- | --- | --- | --- | --- |
| Prd | Time | Team | Score | Type | Scored By | Assists |
| 2nd | 6:21 | NOE | 1-0 | PP | Garret Cockerill (7) | Dylan Sikura/12, Colton Saucerman/9 |
| 2nd | 7:14 | NOE | 2-0 | PP GW | Nolan Stevens (15) | Adam Gaudette/14, John Stevens/16 |
| 2nd | 19:24 | CON | 1-2 | PP | Patrick Kirtland (7) | Tage Thompson/16, Maxim Letunov/21 |
| 3rd | 4:22 | NOE | 3-1 | EV | Sam Kurker (6) | Kevin Roy/10, Matt Benning/10 |
| 3rd | 18:24 | NOE | 4-1 | EV EN | Kevin Roy (4) | John Stevens/17 |
| | | | | |
| --- | --- | --- | --- | --- |
| Scoring | 1st | 2nd | 3rd | Final |
| Connecticut | 0 | 1 | 0 | 1 |
| Northeastern | 0 | 2 | 2 | 4 |
| | | | | |
| --- | --- | --- | --- | --- |
| Shots on Goal | 1st | 2nd | 3rd | SOG |
| Connecticut | 7 | 8 | 9 | 24 |
| Northeastern | 7 | 16 | 10 | 33 |
| | | | |
| --- | --- | --- | --- |
| Team Stats and Records | PP | PIM | SHGF |
| Connecticut (9-19-4) | 1/2 | 5/13 | 0 |
| Northeastern (14-13-5) | 2/5 | 4/8 | 0 |
| | | | | | | |
| --- | --- | --- | --- | --- | --- | --- |
| Connecticut Goaltending | MIN | GA | 1 | 2 | 3 | Saves |
| Rob Nichols (L, 7-16-2) | 59:24 | 3 | 7 | 14 | 8 | 29 |
| Empty Net | 0:36 | 1 | | | | |
| | | | | | | |
| --- | --- | --- | --- | --- | --- | --- |
| Northeastern Goaltending | MIN | GA | 1 | 2 | 3 | Saves |
| Ryan Ruck (W, 12-10-4) | 60:00 | 1 | 7 | 7 | 9 | 23 |
BOSTON - The Northeastern men's ice hockey team (14-13-5, 8-8-4) scored two power play goals in less than a minute in the second period and received 23 saves from Ryan Ruck to complete the weekend sweep of Connecticut (9-19-4, 4-12-4) on Saturday night at Matthews Arena, 4-1.
The win locks the Huskies into sixth place in the Hockey East standings, and Northeastern will host a best-of-three first round series at Matthews Arena the weekend of March 4-6. NU is unbeaten in 14 of its last 15 games (12-1-2), and is unbeaten in its last nine conference games (8-0-1), which catapulted the Huskies from 12th place to sixth in a span of six weeks.
After a scoreless first period, NU went on a five-minute power play after Derek Pratt was sent off for interference. There, the Huskies potted a pair of goals in 53 seconds from Garret Cockerill and Nolan Stevens to take a 2-0 lead and never looked back. Sam Kurker and Kevin Roy also scored for Northeastern, while Patrick Kirtland scored for UConn and Rob Nichols made 29 saves.
Northeastern outshot UConn 33-24 in the game, while face-offs were level at 28 apiece. NU converted on two of its five power play opportunities while UConn was held to an 0-of-2 showing.
Goal descriptions:
- Northeastern drew first blood while on a five-minute power play to take a 1-0 lead as Cockerill netted his seventh of the year. With NU controlling the puck in the attacking zone, Dylan Sikura slid the puck across to Cockerill at the point. Cockerill then patiently held the puck while the Huskies formed a screen, and then ripped a shot top shelf for the score.
- NU struck again just 53 seconds later on Nolan Stevens' team-leading 15th goal of the season, finishing off some pretty passing by the Huskies. Still on the man advantage, John Stevens collected the puck at the point before threading a pass down to Adam Gaudette at the goal line. Gaudette then quickly sent the puck into the slot where Nolan, crashing the net, hammered it home to make it 2-0.
- Connecticut cut the deficit in half with 36 seconds to play in the second period on Kirtland's seventh of the year. After Tage Thompson fired a one-timer from the point off a feed from Max Letunov, Kirtland sped towards the rebound and buried it past Ruck to make it 2-1.
- Northeastern answered less than five minutes into the third period on Kurker's sixth goal of the year, taking a cross-ice feed from Kevin Roy off an outlet feed from Matt Benning and flinging a shot from the right side that snuck through the pads of Nichols to extend the NU lead to 3-1.
- After Connecticut pulled Nichols in favor of the extra attacker, Roy put NU up for good with an empty net goal, taking a pass from John Stevens and depositing it into the net for his fourth of the year.
Stats of the game:
- Northeastern is now 6-0-0 all-time against Connecticut
- NU will host a first round playoff series for the second straight season, and is locked into the No. 6 seed in the conference standings. It marks the eighth time that the Huskies have hosted a Hockey East playoff series.
- NU is unbeaten in 14 of its last 15 games (12-1-2), and unbeaten in each of its last nine conference games (8-0-1). The Huskies haven't lost a league game since Dec. 6 against No. 2/3 Boston College, and has earned sweeps of its opponents in each of its last four weekend Hockey East series.
- The win also moves Northeastern above .500 (14-13-5) for the first time since opening night against No. 20 Colgate (Oct. 10).
- Ruck is 12-1-2 in his last 15 starts with a 1.52 goals against average and .937 save percentage in that span. He has allowed two goals or fewer in each of his last 13 starts.
- Roy is now 20th all-time in career scoring at Northeastern with 138 points (59 goals, 79 assists), tied for 26th all-time in goals and tied for 19th all-time in career assists with Sebastian Leplante. He extended his point streak to five games on Saturday night (four goals, three assists).
- Cockerill extended his point streak to a career-long five games (three goals, four assists), while John Stevens (five games; eight assists) and Nolan Stevens (five games; four goals, five assists) also extended point streaks.
- The Huskies have scored at least one power play goal in each of the last six games.
The road ahead:
- Northeastern will stay at home next weekend as the Huskies host Maine for a pair of games at Matthews Arena, beginning Friday night at 7 p.m.