Friday, February 12, 2016
Hawkey, Providence Shut Out UConn, 4-0
Freshman goalie Hayden Hawkey stops 24 shots for Friars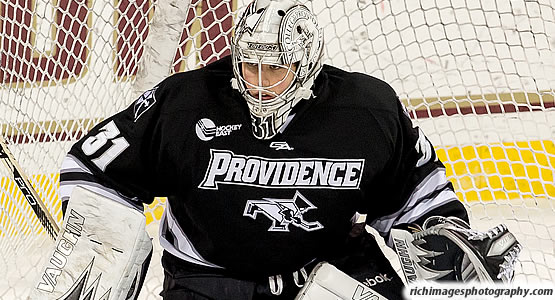 Freshman goaltender Hayden Hawkey made 24 saves for the Friars
| | | | | | | |
| --- | --- | --- | --- | --- | --- | --- |
| Prd | Time | Team | Score | Type | Scored By | Assists |
| 1st | 13:08 | PRV | 1-0 | EV GW | Brian Pinho (7) | Kyle McKenzie/6 |
| 1st | 15:55 | PRV | 2-0 | EV | Mark Jankowski (13) | Erik Foley/9 |
| 1st | 18:25 | PRV | 3-0 | PP | Brian Pinho (8) | Erik Foley/10, Brandon Tanev/11 |
| 3rd | 6:12 | PRV | 4-0 | EV | Brandon Tanev (11) | Nick Saracino/16, Kyle McKenzie/7 |
| | | | | |
| --- | --- | --- | --- | --- |
| Scoring | 1st | 2nd | 3rd | Final |
| Connecticut | 0 | 0 | 0 | 0 |
| Providence | 3 | 0 | 1 | 4 |
| | | | | |
| --- | --- | --- | --- | --- |
| Shots on Goal | 1st | 2nd | 3rd | SOG |
| Connecticut | 8 | 6 | 10 | 24 |
| Providence | 17 | 14 | 14 | 45 |
| | | | |
| --- | --- | --- | --- |
| Team Stats and Records | PP | PIM | SHGF |
| Connecticut (9-16-4) | 0/6 | 10/31 | 0 |
| Providence (20-5-4) | 1/8 | 8/27 | 0 |
| | | | | | | |
| --- | --- | --- | --- | --- | --- | --- |
| Connecticut Goaltending | MIN | GA | 1 | 2 | 3 | Saves |
| Rob Nichols (L, 7-13-2) | 60:00 | 4 | 14 | 14 | 13 | 41 |
| | | | | | | |
| --- | --- | --- | --- | --- | --- | --- |
| Providence Goaltending | MIN | GA | 1 | 2 | 3 | Saves |
| Hayden Hawkey (W, 2-0-0) | 60:00 | 0 | 8 | 6 | 10 | 24 |
PROVIDENCE, R.I. - Freshman Hayden Hawkey notched his first career shutout and Brian Pinho tallied two goals as the fifth-ranked Providence College men's hockey team blanked UConn, 4-0, on Friday night at Schneider Arena.
The Friars secure their third consecutive 20-win season (20-5-4) and improve to 11-3-3 in Hockey East play, good for third-place in the league standings. The Huskies drop to 9-16-4 (4-9-4 HEA), while goaltender Rob Nichols made 41 saves in his return from injury
Hawkey (Parker, Colo.) turned away 24 shots in his second career start to improve to 2-0-0.
Brian Pinho (North Andover, Mass.) scored his seventh goal of the season to give the Friars the lead at 13:08 of the first. Kyle McKenzie (Aston, Pa.) caused a turnover and fed Pinho, who crossed the blue line on a two-on-one and snapped a shot over the glove of Nichols.
Mark Jankowski (Dundas, Ontario) extended the Friar lead to 2-0 less than three minutes later. Jankowski one-timed the puck into an open net after Erik Foley (Mansfield, Mass.) slid the puck across the slot. Jankowski moved into a tie for the team-lead in goals with Jake Walman (13) and moved to 99 career points.
Pinho scored his second of the game on the power play with 1:35 remaining in the first period. Foley passed the puck behind the net to Brandon Tanev (Toronto, Ontario) who fed Pinho crashing the net and chipped it over UConn's Rob Nichols' left pad.
Providence finished the first period with a three-goal lead and outshooting Connecticut, 17-8.
The second period saw eight combined penalties between the teams, but nothing to show for it on the scoreboard as both teams successfully killed five-minute majors.
At 6:12 in the third period, Brandon Tanev scored the Friars' fourth goal of the game. McKenzie and Nick Saracino (St. Louis, Mo.) broke the puck out to Tanev who took the puck into the offensive zone on a one-on-one and threw a bouncing puck at the net that beat Nichols.
Four different Friars registered multi-point games, while the team attempted a season-high 89 shots.
Providence will finish the home-and-home series at the XL Center in Hartford, Conn. at 5:05 p.m on Saturday, Feb. 13.
HOW THEY SCORED
1-0 (PC) Goal scored by Brian Pinho (McKenzie): wrist shot from the top of circle, short side top corner
2-0 (PC) Goal scored by Mark Jankowski (Foley): pass across the slot to Jankowski for a one -timer into the open net.
3-0 (PC) Power Play Goal scored by Brian Pinho (Foley, Tanev): chipped in along the crease with Tanev's pass coming from behind the net.
4-0 (PC) Goal scored by Brandon Tanev (Saracino, McKenzie): fast break, bouncing puck through five-hole.
NOTES
Providence has now won 20 games for the third straight season, a feat accomplished only two other times ... Jankowski now sits one point shy of 100 for his career ... Head Coach Nate Leaman recorded his 99th victory at Providence ... Providence has now outscored opponents 41-12 in first periods ... freshman Erik Foley posted his third multi-point game this season and second in as many games ... Foley, Tanev, Pinho, and McKenzie all notched multi-point games ... Pinho recorded his first career two-goal game ... the Friars have registered 80-plus shot attempts in three of their last four games ... Power Plays: Providence - 1/8, Connecticut 0/6 ... official shots on goal: Providence 45, Connecticut 24 ... Attendance: 3,033.