Tuesday, January 26, 2016
UConn Defeated By Sacred Heart, 7-4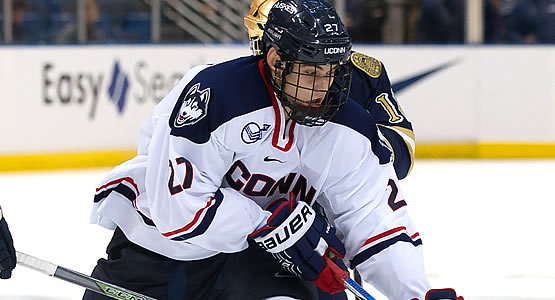 Freshman forward Max Letunov scored two goals for the Huskies
| | | | | | | |
| --- | --- | --- | --- | --- | --- | --- |
| Prd | Time | Team | Score | Type | Scored By | Assists |
| 1st | 0:18 | SAC | 1-0 | EV | Evan Jasper (7) | Justin Danforth/14, Connor Doherty/5 |
| 1st | 0:29 | SAC | 2-0 | EV | Zach Luczyk (7) | Alec Butcher/17, Liam Clare/6 |
| 1st | 4:21 | CON | 1-2 | EV | Maxim Letunov (12) | Jesse Schwartz/7, Karl El-Mir/1 |
| 1st | 8:50 | SAC | 3-1 | SH | Justin Danforth (14) | - |
| 1st | 9:04 | CON | 2-3 | PP | Maxim Letunov (13) | Tage Thompson/11 |
| 2nd | 12:15 | CON | 3-3 | EV | Spencer Naas (6) | Johnny Austin/7, Tage Thompson/12 |
| 2nd | 14:27 | SAC | 4-3 | EV | Justin Danforth (15) | Jordan Minello/9 |
| 2nd | 15:28 | SAC | 5-3 | EV GW | Jeff Carroll (1) | Adam Durkee/1, Coltyn Hansen/3 |
| 3rd | 7:47 | SAC | 6-3 | PP | Mitch Nylen (3) | Zach Luczyk/11, Justin Danforth/15 |
| 3rd | 11:07 | CON | 4-6 | EV | Shawn Pauly (5) | Evan Richardson/5, Patrick Kirtland/8 |
| 3rd | 18:34 | SAC | 7-4 | EV EN | Jeff Carroll (2) | Coltyn Hansen/4, Adam Durkee/2 |
| | | | | |
| --- | --- | --- | --- | --- |
| Scoring | 1st | 2nd | 3rd | Final |
| Sacred Heart | 3 | 2 | 2 | 7 |
| Connecticut | 2 | 1 | 1 | 4 |
| | | | | |
| --- | --- | --- | --- | --- |
| Shots on Goal | 1st | 2nd | 3rd | SOG |
| Sacred Heart | 11 | 11 | 10 | 32 |
| Connecticut | 9 | 5 | 11 | 25 |
| | | | |
| --- | --- | --- | --- |
| Team Stats and Records | PP | PIM | SHGF |
| Sacred Heart (10-13-3) | 1/3 | 6/12 | 1 |
| Connecticut (8-15-3) | 1/6 | 3/6 | 0 |
| | | | | | | |
| --- | --- | --- | --- | --- | --- | --- |
| Sacred Heart Goaltending | MIN | GA | 1 | 2 | 3 | Saves |
| Brett Magnus (W, 10-11-3) | 59:58 | 4 | 7 | 4 | 10 | 21 |
| Empty Net | 0:02 | 0 | | | | |
| | | | | | | |
| --- | --- | --- | --- | --- | --- | --- |
| Connecticut Goaltending | MIN | GA | 1 | 2 | 3 | Saves |
| Tanner Creel (L, 1-2-1) | 58:50 | 6 | 8 | 9 | 8 | 25 |
| Empty Net | 1:10 | 1 | | | | |
HARTFORD, Conn. - UConn freshman Max Letunov (Moscow, Russia) scored a pair of goals to add to his team leading total but Sacred Heart University scored a season-high seven goals on the way to a 7-4 win over the Huskies at the XL Center Tuesday night. The Pioneers got a four point night from junior Justin Danforth who scored twice and assisted on two more in the win.
The non-conference loss drops the Huskies to 8-15-3 overall on the season while SHU improved to 10-13-3. The Pioneers also got a pair of goals from junior Jeff Carroll and a goal and an assist from senior Zach Luczyk.
UConn's Letunov scored twice in the first period to extend his point streak to six-straight games. He has notched at least a point in 14 of the last 15 games and has now scored a goal in the last four. The freshman leads the team with 13 goals and 29 points on the year.
Sacred Heart jumped out to a 2-0 lead just 29 seconds into the game and never looked back. Off the opening face-off, UConn got a solid scoring chance as Tage Thompson (Orange, Conn.) broke through on a break-away but was denied. The puck took a funny bounce and just as quickly as Thompson got a chance the Pioneers were up ice on a two-on-one chance. Danforth fed a perfect pass to Evan Jasper for a one-timer and a 1-0 lead just 18 seconds in.
On the game's next shift, SHU got another odd-man rush and Luczyk was able to bury a feed from Alec Butcher and the Pioneers had a 2-0 lead 29 seconds in, before many fans had a chance to settle in. UConn's Letunov cut the lead in half at 4:21, taking a feed from Jesse Schwartz (Toronto, Ontario) out of the corner and one-timing the puck home from right in front.
The Huskies first power play came at 8:42 of the first but the Pioneers needed just eight seconds to score shorthanded as Danforth caused a turnover at the blue line and broke up ice on a break-away, beating UConn goaltender Tanner Creel (Arlington Heights, Ill.) for his first and a 3-1 lead.
UConn got their second power play at 12:34 and Letunov notched his second of the night, cutting the lead to 3-2 at 9:04. Thompson fed his classmate with a cross ice pass to the left post and Letunov buried it for his 13th on the season. The Huskies pulled the game even at 12:15 in the second period as sophomore Spencer Naas (Minnetonka, Minn.) got a deflection in front of a Johnny Austin (St. Louis Park, Minn.) shot from the point, his sixth goal of the season.
SHU responded just over two minutes later and posted back-to-back goals in a span of 1:01 to take back control of the game. Danforth scored his second at 14:27 and Carroll scored his first of the night at 15:28, blasting a shot from the right wing that tucked right under the crossbar.
The Pioneers pushed their lead to 6-3 at 7:47 in the third, as Mitch Nylen scored on a rebound. UConn's Shawn Pauly cut the deficit back to two with a redirect goal on an Evan Richardson (Nanaimo, British Columbia) shot at 11:07 but that was a close as UConn would get. Carroll added an empty netter at 18:34.
The Huskies finished 1-for-6 on the power play and on the penalty kill, allowed their first goal in seven games, a streak of 21-straight kills.
UConn will be off until next Tuesday, February 1st when they play host to Brown University in their final non-conference home game of the season.