Saturday, February 20, 2016
Perez Lifts Maine To 3-2 Overtime Win Over Merrimack
Freshman forward Daniel Perez scores 1:49 into overtime for Black Bears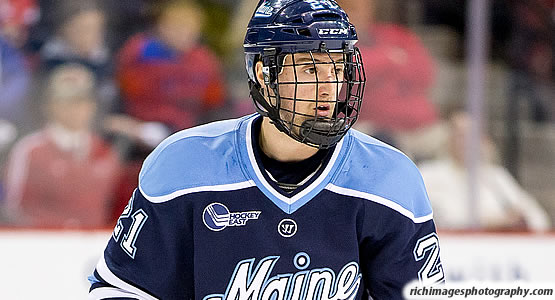 Junior forward Cam Brown scored a goal for the Black Bears
| | | | | | | |
| --- | --- | --- | --- | --- | --- | --- |
| Prd | Time | Team | Score | Type | Scored By | Assists |
| 3rd | 8:48 | MNE | 1-0 | EV | Steven Swavely (9) | Will Merchant/8 |
| 3rd | 14:13 | MNE | 2-0 | PP | Cam Brown (6) | Andrew Tegeler/10, Conor Riley/4 |
| 3rd | 18:17 | MER | 1-2 | EV EA | Chris LeBlanc (5) | Derek Petti/7, Brett Seney/18 |
| 3rd | 19:38 | MER | 2-2 | EV EA | Brett Seney (8) | Jared Kolquist/12 |
| OT | 1:49 | MNE | 3-2 | EV GW | Daniel Perez (2) | Rob Michel/8, Nolan Vesey/3 |
| | | | | | |
| --- | --- | --- | --- | --- | --- |
| Scoring | 1st | 2nd | 3rd | OT | Final |
| Merrimack | 0 | 0 | 2 | 0 | 2 |
| Maine | 0 | 0 | 2 | 1 | 3 |
| | | | | | |
| --- | --- | --- | --- | --- | --- |
| Shots on Goal | 1st | 2nd | 3rd | OT | SOG |
| Merrimack | 8 | 8 | 6 | 1 | 23 |
| Maine | 11 | 7 | 11 | 4 | 33 |
| | | | |
| --- | --- | --- | --- |
| Team Stats and Records | PP | PIM | SHGF |
| Merrimack (9-16-7) | 0/2 | 5/10 | 0 |
| Maine (8-20-6) | 1/5 | 2/4 | 0 |
| | | | | | | | |
| --- | --- | --- | --- | --- | --- | --- | --- |
| Merrimack Goaltending | MIN | GA | 1 | 2 | 3 | OT | Saves |
| Drew Vogler (L, 1-4-1) | 60:32 | 3 | 11 | 7 | 9 | 3 | 30 |
| Empty Net | 1:17 | 0 | | | | | |
| | | | | | | | |
| --- | --- | --- | --- | --- | --- | --- | --- |
| Maine Goaltending | MIN | GA | 1 | 2 | 3 | OT | Saves |
| Rob McGovern (W, 2-11-3) | 61:49 | 2 | 8 | 8 | 4 | 1 | 21 |
ORONO, Maine -- The University of Maine men's ice hockey team defeated Merrimack 3-2 in overtime to send seniors: Will Merchant, Bill Norman, Conor Riley, Steven Swavely and Andrew Tegeler away victorious for their last game at Alfond Arena on Senior Night.
With Maine's win, the Black Bears improve to 8-20-6 overall and 5-13-2 in Hockey East. Merrimack falls to 9-16-7 on the season and 3-10-7 in Hockey East.
Rob McGovern started in net for Maine and Drew Vogler started for Merrimack.
Mcgovern and Vogler held both offenses scoreless through three periods of play. Up until that point Maine had been outshooting Merrimack 18-16 heading into the third period.
Senior captain Steven Swavely scored the first goal of the game, 8:48 into the third from fellow senior Will Merchant to give Maine a 1-0 advantage.
Merrimack was whistled for an interference penalty 12:36 into the period. Maine capitalized on the power play opportunity with a power play goal by Cam Brown assisted by seniors Andrew Tegeler and Conor Riley. Maine increased their lead, 2-0.
With less than two minutes remaining in the game Merrimack pulled Vogler for the extra attacker. Seconds later, Chris LaBlanc scored Merrimack's first of the night to cut the lead 2-1 Maine.
The Warriors continued with the extra attacker and scored the equalizer with :22 seconds remaining in the game 2-2.
In overtime, Rob Michel fired a shot on net and Daniel Perez tipped in the puck for the game winner, his second goal of the season for a Maine win 3-2.
Rob McGovern finished with 21 saves, Drew Vogler had 30 saves on the night.
The Black Bears return to action next weekend as they travel to Northeastern for a weekend series starting on Feb. 26.