Providence College Upends Merrimack College, 3-1
Freshman forward Erik Foley scores game winner for Friars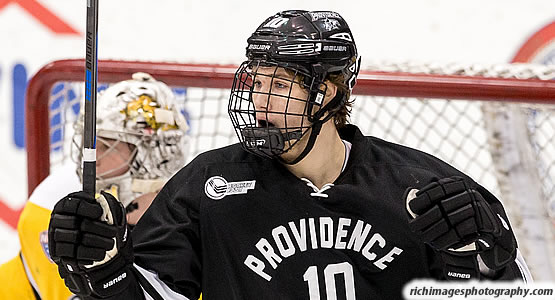 Senior forward Mark Jankowski had two assists for the Friars
| | | | | | | |
| --- | --- | --- | --- | --- | --- | --- |
| Prd | Time | Team | Score | Type | Scored By | Assists |
| 1st | 6:26 | PRV | 1-0 | EV | Nick Saracino (11) | Brandon Tanev/12, Josh Monk/10 |
| 3rd | 3:06 | MER | 1-1 | EV | Craig Wyszomirski (2) | Brian Christie/17 |
| 3rd | 13:10 | PRV | 2-1 | EV GW | Erik Foley (7) | Mark Jankowski/24, Tom Parisi/13 |
| 3rd | 18:57 | PRV | 3-1 | EV EN | Trevor Mingoia (14) | Mark Jankowski/25, Tom Parisi/14 |
| | | | | |
| --- | --- | --- | --- | --- |
| Scoring | 1st | 2nd | 3rd | Final |
| Merrimack | 0 | 0 | 1 | 1 |
| Providence | 1 | 0 | 2 | 3 |
| | | | | |
| --- | --- | --- | --- | --- |
| Shots on Goal | 1st | 2nd | 3rd | SOG |
| Merrimack | 9 | 7 | 10 | 26 |
| Providence | 10 | 10 | 10 | 30 |
| | | | |
| --- | --- | --- | --- |
| Team Stats and Records | PP | PIM | SHGF |
| Merrimack (13-18-7) | 0/1 | 2/4 | 0 |
| Providence (26-5-4) | 0/2 | 1/2 | 0 |
| | | | | | | |
| --- | --- | --- | --- | --- | --- | --- |
| Merrimack Goaltending | MIN | GA | 1 | 2 | 3 | Saves |
| Drew Vogler (L, 5-6-1) | 59:18 | 2 | 9 | 10 | 8 | 27 |
| Empty Net | 0:42 | 1 | | | | |
| | | | | | | |
| --- | --- | --- | --- | --- | --- | --- |
| Providence Goaltending | MIN | GA | 1 | 2 | 3 | Saves |
| Nick Ellis (W, 24-5-4) | 60:00 | 1 | 9 | 7 | 9 | 25 |
PROVIDENCE, R.I. - Freshman Erik Foley's goal with just under seven minutes to play broke a 1-1 deadlock and led the fourth-ranked Providence College men's hockey team to a 3-1 win in Game One of the best-of-three Hockey East Quarterfinal series against Merrimack.
The Friars (26-5-4) take a 1-0 series lead in the best-of-three series with the Warriors (13-18-7), as they will look to close out the series on Saturday night.
With the win, Providence matched its longest winning streak in program history with its ninth consecutive victory, a mark set in November 1982.
The Friars struck first at 13:24 in the opening period, when Nick Saracino (St. Louis, Mo.) emerged from behind the net and whirled a wrister that broke through the blocker of Vogler and into the back of the net. Josh Monk (Langley, British Columbia) passed the puck from the point to Brandon Tanev (Toronto, Ontario) in the corner and Tanev fed Saracino for the first Friar lead of the game.
Neither team converted in the second period. Nick Ellis (Millersville, Md.) turned aside 16 shots through the first two periods, while the Friars posted 20 shots through 40 minutes.
Merrimack evened the score at one, with 16:54 to go in the third period, off a slap shot from Craig Wyszomirski after a faceoff win by Brian Christie.
Seizing momentum from there, Providence took back the lead at 13:10 in the third period. Tom Parisi (Commack, N.Y.) moved the puck up to Erik Foley and a give-and-go between him and Mark Jankowski outside the blue line led to a rush into the offensive zone. Foley snapped over a wrister that beat Vogler over the glove to give the Friars a lead they wouldn't relinquish.
Trevor Mingoia (Fairport, N.Y) added an insurance empty net goal with 1:03 remaining in regulation.
Ellis finished the game with 25 saves to notch his 24th victory of the season, while Drew Vogler turned away 27 shots for the Warriors to fall to 5-6-1.
The Friars and Warriors will face off at 7:00 p.m. on March 12 at Schneider Arena for the second game of the best-of-three Hockey East Quarterfinal series.
HOW THEY SCORED
1-0 (PC) Goal scored by Nick Saracino (Tanev, Monk): Wrap around wrist shot.
1-1 (MC) Goal scored by Craig Wyszomirski (Christie): Point shot through traffic after faceoff win.
2-1 (PC) Goal scored by Erik Foley (Jankowski, Parisi): Give and go entering the zone, top-shelf wrist shot.
3-1 (PC) Empty net goal scored by Trevor Mingoia (Jankowski, Parisi): Empty net goal from center ice.
NOTES
The Friars improve to 22-0-4 when holding a lead after 40 minutes ... Jankowski became the first Friar to record 40 points in a season since 2002-03 (Jon DiSalvatore, Devin Rask, Peter Fregoe) ... with two assists, Jankowski also runs his point streak to eight-games (3-10-13) ... Tom Parisi also chipped in with two assists on Friday ... Josh Monk extended his career high point streak to five games with an assist on Saracino's goal (1-6-7) ... the Friars hold a 46-13 scoring edge in first periods this season ... Power Plays: Providence - 1/2, Merrimack 0/1 ... official shots on goal: Providence 30, Merrimack 26 ... Attendance: 2,669.