Providence College Falls To Minnesota Duluth In Double Overtime, 2-1
Senior forward Steven McParland scores goal for Friars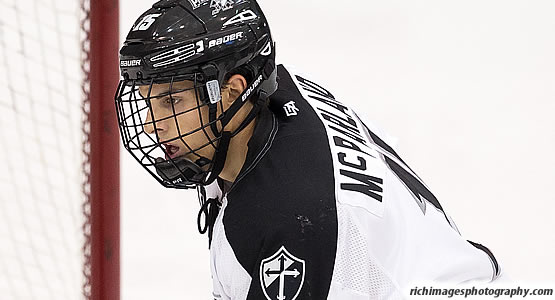 Senior forward Steven McParland scored a goal for the Friars
| | | | | | | |
| --- | --- | --- | --- | --- | --- | --- |
| Prd | Time | Team | Score | Type | Scored By | Assists |
| 3rd | 3:18 | MND | 1-0 | EV | Tony Cameranesi (11) | - |
| 3rd | 7:22 | PRV | 1-1 | EV | Steven McParland (4) | Ryan Tait/5, Tom Parisi/15 |
| OT2 | 0:57 | MND | 2-1 | EV GW | Karson Kuhlman (11) | Willie Raskob/10, Tony Cameranesi/27 |
| | | | | | | |
| --- | --- | --- | --- | --- | --- | --- |
| Scoring | 1 | 2 | 3 | O1 | O2 | Final |
| Minnesota Duluth | 0 | 0 | 1 | 0 | 1 | 2 |
| Providence | 0 | 0 | 1 | 0 | 0 | 1 |
| | | | | | | |
| --- | --- | --- | --- | --- | --- | --- |
| Shots | 1 | 2 | 3 | O1 | O2 | SOG |
| Minnesota Duluth | 8 | 13 | 20 | 13 | 2 | 56 |
| Providence | 4 | 11 | 11 | 9 | 2 | 37 |
| | | | |
| --- | --- | --- | --- |
| Team Stats and Records | PP | PIM | SHGF |
| Minnesota Duluth (19-15-5) | 0/4 | 3/6 | 0 |
| Providence (27-7-4) | 0/2 | 5/21 | 0 |
| | | | | | | | | |
| --- | --- | --- | --- | --- | --- | --- | --- | --- |
| Minnesota Duluth Goaltending | MIN | GA | 1 | 2 | 3 | O1 | O2 | Saves |
| Kasimir Kaskisuo (W, 19-14-5) | 80:57 | 1 | 4 | 11 | 10 | 9 | 2 | 36 |
| | | | | | | | | |
| --- | --- | --- | --- | --- | --- | --- | --- | --- |
| Providence Goaltending | MIN | GA | 1 | 2 | 3 | O1 | O2 | Saves |
| Nick Ellis (L, 25-7-4) | 80:57 | 2 | 8 | 13 | 19 | 13 | 1 | 54 |
WORCESTER, Mass. -- In the longest NCAA Northeast Regional game of all-time, the Providence College men's hockey team was defeated by the University of Minnesota-Duluth Bulldogs, 2-1, on Friday night at the DCU Center.
The Friars finish the season at 27-7-4, the second-most wins in program history.
Nick Ellis made 54 saves in 80:57 minutes of play, breaking the previous Northeast Regional record of 46 set in 2005 by Matt Climic (Bemidji State).
The Friars and the Bulldogs were scoreless through the first period. Providence registered four shots on net, while the Ellis turned aside all eight Bulldog attempts.
Conor MacPhee took a contact to the head penalty three minutes into the second period and put the Friars on five-minute penalty kill. Duluth took a two-minute interference penalty 1:02 into the MacPhee penalty, allowing for two minutes of four-on-four play. After a scoreless four-on-four, Providence killed the remainder of the five-minute penalty.
Providence went on its first power play, since playing Merrimack in the Hockey East Quarterfinals (Mar. 12), with 1:39 remaining in the second period. The Friars recorded three shots on the power play.
Ellis made 13 saves in the second period, while the Friars added 11 shots.
With 16:42 remaining in the third period, Tony Cameranesi took a slap shot from along the half wall, giving the Bulldogs a 1-0 lead.
Just over four minutes later, Providence evened the score, 1-1. Ryan Tait rushed the puck into the offensive zone and released a quick shot that bounced off a body and trickled to the far post. Steven McParland crashed the net and backhanded the puck past Duluth's Kasimir Kaskisuo.
Providence was called for back-to-back penalties with 6:17 remaining and killed for 3:01 minutes before Duluth was called for slashing with 3:17 remaining in the third. Both teams had breakaway opportunities in the final minutes of play in regulation, but neither team was able to finish, forcing the game to a 20-minute sudden-victory overtime.
After three periods of regulation, Ellis registered 40 saves and Providence tallied 26 shots on goal.
Four minutes into the first overtime, Nick Saracino took a shot that rang of the cross bar. Ellis made 13 saves and the Friars recorded nine shots on Kaskisuo, pushing the game into a second overtime.
Minnesota-Duluth ended the game just 57-seconds into the second overtime, as Karson Kuhlman tallied the game-winning goal and ended the game, 2-1.
HOW THEY SCORED
1-0 (UMD): Goal Scored by Tony Cameranesi: One-timer from the half wall, top corner.
1-1 (PC): Goal Scored by McParland (Tait, Parisi): Backhand shot at the far post.
2-1 (UMD): Goal Scored by Karson Kuhlman (Raskob, Cameranesi): Kuhlman open on the back post, tapped in.