Maine And Michigan State Skate To 3-3 Tie At Ice Breaker
Black Bears Win Postgame Shootout; Junior forward Blaine Byron posts goal and assist for Black Bears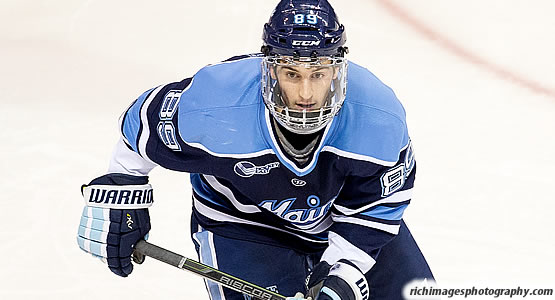 Junior forward Blaine Byron had a goal and an assist for the Black Bears
| | | | | | | |
| --- | --- | --- | --- | --- | --- | --- |
| Prd | Time | Team | Score | Type | Scored By | Assists |
| 1st | 3:10 | MNE | 1-0 | PP | Will Merchant (1) | Blaine Byron/1, Eric Schurhamer/1 |
| 1st | 15:13 | MSU | 1-1 | PP | Zach Osburn (1) | JT Stenglein/1, Thomas Ebbing/1 |
| 2nd | 10:40 | MNE | 2-1 | EV | Brian Morgan (1) | Eric Schurhamer/2, Brady Campbell/1 |
| 3rd | 3:50 | MSU | 2-2 | PP | Joe Cox (1) | JT Stenglein/2, Thomas Ebbing/2 |
| 3rd | 7:08 | MNE | 3-2 | SH | Blaine Byron (1) | Cam Brown/1, Mark Hamilton/1 |
| 3rd | 18:51 | MSU | 3-3 | PP EA GT | Zach Osburn (2) | Mason Appleton/1, Cody Milan/1 |
| | | | | | |
| --- | --- | --- | --- | --- | --- |
| Scoring | 1st | 2nd | 3rd | OT | Final |
| Michigan State | 1 | 0 | 2 | 0 | 3 |
| Maine | 1 | 1 | 1 | 0 | 3 |
| | | | | | |
| --- | --- | --- | --- | --- | --- |
| Shots on Goal | 1st | 2nd | 3rd | OT | SOG |
| Michigan State | 13 | 16 | 7 | 0 | 36 |
| Maine | 7 | 14 | 6 | 2 | 29 |
| | | | |
| --- | --- | --- | --- |
| Team Stats and Records | PP | PIM | SHGF |
| Michigan State (0-0-1) | 3/11 | 5/10 | 0 |
| Maine (0-0-1) | 1/5 | 11/22 | 1 |
| | | | | | | | |
| --- | --- | --- | --- | --- | --- | --- | --- |
| Michigan State Goaltending | MIN | GA | 1 | 2 | 3 | OT | Saves |
| Jake Hildebrand (T, 0-0-1) | 64:30 | 3 | 6 | 13 | 5 | 2 | 26 |
| Empty Net | 0:30 | 0 | | | | | |
| | | | | | | | |
| --- | --- | --- | --- | --- | --- | --- | --- |
| Maine Goaltending | MIN | GA | 1 | 2 | 3 | OT | Saves |
| Matt Morris (T, 0-0-1) | 64:42 | 3 | 12 | 16 | 5 | 0 | 33 |
| Empty Net | 0:18 | 0 | | | | | |
PORTLAND, Maine -- The University of Maine Men's Hockey Team defeats Michigan State in a shootout to open the 2015-2016 season.
The game ends in a tie for final record with the score 3-3, Maine now is 0-0-1 on the season and Michigan State is also 0-0-1.
Three minutes into the first period, Will Merchant was able to score the first goal of the season for the Black Bears on a power play opportunity with assists coming from Blaine Byron and Eric Shurhamer.
The Spartans were able to tie the game at 1-1 with a goal from Zach Osburn. Michigan State outshot Maine in the first period by a 13 to 7 margin.
Brian Morgan scored the Black Bears' only even strength goal of the game coming midway through the period and the lone goal of the second. Eric Shurhamer picked up his second assist of the game and Brady Campbell earned his first of the year.
Matt Morris had 16 saves in the second period and was able to help Maine take a 2-1 advantage into the third period.
The Spartans opened the third period with a power play goal from Joe Cox to tie the game once again, this time 2-2.
Maine was able to pull ahead, this time a man down defending against the power play. Blaine Byron was able to give the Black Bears the lead once again for a shorthanded goal, with assists coming from Cam Brown and Mark Hamilton for a 3-2 lead.
Michigan State tied the game again, this time with an extra attacker on the ice. Zach Osburn was able to score his second of the game to tie the game 3-3 and send it into overtime.
In overtime Maine had a powerplay opportunity that carried over from the third period and was unable to convert. Matt Morris and Jake Hildebrand, goalie for Michigan State, played strong in net to force the game into a shootout.
Official record has the game ending in a tie, for the Ice Breaker there is a three man shoot out to determine the winner.
With each previous player not converting on the shootout, Steven Swavely was able to lift the puck past Hildebrand and give the Black Bears the shootout win.
Matt Morris finished with 33 saves on the night and allowed no goals in the shootout.
Maine return to action against North Dakota tomorrow night at 8 p.m.