Friday, November 27, 2015
Maine Scores Final Three Goals To Rally Past Princeton, 5-3
Senior forward Will Merchant has game-winning goal and assist for Black Bears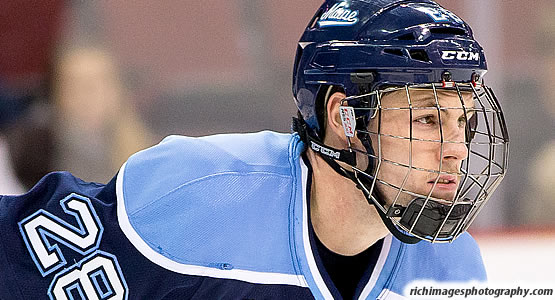 Senior forward Will Merchant had a goal and an assist for the Black Bears
| | | | | | | |
| --- | --- | --- | --- | --- | --- | --- |
| Prd | Time | Team | Score | Type | Scored By | Assists |
| 1st | 7:09 | MNE | 1-0 | EV | Nolan Vesey (2) | Mark Hamilton/2, Brendan Robbins/1 |
| 1st | 12:20 | PRN | 1-1 | PP | David Hallisey (1) | Ryan Kuffner/3, Mike Ambrosia/2 |
| 2nd | 10:39 | MNE | 2-1 | PP | Blaine Byron (3) | Cam Brown/5, Rob Michel/2 |
| 2nd | 18:21 | PRN | 2-2 | EV | David Hallisey (2) | Eric Robinson/1 |
| 3rd | 7:48 | PRN | 3-2 | PP | Ryan Kuffner (2) | Max Véronneau/1, David Hallisey/5 |
| 3rd | 13:01 | MNE | 3-3 | EV | Andrew Tegeler (1) | Cédric Lacroix/1 |
| 3rd | 19:08.3 | MNE | 4-3 | EV GW | Will Merchant (5) | Sam Becker/2, Blaine Byron/5 |
| 3rd | 19:42.1 | MNE | 5-3 | EV EN | Steven Swavely (2) | Will Merchant/3, Rob Michel/3 |
| | | | | |
| --- | --- | --- | --- | --- |
| Scoring | 1st | 2nd | 3rd | Final |
| Princeton | 1 | 1 | 1 | 3 |
| Maine | 1 | 1 | 3 | 5 |
| | | | | |
| --- | --- | --- | --- | --- |
| Shots on Goal | 1st | 2nd | 3rd | SOG |
| Princeton | 12 | 8 | 13 | 33 |
| Maine | 14 | 12 | 17 | 43 |
| | | | |
| --- | --- | --- | --- |
| Team Stats and Records | PP | PIM | SHGF |
| Princeton (2-7-0) | 2/4 | 4/8 | 0 |
| Maine (3-8-3) | 1/4 | 4/8 | 0 |
| | | | | | | |
| --- | --- | --- | --- | --- | --- | --- |
| Princeton Goaltending | MIN | GA | 1 | 2 | 3 | Saves |
| Colton Phinney (L, 2-7-0) | 59:38 | 4 | 13 | 11 | 14 | 38 |
| Empty Net | 0:22 | 1 | | | | |
| | | | | | | |
| --- | --- | --- | --- | --- | --- | --- |
| Maine Goaltending | MIN | GA | 1 | 2 | 3 | Saves |
| Matt Morris (W, 3-2-1) | 60:00 | 3 | 11 | 7 | 12 | 30 |
ORONO, Maine -- The University of Maine Men's Ice Hockey team defeated Princeton Friday night at Alfond Arena 5-3 to improve their winning streak to three games.
With the win, Maine is now 3-8-3 overall on the season, while Princeton falls to 2-7-0 on the year.
Matt Morris received his third straight start in net and Colton Phinney got the nod in goal for the Tigers.
The Black Bears opened with the first goal of the game from Nolan Vesey, an even strength opportunity, with the assists from Mark Hamilton and Brendan Robbins to give Maine a 1-0 advantage.
Princeton was given a power play opportunity after a Maine holding penalty was called. David Hallisey tied the game at one midway through the first period.
Maine outshot the Tigers 14-12 in the first.
Midway through the second, Maine was given their second power play opportunity off of a Princeton tripping penalty. Blaine Byron scored his third goal of the season to give Maine a 2-1 lead.
Two minutes before the end of the second, David Hallisey scored his second of the game, this time an even strength goal to tie it at 2-2.
The Black Bears continued to outshoot Princeton in the second 12-8.
Maine was whistled for a slashing penalty that gave Princeton the man advantage. The Tigers scored :41 seconds into the power play by Ryan Kuffner, bringing the score to 3-2 Princeton.
With seven minutes remaining in the game, Andrew Tegeler scored his first career goal as a member of the Black Bears tying the game 3-3.
:51 seconds before the end of regulation, Maine's Will Merchant scored after cleaning up on a deflection in front of the net to give the Black Bears a 4-3 lead.
Princeton pulled Phinney with :40 second remaining in the game. The Black Bears were able to force a Tiger turnover and Steven Swavely scored the empty net goal giving Maine a comfortable 5-3 lead and the Black Bears received their third win of the season.
Matt Morris finished with 30 saves and Colton Phinney finished with 38. Maine outshot Princeton 43-33 on the night.
Maine returns for game two of this two game series against Princeton tomorrow night at Alfond Arena for a 7:00 p.m. puck drop.