Saturday, October 31, 2015
Maine Defeated By Princeton, 3-1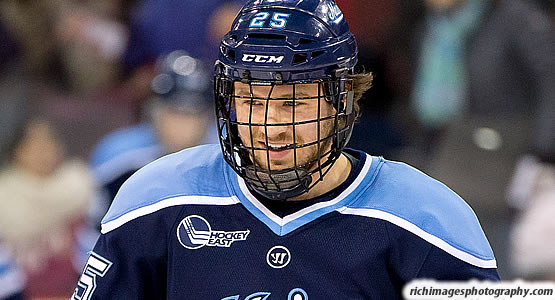 Maine junior defenseman Eric Schurhamer (pictured)
| | | | | | | |
| --- | --- | --- | --- | --- | --- | --- |
| Prd | Time | Team | Score | Type | Scored By | Assists |
| 2nd | 2:42 | PRN | 1-0 | EV | Kyle Rankin (1) | Josh Teves/1, Jonathan Liau/1 |
| 2nd | 5:55 | PRN | 2-0 | PP GW | Joe Grabowski (1) | David Hallisey/1, Ryan Siiro/1 |
| 3rd | 6:08 | MNE | 1-2 | EV | Dane Gibson (1) | Conor Riley/1 |
| 3rd | 19:57 | PRN | 3-1 | EV EN | Ben Foster (1) | Garrett Skrbich/1 |
| | | | | |
| --- | --- | --- | --- | --- |
| Scoring | 1st | 2nd | 3rd | Final |
| Maine | 0 | 0 | 1 | 1 |
| Princeton | 0 | 2 | 1 | 3 |
| | | | | |
| --- | --- | --- | --- | --- |
| Shots on Goal | 1st | 2nd | 3rd | SOG |
| Maine | 12 | 5 | 22 | 39 |
| Princeton | 8 | 12 | 5 | 25 |
| | | | |
| --- | --- | --- | --- |
| Team Stats and Records | PP | PIM | SHGF |
| Maine (0-4-3) | 0/5 | 5/10 | 0 |
| Princeton (1-1-0) | 1/4 | 5/13 | 0 |
| | | | | | | |
| --- | --- | --- | --- | --- | --- | --- |
| Maine Goaltending | MIN | GA | 1 | 2 | 3 | Saves |
| Rob McGovern (L, 0-2-2) | 58:51 | 2 | 8 | 10 | 4 | 22 |
| Empty Net | 1:09 | 1 | | | | |
| | | | | | | |
| --- | --- | --- | --- | --- | --- | --- |
| Princeton Goaltending | MIN | GA | 1 | 2 | 3 | Saves |
| Colton Phinney (W, 1-1-0) | 60:00 | 1 | 12 | 5 | 21 | 38 |
The University of Maine Men's Ice Hockey team lost in game two of the Capital City Classic against Princeton on Saturday afternoon 3-1.
With the loss Maine drops to 0-4-3 on the season and Princeton improves to 1-1-0 on the year.
Rob McGovern received the start in net for the Black Bears while Colton Phinney received the start for the Tigers.
In the first period Maine and Princeton had one power play opportunity apiece and were unable to capitalize. The Black Bears outshot Princeton 12-8 in the first period.
In the second, Princeton scored the first goal of the game from Kyle Rankin to give the Tigers a 1-0 lead. Three minutes later, the Tigers struck again, this time on a power play opportunity with the goal coming from Joe Grabowski to give Princeton a 2-0 advantage.
In the second period, Maine was outshot 12-5.
The Black Bears were able to score early in the third, Dane Gibson scored his first career goal as a member of the Black Bears and brought the score to 2-1.
Maine pulled McGovern for an extra attacker with 1:04 remaining in the game. Princeton was able to score their third goal on an empty net with :03 seconds remaining from Ben Foster to secure the win.
Maine outshot Princeton 39-25 throughout the game, the Black Bears also went on the power play five times and were unable to convert. Princeton went one for four on the power play.
The Black Bears return to action on Nov. 6th as they travel to Boston College with a puck drop at 7:00 p.m.