Tuesday, January 19, 2016
Maine Black Bears Skates To 3-3 Tie With Quinnipiac Bobcats
Freshman forward Dane Gibson posts two assists for Black Bears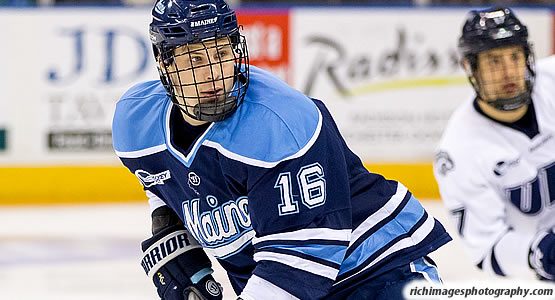 Freshman forward Dane Gibson had two assists for the Black Bears
| | | | | | | |
| --- | --- | --- | --- | --- | --- | --- |
| Prd | Time | Team | Score | Type | Scored By | Assists |
| 1st | 6:09 | QUI | 1-0 | EV | Tanner MacMaster (2) | - |
| 1st | 10:26 | MNE | 1-1 | EV | Steven Swavely (7) | Brendan Robbins/3, Dane Gibson/2 |
| 1st | 11:44 | MNE | 2-1 | EV | Nolan Vesey (3) | Blaine Byron/8, Cam Brown/8 |
| 2nd | 0:34 | MNE | 3-1 | EV | Brendan Robbins (1) | Dane Gibson/3 |
| 3rd | 13:59 | QUI | 2-3 | EV | Sam Anas (14) | Travis St. Denis/16, Derek Smith/11 |
| 3rd | 19:13 | QUI | 3-3 | PP EA GT | Thomas Aldworth (5) | Sam Anas/14 |
| | | | | | |
| --- | --- | --- | --- | --- | --- |
| Scoring | 1st | 2nd | 3rd | OT | Final |
| Quinnipiac | 1 | 0 | 2 | 0 | 3 |
| Maine | 2 | 1 | 0 | 0 | 3 |
| | | | | | |
| --- | --- | --- | --- | --- | --- |
| Shots on Goal | 1st | 2nd | 3rd | OT | SOG |
| Quinnipiac | 10 | 9 | 13 | 1 | 33 |
| Maine | 14 | 9 | 9 | 0 | 32 |
| | | | |
| --- | --- | --- | --- |
| Team Stats and Records | PP | PIM | SHGF |
| Quinnipiac (19-1-4) | 1/5 | 9/18 | 0 |
| Maine (5-13-6) | 0/7 | 8/24 | 0 |
| | | | | | | | |
| --- | --- | --- | --- | --- | --- | --- | --- |
| Quinnipiac Goaltending | MIN | GA | 1 | 2 | 3 | OT | Saves |
| Michael Garteig (T, 19-1-4) | 63:45 | 3 | 12 | 8 | 9 | 0 | 29 |
| Empty Net | 1:15 | 0 | | | | | |
| | | | | | | | |
| --- | --- | --- | --- | --- | --- | --- | --- |
| Maine Goaltending | MIN | GA | 1 | 2 | 3 | OT | Saves |
| Rob McGovern (T, 1-9-3) | 64:56 | 3 | 9 | 9 | 11 | 1 | 30 |
| Empty Net | 0:04 | 0 | | | | | |
ORONO, Maine -- The Maine Men's Ice Hockey team skated to a 3-3 tie against #1 ranked Quinnipiac Tuesday night at Alfond Arena.
With the tie, Maine is now 5-13-6 on the year and Quinnipiac is 19-1-4.
Rob McGovern received the start in net for the Black Bears and Michael Garteig was in goal for the Bobcats.
Quinnipiac struck for the first goal of the game, 6:09 into the period. Tanner MacMaster scored unassisted to give the Bobcats 1-0 advantage.
Four minutes later, Maine responded with a goal of their own. Steven Swavely was set up by Brendan Robbins to tie the game 1-1.
11:44 into the first, Nolan Vesey capitalized off of a perfect pass by Blaine Byron to give Maine the lead, 2-1.
Maine carried the lead into the first intermission, outshooting the Bobcats 14-10. The penalty kill in the first period was effective for the Black Bears not allowing a Quinnipiac power play goal in two chances.
Brendan Robbins scored his second point of the night, this time his first career goal with the Black Bears, with the assist from fellow freshman Dane Gibson to give Maine a 3-1 advantage.
Maine and Quinnipiac each had nine shots in the second.
In the third period, Sam Anas found the back of the net barely beating McGovern to trim the lead to 3-2.
With less than two minutes remaining in the game, the Black Bears were on a power play opportunity after a Quinnipiac tripping call. Thirty seconds later Maine was called for a penalty of their own, two minutes for hooking. As four-on-four play continued, Maine was whistled for another hooking penalty to give Quinnipiac the power play opportunity.
The Bobcats pulled Garteig for the extra attacker and were able to tie the game at three from Thomas Aldworth.
Quinnipiac had an aggressive offensive attack in the third, outshooting Maine 13-9.
In overtime, McGovern and Garteig held both offenses scoreless as time expired.
The Black Bears return to action Friday, Jan. 22 as they host Boston University for a 7:30 p.m. puck drop.