Tuesday, October 20, 2015
Maine Defeated By Quinnipiac, 4-0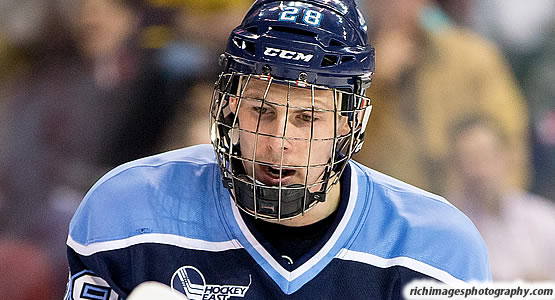 Maine senior forward Will Merchant (pictured)
| | | | | | | |
| --- | --- | --- | --- | --- | --- | --- |
| Prd | Time | Team | Score | Type | Scored By | Assists |
| 1st | 12:11 | QUI | 1-0 | PP GW | Chase Priskie (1) | Derek Smith/2 |
| 2nd | 5:08 | QUI | 2-0 | EV | Tommy Schutt (1) | - |
| 2nd | 10:54 | QUI | 3-0 | PP | Devon Toews (2) | Chase Priskie/4, Sam Anas/3 |
| 2nd | 17:40 | QUI | 4-0 | EV | K.J. Tiefenwerth (1) | Connor Clifton/2, Craig Martin/1 |
| | | | | |
| --- | --- | --- | --- | --- |
| Scoring | 1st | 2nd | 3rd | Final |
| Maine | 0 | 0 | 0 | 0 |
| Quinnipiac | 1 | 3 | 0 | 4 |
| | | | | |
| --- | --- | --- | --- | --- |
| Shots on Goal | 1st | 2nd | 3rd | SOG |
| Maine | 4 | 8 | 8 | 20 |
| Quinnipiac | 19 | 14 | 7 | 40 |
| | | | |
| --- | --- | --- | --- |
| Team Stats and Records | PP | PIM | SHGF |
| Maine (0-2-3) | 0/4 | 7/14 | 0 |
| Quinnipiac (4-0-0) | 2/6 | 5/10 | 0 |
| | | | | | | |
| --- | --- | --- | --- | --- | --- | --- |
| Maine Goaltending | MIN | GA | 1 | 2 | 3 | Saves |
| Matt Morris (L, 0-2-1) | 40:00 | 4 | 18 | 11 | 0 | 29 |
| Sean Romeo | 19:59 | 0 | 0 | 0 | 7 | 7 |
| Empty Net | 0:01 | 0 | | | | |
| | | | | | | |
| --- | --- | --- | --- | --- | --- | --- |
| Quinnipiac Goaltending | MIN | GA | 1 | 2 | 3 | Saves |
| Michael Garteig (W, 4-0-0) | 60:00 | 0 | 4 | 8 | 8 | 20 |
Hamden, CT -- The University of Maine's Mens Ice Hockey team falls to Quinnipiac 4-0 on Tuesday night.
With the loss, Maine drops their record to 0-2-3 on the season while Quinnipiac improves to 4-0-0 on the year.
Matt Morris received the start for the Black Bears in goal.
Quinnipiac opened with the first goal of the game 12 minutes into the first period on a power play opportunity. Chase Priskie scored an unassisted goal to give the Bobcats a 1-0 lead.
Maine was outshot by Quinnipiac 19-4 in the first period.
Five minutes into the second period, Quinnipiac was able to score their second goal of the game from Tommy Schutt that gave the Bobcats a 2-0 advantage.
The Black Bears were then called for too many men on the ice midway through the second and gave Quinnipiac another power play opportunity. Devon Toews scored for their second power play goal of the game and a 3-0 lead.
At the end of the second period, Quinnipiac was able to score another goal to gain a 4-0 advantage.
Sean Romeo started the third period for Maine in goal, his first appearance of the season. He saw seven shots on goal and saved all seven. The Black Bears had one power play opportunity in the third but weren't able to convert. The Bobcats held on for the 4-0 win, they outshot Maine 40-20.
The Black Bears return to action on Oct. 23 at 7 p.m. as they host University of New Brunswick at Alfond Arena.