Maine Black Bears Skate To 1-1 Tie With Union Dutchmen
Junior forward Brian Morgan scores game-tying goal for Black Bears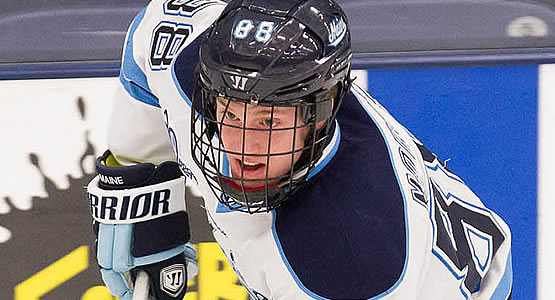 Junior forward Brian Morgan scored the game-tying goal for the Black Bears
| | | | | | | |
| --- | --- | --- | --- | --- | --- | --- |
| Prd | Time | Team | Score | Type | Scored By | Assists |
| 2nd | 4:27 | UNI | 1-0 | EV | Brendan Taylor (1) | Eli Lichtenwald/1, Tyler Hynes/1 |
| 3rd | 14:04 | MNE | 1-1 | EV GT | Brian Morgan (2) | Andrew Tegeler/1, Eric Schurhamer/3 |
| | | | | | |
| --- | --- | --- | --- | --- | --- |
| Scoring | 1st | 2nd | 3rd | OT | Final |
| Maine | 0 | 0 | 1 | 0 | 1 |
| Union | 0 | 1 | 0 | 0 | 1 |
| | | | | | |
| --- | --- | --- | --- | --- | --- |
| Shots on Goal | 1st | 2nd | 3rd | OT | SOG |
| Maine | 6 | 15 | 11 | 1 | 33 |
| Union | 8 | 12 | 8 | 1 | 29 |
| | | | |
| --- | --- | --- | --- |
| Team Stats and Records | PP | PIM | SHGF |
| Maine (0-0-3) | 0/6 | 5/10 | 0 |
| Union (1-0-2) | 0/5 | 6/12 | 0 |
| | | | | | | | |
| --- | --- | --- | --- | --- | --- | --- | --- |
| Maine Goaltending | MIN | GA | 1 | 2 | 3 | OT | Saves |
| Rob McGovern (T, 0-0-2) | 64:36 | 1 | 8 | 11 | 8 | 1 | 28 |
| Empty Net | 0:24 | 0 | | | | | |
| | | | | | | | |
| --- | --- | --- | --- | --- | --- | --- | --- |
| Union Goaltending | MIN | GA | 1 | 2 | 3 | OT | Saves |
| Alex Sakellaropoulos (T, 1-0-2) | 65:00 | 1 | 6 | 15 | 10 | 1 | 32 |
Schenectady, NY - The University of Maine Men's Ice Hockey team tied Union 1-1 Friday night. With the tie, Maine's record is 0-0-3 on the season, while Union is now 1-0-2 on the year.
Rob McGovern started in goal for the Black Bears for the second straight game in a row and saved 28 shots.
In the first period, Maine was able to get six shots on goal while McGovern faced eights shots and saved them all.
Four minutes into the period, Union scored the first goal to break the scoreless tie, to give the Dutchmen a 1-0 lead.
Maine outshot Union 15-12 in the second period.
Late in the third, Brian Morgan gave the Black Bears the equalizer, his second of the year, to tie at 1-1. The assists came from Andrew Tegeler and Sam Becker.
In the third period, Maine and Union were held scoreless by excellent goal tending which sent the game into overtime, the third in a row for the Black Bears.
Maine and Union each had a shot on a goal in overtime but were unable to break the tie.
The Black Bears outshot Union 33-29 for the game and had five penalties to Union's six.
Maine and Union return to action tomorrow night with puck drop at 7 p.m.