Saturday, October 17, 2015
Maine Black Bears Shut Out By Union Dutchmen, 2-0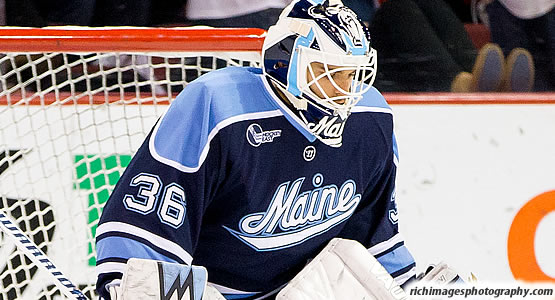 Junior goaltender Matt Morris made 31 saves for the Black Bears
| | | | | | | |
| --- | --- | --- | --- | --- | --- | --- |
| Prd | Time | Team | Score | Type | Scored By | Assists |
| 3rd | 5:36 | UNI | 1-0 | EV GW | Sébastien Gingras (1) | Tyler Hynes/2, Brendan Taylor/2 |
| 3rd | 15:00 | UNI | 2-0 | EV | Mike Vecchione (1) | Sébastien Gingras/1 |
| | | | | |
| --- | --- | --- | --- | --- |
| Scoring | 1st | 2nd | 3rd | Final |
| Maine | 0 | 0 | 0 | 0 |
| Union | 0 | 0 | 2 | 2 |
| | | | | |
| --- | --- | --- | --- | --- |
| Shots on Goal | 1st | 2nd | 3rd | SOG |
| Maine | 4 | 10 | 12 | 26 |
| Union | 11 | 11 | 11 | 33 |
| | | | |
| --- | --- | --- | --- |
| Team Stats and Records | PP | PIM | SHGF |
| Maine (0-1-3) | 0/3 | 2/4 | 0 |
| Union (2-0-2) | 0/2 | 3/6 | 0 |
| | | | | | | |
| --- | --- | --- | --- | --- | --- | --- |
| Maine Goaltending | MIN | GA | 1 | 2 | 3 | Saves |
| Matt Morris (L, 0-1-1) | 57:23 | 2 | 11 | 11 | 9 | 31 |
| Empty Net | 2:37 | 0 | | | | |
| | | | | | | |
| --- | --- | --- | --- | --- | --- | --- |
| Union Goaltending | MIN | GA | 1 | 2 | 3 | Saves |
| Jake Kupsky (W, 1-0-0) | 60:00 | 0 | 4 | 10 | 12 | 26 |
Schenectady, NY - The University of Maine Men's Ice Hockey team loses to Union 2-0 Saturday night.
It is Maine's first loss of the season and brings their record to 0-1-3 overall, while Union improves their record to 2-0-2 on the year.
Matt Morris received his second start of the season for the Black Bears in goal. Jake Kupsky received the start in goal for Union.
In the first period, both goalies played strong in net. Morris stopped a total of 11 shots while Kupsky stopped four. The Black Bears were called for one penalty 13 minutes into the first, while Union was called for one as well at the end of the period, both were unable to convert on the power play.
In the second period, Morris held the Dutchmen scoreless again, facing eleven shots for the second period in a row. The Black Bears were able to go on the power play for a second time in the game, two minutes into the period and fired three shots, but they were all blocked. Maine and Union headed into the third period tied at 0-0.
Two minutes into the third, Maine went on the power play after a slashing call. The Black Bears were able to get one shot on net before the power play ended.
Union finally broke the scoreless tie five minutes into the third period with a goal from Sebastien Gingras to give the Dutchmen a 1-0 advantage.
Maine was able to get 12 shots on goal in the period, but were held scoreless. Union was able to net one more with five minutes remaining in the game to secure the 2-0 win.
Maine returns to Alfond Arena for their first home game of the season in an exhibition game against New Brunswick Oct. 23 at 7 p.m.