Saturday, December 19, 2015
Ruck Stops 26 Shots As Northeastern Edges Michigan State, 2-1
Freshman goaltender Ryan Ruck makes 26 saves for Huskies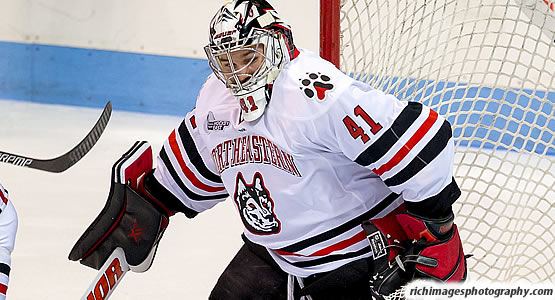 Freshman goaltender Ryan Ruck made 26 saves for the Huskies
| | | | | | | |
| --- | --- | --- | --- | --- | --- | --- |
| Prd | Time | Team | Score | Type | Scored By | Assists |
| 1st | 18:07 | NOE | 1-0 | EV | Mike McMurtry (2) | Brendan Collier/2, Eric Williams/6 |
| 2nd | 8:14 | NOE | 2-0 | PP GW | Zach Aston-Reese (6) | John Stevens/6, Nolan Stevens/6 |
| 3rd | 12:53 | MSU | 1-2 | EV | Thomas Ebbing (4) | Mason Appleton/12, Zach Osburn/8 |
| | | | | |
| --- | --- | --- | --- | --- |
| Scoring | 1st | 2nd | 3rd | Final |
| Michigan State | 0 | 0 | 1 | 1 |
| Northeastern | 1 | 1 | 0 | 2 |
| | | | | |
| --- | --- | --- | --- | --- |
| Shots on Goal | 1st | 2nd | 3rd | SOG |
| Michigan State | 14 | 5 | 8 | 27 |
| Northeastern | 9 | 13 | 9 | 31 |
| | | | |
| --- | --- | --- | --- |
| Team Stats and Records | PP | PIM | SHGF |
| Michigan State (5-11-2) | 0/3 | 5/10 | 0 |
| Northeastern (3-12-3) | 1/5 | 3/6 | 0 |
| | | | | | | |
| --- | --- | --- | --- | --- | --- | --- |
| Michigan State Goaltending | MIN | GA | 1 | 2 | 3 | Saves |
| Jake Hildebrand (L, 5-10-1) | 59:39 | 2 | 8 | 12 | 9 | 29 |
| Empty Net | 0:21 | 0 | | | | |
| | | | | | | |
| --- | --- | --- | --- | --- | --- | --- |
| Northeastern Goaltending | MIN | GA | 1 | 2 | 3 | Saves |
| Ryan Ruck (W, 1-9-2) | 59:49 | 1 | 14 | 5 | 7 | 26 |
| Empty Net | 0:11 | 0 | | | | |
BOSTON - The Northeastern men's ice hockey team went into the holiday break on a high note Saturday night with a 2-1 win against Michigan State in the final game of the Northeastern Winter Showdown at Matthews Arena.
Freshman Ryan Ruck backstopped the Huskies with 26 saves, while Mike McMurtry and Zach Aston-Reese both scored for Northeastern. Thomas Ebbing scored the lone goal for the Spartans, who received 29 stops from Jake Hildebrand.
The Huskies scored in each of the first two periods to take a 2-0 lead through 40 minutes of play before Michigan State cut the deficit to one with 7:07 left in the third period. NU was 1-of-5 on the man advantage while holding the Spartans to an 0-of-3 showing.
Goal descriptions:
- McMurtry put the hosts up 1-0 with 1:53 to play in the first period when he finished off a nice play from the Huskies in the offensive zone. After Eric Williams battled to keep the puck in the zone, he fed it down to Brendan Collier below the goal line. McMurtry then cut to the slot, took a pass from Collier and beat Hildebrand for his second goal of the year.
- NU went up by two with a power play midway through the second period off the stick of Aston-Reese. With NU controlling the puck in the MSU zone, Nolan Stevens' shot in the slot was blocked, redirecting out to John Stevensatop the hashmarks. Stevens then got the defensemen to go down for a shot block before quickly threading a pass down to Aston-Reese on the doorstep for the score.
- Michigan State battled back to make it a one-goal game with 7:07 remaining in regulation when Ebbing redirected a shot from Mason Appleton near the right post, getting past Ruck for Ebbing's fourth of the year.
Stats of the game:
- Northeastern is now 3-4-0 all-time against Michigan State. Saturday was Northeastern's first game against the Spartans since 1996.
- Saturday's contest marked the conclusion of the Northeastern Winter Showdown, a women's basketball, men's basketball and men's ice hockey tripleheader against the Spartans.
- Aston-Reese extended his point streak to a career-long five games (four goals, three assists). He has 11 points (five goals, six assists) in his last nine games.
- Nolan Stevens also extended his point streak to five games (four goals, three assists), a new career-long.
The road ahead:
- Northeastern will be off for the holiday break until January 2 when the Huskies host No. 3/2 Quinnipiac at 7 p.m. from Matthews Arena.