Friday, February 19, 2016
Mingoia Sends Providence College Past Notre Dame In Overtime, 3-2
Senior forward Trevor Mingoia scores game-winning goal for Friars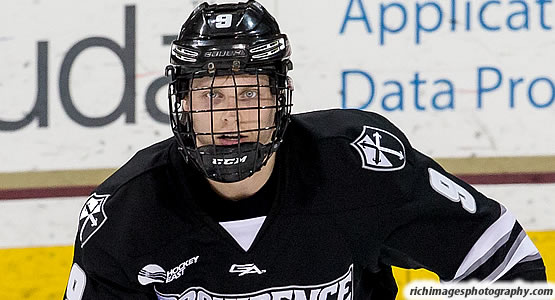 Senior forward Trevor Mingoia scored the game-winning goal for the Friars
| | | | | | | |
| --- | --- | --- | --- | --- | --- | --- |
| Prd | Time | Team | Score | Type | Scored By | Assists |
| 1st | 5:50 | NDM | 1-0 | EV | Dylan Malmquist (10) | Steven Fogarty/13, Anders Bjork/19 |
| 2nd | 15:06 | NDM | 2-0 | EV | Jake Evans (8) | Luke Ripley/6, Anders Bjork/20 |
| 3rd | 13:35 | PRV | 1-2 | PP | Brandon Tanev (12) | Brian Pinho/15, Josh Monk/5 |
| 3rd | 17:37 | PRV | 2-2 | EV | Brian Pinho (9) | Nick Saracino/17, Josh Monk/6 |
| OT | 1:23 | PRV | 3-2 | EV GW | Trevor Mingoia (10) | Erik Foley/11, Mark Jankowski/18 |
| | | | | | |
| --- | --- | --- | --- | --- | --- |
| Scoring | 1st | 2nd | 3rd | OT | Final |
| Notre Dame | 1 | 1 | 0 | 0 | 2 |
| Providence | 0 | 0 | 2 | 1 | 3 |
| | | | | | |
| --- | --- | --- | --- | --- | --- |
| Shots on Goal | 1st | 2nd | 3rd | OT | SOG |
| Notre Dame | 6 | 8 | 7 | 1 | 22 |
| Providence | 11 | 8 | 17 | 2 | 38 |
| | | | |
| --- | --- | --- | --- |
| Team Stats and Records | PP | PIM | SHGF |
| Notre Dame (18-6-7) | 0/2 | 6/12 | 0 |
| Providence (22-5-4) | 1/6 | 2/4 | 0 |
| | | | | | | | |
| --- | --- | --- | --- | --- | --- | --- | --- |
| Notre Dame Goaltending | MIN | GA | 1 | 2 | 3 | OT | Saves |
| Cal Petersen (L, 18-6-7) | 61:23 | 3 | 11 | 8 | 15 | 1 | 35 |
| | | | | | | | |
| --- | --- | --- | --- | --- | --- | --- | --- |
| Providence Goaltending | MIN | GA | 1 | 2 | 3 | OT | Saves |
| Nick Ellis (W, 20-5-4) | 61:23 | 2 | 5 | 7 | 7 | 1 | 20 |
PROVIDENCE, R.I. - Trevor Mingoia's goal 1:23 into overtime capped a rally from a two-goal deficit for the fifth-ranked Providence College men's hockey team in a 3-2 win over No. 7 and Hockey East leader Notre Dame in front of a sellout crowd at Schneider Arena on Friday night.
Providence (22-5-4, 13-3-3 HEA) closes to within one point of the Irish (18-6-7, 14-3-2 HEA) for second place in the Hockey East standings. Boston College took over first place with a 3-1 win at Vermont on Friday.
The Friars rallied to win after facing a two-goal third period deficit for the first time since a 5-4 win over UMass Lowell on Jan. 24, 2013.
Nick Ellis turned away 20 shots for the Friars to earn his 20th victory of the season (20-5-4), while Notre Dame goaltender Cal Petersen made 35 saves to fall to 18-6-7.
The visitors struck first just 5:50 in as Dylan Malmquist finished off a centering feed from Steve Fogerty to give the Irish a 1-0 lead.
The Friars a few high danger chances in front of Petersen, including a fiery scramble in the crease that yielded a point-blank chance for Tom Parisi, but his shot was deflected into the netting.
Kevin Rooney appeared to knot the game up for the Friars late in the first as he slid a shot through the five-hole of Petersen. After a lengthy review, the officials deemed that the play was offside.
Through two periods, the Friars held a 19-14 edge in shots, but it was the Irish who struck for the next goal as Jake Evans fired a wrist shot off the post and in during a four-on-four to extend the Notre Dame lead to 2-0.
Prior to the goal, Rooney found himself all alone on a breakaway before being hooked by Fogarty.
With Fogarty in the box for his second minor of the period, the Friars continued to storm the cage with great looks by Mark Jankowski and Erik Foley, but Irish netminder Cal Petersen continued to stymie the hosts.
After the Friars were denied on their first power play attempt of the third period, Brandon Tanev finally got the hosts on the board with Bobby Nardella serving a minor for high sticking. Pinho feed the puck to Tanev, who circled out from the corner and beat Petersen with a shot over the glove for his 12th goal of the season to make it 2-1 with 6:25 to play.
Providence continued its push and was rewarded when Brian Pinho stuffed home a rebound with 2:33 left to tie the game at two. Pinho's ninth of the season eclipsed his total as a freshman from a year ago.
In the extra frame, strong work in Notre Dame's zone led to a point shot by John Gilmour and a rebound to Jankowski, who whirled around and fired a shot off Erik Foley's skate and right to Mingoia, who finished the game off into the empty net at 1:23 of overtime.
Up next, the Friars and Fighting Irish will tangle once again at Schneider Arena tomorrow night beginning at 7 p.m.
HOW THEY SCORED
1-0 (ND) Goal scored by Dylan Malmquist (Fogarty, Bjork): Centering feed from Fogarty, backhander at the top of the crease.
2-0 (ND) Goal scored by Jake Evans (Ripley, Bjork): Maneuvered around a Friar defender a snapped a shot over the glove of Ellis.
2-1 (PC) Power play goal Brandon Tanev (Pinho, Monk): Wheeled out of the corner and wristed a shot over the glove of Petersen.
2-2 (PC) Goal scored by Brian Pinho (Saracino, Monk): Re-direct by Saracino in the slot, Pinho slams home the rebound.
3-2 (PC) Goal scored by Trevor Mingoia (Foley, Jankowski): Shot by Jankowski deflects off Foley's skate right to Mingoia, who buries it into the empty net.
NOTES
Josh Monk notched his first career multi-point game ... Pinho now has four goals in his last four games ... Providence has now amassed 70 wins over the last three seasons ... Mingoia recorded his seventh career game-winning goal and third this season ... the Friars are now 2-2-0 when trailing after 40 minutes ... John Gilmour and Mark Jankowski each had a team high five shots on goal ... Power Plays: Providence - 1/6, Notre Dame 0/2 ... official shots on goal: Providence 38, Notre Dame 22 ... Attendance: 3,033 (sellout).​