Friday, November 20, 2015
Notre Dame Rallies To Tie UMass Lowell, 2-2
Sophomore forward Anders Bjork nets game-tying goal for Fighting Irish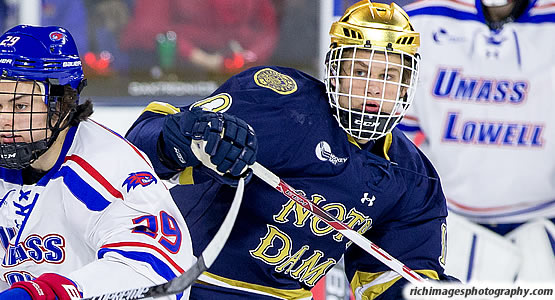 Sophomore forward Anders Bjork scored the game-tying goal for the Fighting Irish
| | | | | | | |
| --- | --- | --- | --- | --- | --- | --- |
| Prd | Time | Team | Score | Type | Scored By | Assists |
| 1st | 15:27 | UML | 1-0 | PP | Nick Master (2) | Adam Chapie/5, A.J. White/3 |
| 2nd | 9:22 | UML | 2-0 | EV | Joe Gambardella (3) | C.J. Smith/6 |
| 2nd | 19:17 | NDM | 1-2 | PP | Dennis Gilbert (1) | Bobby Nardella/4, Jake Evans/10 |
| 3rd | 9:55 | NDM | 2-2 | PP GT | Anders Bjork (3) | Steven Fogarty/6, Mario Lucia/6 |
| | | | | | |
| --- | --- | --- | --- | --- | --- |
| Scoring | 1st | 2nd | 3rd | OT | Final |
| Notre Dame | 0 | 1 | 1 | 0 | 2 |
| UMass Lowell | 1 | 1 | 0 | 0 | 2 |
| | | | | | |
| --- | --- | --- | --- | --- | --- |
| Shots on Goal | 1st | 2nd | 3rd | OT | SOG |
| Notre Dame | 5 | 8 | 9 | 6 | 28 |
| UMass Lowell | 19 | 7 | 6 | 2 | 34 |
| | | | |
| --- | --- | --- | --- |
| Team Stats and Records | PP | PIM | SHGF |
| Notre Dame (5-2-4) | 2/5 | 5/10 | 0 |
| UMass Lowell (8-1-3) | 1/5 | 5/10 | 0 |
| | | | | | | | |
| --- | --- | --- | --- | --- | --- | --- | --- |
| Notre Dame Goaltending | MIN | GA | 1 | 2 | 3 | OT | Saves |
| Cal Petersen (T, 5-2-4) | 65:00 | 2 | 18 | 6 | 6 | 2 | 32 |
| | | | | | | | |
| --- | --- | --- | --- | --- | --- | --- | --- |
| UMass Lowell Goaltending | MIN | GA | 1 | 2 | 3 | OT | Saves |
| Kevin Boyle (T, 8-1-3) | 65:00 | 2 | 5 | 7 | 8 | 6 | 26 |
LOWELL, Mass. - The No. 5 ranked UMass Lowell Hockey team skated to a 2-2 tie with No. 15 Notre Dame on Friday night in Hockey East action in front of 5,141 fans at the Tsongas Center.
The River Hawks are now 8-1-3 overall on the season (4-0-3 HEA) and Notre Dame moves to 5-2-4 and 3-0-2 in league play.
UMass Lowell got out to a 2-0 lead in the first half of the game on goals by freshman forward Nick Master (Broomall, Pa.) and junior forward Joe Gambardella (Staten Island, N.Y.) at 15:27 of the first period and 9:22 of the second. Master finished the game 11-of-17 (65%) from the faceoff circle. The River Hawks owned a 19-5 shot advantage in the first period of play.
Sophomore forward C.J. Smith (Des Moines, Iowa) registered a game-high five shots on goal for the River Hawks.
Notre Dame got on the board on the power play at 19:17 of the second period on Dennis Gilbert's first career goal. Anders Bjork scored his third goal of the season to tie the game at 2-2 for the Fighting Irish at 9:55 of the third period.
Senior goaltender Kevin Boyle (Manalapan, N.J.) registered 26 saves on the night, while Notre Dame's Cal Petersen finished the night with 32 stops. The Fighting Irish went 2-for-5 on the power play, while the River Hawks went 1-for-5 in the contest.
UMass Lowell will finish the two-game Hockey East series with Notre Dame on Saturday, November 21st. Game time from the Tsongas Center is 7 p.m.