Northeastern And UMass Lowell Skate To 2-2 Tie
Senior forward Mike McMurtry scores game-tying goal for Huskies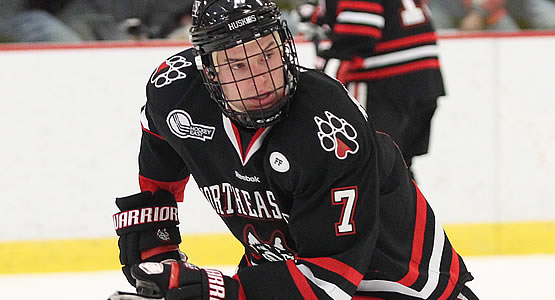 Senior forward Mike McMurtry scored the game-tying goal for the Huskies
| | | | | | | |
| --- | --- | --- | --- | --- | --- | --- |
| Prd | Time | Team | Score | Type | Scored By | Assists |
| 1st | 6:53 | UML | 1-0 | EV | Evan Campbell (5) | A.J. White/9 |
| 1st | 8:21 | NOE | 1-1 | EV | Trevor Owens (1) | Brendan Collier/7, Sam Kurker/9 |
| 1st | 16:37 | UML | 2-1 | PP | Joe Gambardella (6) | C.J. Smith/16, Adam Chapie/16 |
| 3rd | 9:32 | NOE | 2-2 | PP GT | Mike McMurtry (5) | Dylan Sikura/9, Colton Saucerman/7 |
| | | | | | |
| --- | --- | --- | --- | --- | --- |
| Scoring | 1st | 2nd | 3rd | OT | Final |
| Northeastern | 1 | 0 | 1 | 0 | 2 |
| UMass Lowell | 2 | 0 | 0 | 0 | 2 |
| | | | | | |
| --- | --- | --- | --- | --- | --- |
| Shots on Goal | 1st | 2nd | 3rd | OT | SOG |
| Northeastern | 4 | 9 | 19 | 0 | 32 |
| UMass Lowell | 12 | 8 | 6 | 0 | 26 |
| | | | |
| --- | --- | --- | --- |
| Team Stats and Records | PP | PIM | SHGF |
| Northeastern (9-13-5) | 1/2 | 4/8 | 0 |
| UMass Lowell (17-5-5) | 1/4 | 2/4 | 0 |
| | | | | | | | |
| --- | --- | --- | --- | --- | --- | --- | --- |
| Northeastern Goaltending | MIN | GA | 1 | 2 | 3 | OT | Saves |
| Ryan Ruck (T, 7-10-4) | 65:00 | 2 | 10 | 8 | 6 | 0 | 24 |
| | | | | | | | |
| --- | --- | --- | --- | --- | --- | --- | --- |
| UMass Lowell Goaltending | MIN | GA | 1 | 2 | 3 | OT | Saves |
| Kevin Boyle (T, 16-5-5) | 65:00 | 2 | 3 | 9 | 18 | 0 | 30 |
LOWELL, Mass. - Senior goaltender Kevin Boyle (Manalapan, N.J.) made 30 saves as the UMass Lowell Hockey team (17-5-5, 10-3-4 HEA) skated to a 2-2 tie against Northeastern (9-13-5, 4-8-4 HEA) on Friday night in Hockey East action at the Tsongas Center in front of 4,892 fans.
The opening frame brought plenty of action, as the two squads tallied a total of three goals in the first 20 minutes of play. Junior forward Evan Campbell (Port Coquitlam, B.C) broke open the scoring at 6:53, after putting back a loose rebound in front of the net. The lead did not last for long, though, as Northeastern's Trevor Owens countered with a goal of his own to knot the score, 1-1, just 88 seconds later. The home team later reclaimed the upper hand on a power play goal by junior forward Joe Gambardella (Staten Island, N.Y.), allowing the team to close the period with a 2-1 lead.
The two teams traded shots in a scoreless second period, as the Huskies held a slight, 9-8 shot advantage.
Northeastern erased the difference once more when McMurtry notched the lone goal of the third period. The Huskies took advantage of a River Hawk penalty, and the goal was enough to send the two teams into overtime for the second time this season.
As time expired, neither team could find a way to bury the game-winner, though Gambardella gave UMass Lowell their best chance with 34 seconds remaining in overtime. The forward looked to sneak the puck past Northeastern goaltender Ryan Ruck, but Ruck stood tall coming up with the save.
Campbell and junior defenseman Dylan Zink (Madison, Wis.) posted a team-high four shots in the outing.
Friday's contest marked the 111th meeting between the River Hawks and the Huskies, as UMass Lowell continues to hold a strong 59-42-10 advantage in the all-time series. The River Hawks are back in action Saturday night at home when they take on New Hampshire for a 7 p.m. contest at the Tsongas Center.