Saturday, October 24, 2015
Providence College Sweeps Ohio State With 6-4 Victory
Senior forward Trevor Mingoia dishes out three assists for Friars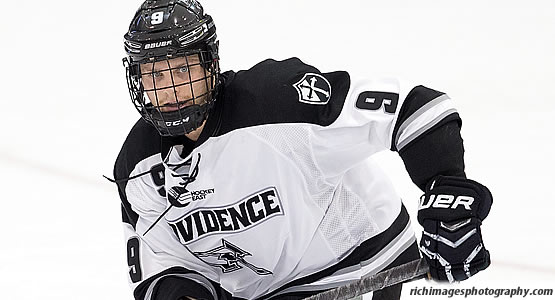 Senior forward Trevor Mingoia recorded three assists for the Friars
| | | | | | | |
| --- | --- | --- | --- | --- | --- | --- |
| Prd | Time | Team | Score | Type | Scored By | Assists |
| 1st | 4:30 | PRV | 1-0 | EV | Brandon Tanev (3) | - |
| 1st | 13:18 | PRV | 2-0 | EV EA DP | Kevin Rooney (1) | Steven McParland/2, Kyle McKenzie/1 |
| 1st | 18:44 | PRV | 3-0 | EV | Ryan Tait (1) | Garrett Gamez/1, Josh Monk/1 |
| 2nd | 9:55 | OSU | 1-3 | SH | Tyler Lundey (1) | Nick Schilkey/1, Drew Brevig/1 |
| 2nd | 10:58 | PRV | 4-1 | PP | John Gilmour (2) | Trevor Mingoia/5, Nick Saracino/2 |
| 2nd | 18:36 | OSU | 2-4 | PP | Luke Stork (1) | Kevin Miller/1, David Gust/4 |
| 3rd | 5:36 | PRV | 5-2 | PP GW | Jake Walman (3) | Tom Parisi/3, Trevor Mingoia/6 |
| 3rd | 6:15 | PRV | 6-2 | PP | Mark Jankowski (3) | John Gilmour/2, Trevor Mingoia/7 |
| 3rd | 12:06 | OSU | 3-6 | PP | Matthew Weis (2) | Nick Schilkey/2, David Gust/5 |
| 3rd | 12:37 | OSU | 4-6 | EV | John Wiitala (1) | Christian Lampasso/1, Craig Dalrymple/2 |
| | | | | |
| --- | --- | --- | --- | --- |
| Scoring | 1st | 2nd | 3rd | Final |
| Ohio State | 0 | 2 | 2 | 4 |
| Providence | 3 | 1 | 2 | 6 |
| | | | | |
| --- | --- | --- | --- | --- |
| Shots on Goal | 1st | 2nd | 3rd | SOG |
| Ohio State | 5 | 18 | 11 | 34 |
| Providence | 19 | 7 | 6 | 32 |
| | | | |
| --- | --- | --- | --- |
| Team Stats and Records | PP | PIM | SHGF |
| Ohio State (0-6-0) | 2/6 | 11/22 | 1 |
| Providence (4-0-1) | 3/10 | 7/14 | 0 |
| | | | | | | |
| --- | --- | --- | --- | --- | --- | --- |
| Ohio State Goaltending | MIN | GA | 1 | 2 | 3 | Saves |
| Matt Tomkins (L, 0-5-0) | 56:45 | 6 | 16 | 6 | 4 | 26 |
| Empty Net | 3:15 | 0 | | | | |
| | | | | | | |
| --- | --- | --- | --- | --- | --- | --- |
| Providence Goaltending | MIN | GA | 1 | 2 | 3 | Saves |
| Nick Ellis (W, 4-0-1) | 59:23 | 4 | 5 | 16 | 9 | 30 |
| Empty Net | 0:37 | 0 | | | | |
PROVIDENCE, R.I. - The third-ranked Providence College men's hockey team survived a late surge and held on for a 6-4 victory over Ohio State on Saturday night at Schneider Arena after a frantic third period.
Providence improves to 4-0-1 and matches their start from the 2013-14 campaign, while the Buckeyes drop to 0-6-0. Nick Ellis (4-0-1) stood tall in the final 40 minutes, making 25 saves over that span, including 16 in the middle stanza. Matt Tomkins surrendering six goals for the Buckeyes while turning away 26 shots.
Trevor Mingoia (Fairport, N.Y.) posted a career high three assists as the Friars boasted six different goal scorers on Saturday.
Tanev got things rolling for the Friars just 4:30 into the first as he collected a clear in the neutral zone and went high-glove on Tomkins from the top of the right circle to give Providence a 1-0 lead. The senior grabbed his team-leading third goal of the season on the play.
Despite not converting on four power play attempts in the opening frame, the Friars continued to find success at 5-on-5 and added to their lead when Kevin Rooney notched his first of the season on a delayed penalty. Ellis continued his strong play, denying a streaking Anthony Greco twice from close range in the first.
The lead grew to 3-0 when freshman Ryan Tait (Santa Clarita, Calif.) struck for the first time in his career on assists from Garrett Gamez (Chino Hills, Calif.) and Josh Monk (Langley, B.C.).
Ellis withstood an onslaught in the beginning of the second as three consecutive Friar penalties forced the junior to make 10 saves in the opening minutes. The Buckeyes eventually broke through shorthanded as Tyler Lundey stuffed home a loose puck in the crease at 9:55. Just 1:03 later, John Gilmour gave the Friars a three-goal cushion once again as he buried Trevor Mingoia's rebound.
Ohio State continued to claw back, this time with Luke Stork re-directing Kevin Miller's backhand shot past Ellis with 1:24 left in the period. The Buckeyes outshot the Friars 18-7 during the second stanza.
Things looked good for the Friars early in the third after Jake Walman and Mark Jankowski potted power play goals just 39 seconds apart to put Providence up 6-2. Undeterred, the Buckeyes struck for two quick goals in a span of 31 seconds thanks to Matthew Weis and John Wiitala. The Friars couldn't find the empty net for nearly three minutes, but it didn't matter as crucial shot blocks and key saves from Ellis denied the Buckeye rally.
Up next, Providence will hit the road for a two-game set at Colgate next weekend in the final season at Starr Rink.
HOW THEY SCORED:
1-0 (PC) Goal scored by Brandon Tanev (Unassisted) - Wrist shot from just inside the left faceoff circle over the glove of Tomkins.
2-0 (PC) - Goal scored by Kevin Rooney (McParland, McKenzie) - Rooney collected McParland's rebound to put it in far post.
3-0 (PC) Goal scored by Ryan Tait (Gamez, Monk) - Centering feed to Tait, shot from bottom of the circle to power past Ohio State's goaltender.
3-1 (OSU) Goal scored by Taylor Lundey (Schilkey) - Initial save by Ellis, loose puck was collected in the crease and put in the net.
4-1 (PC) Power Play Goal by John Gilmour (Mingoia, Saracino) - Backhanded shot by Gilmour from the left dot.
4-2 (OSU) Power Play Goal by Luke Stork (Miller, Gust) - Stork tipped the puck in just off the far post. Miller's shot came from the top of the hashmarks.
5-2 (PC) Power Play Goal by Jake Walman (Parisi, Mingoia) - One-timer from the blue-line, shot top right corner.
6-2 (PC) Power Play Goal by Mark Jankowski (Gilmour, Mingoia) - Jankowski tipped a Gilmour point shot from the tops of the hashmarks.
6-3 (OSU) Power Play Goal by Matthew Weis (Schilkey, Gust) - Weis tapped the puck in after some stick work from Schilkey and a quick feed across the crease.
6-4 (OSU) Goal scored by John Wiitala (Dalrymple) - Dalrymple's point shot bounced out from traffic in front to Wiitala, who took a slap shot at the hashmarks to go just under the crossbar.
NOTES:
Mingoia's three assists were a career high ... Providence now leads the all-time series against the Buckeyes 4-3 ... Friar defensemen have now combined for eight goals and 12 assists over the first five games this season ... freshman Garrett Gamez notched his first collegiate point on Tait's goal ... dating back to last season, the Friars' unbeaten streak is now up to nine games (8-0-1) ... Walman led the way with six shots on goal ... Kyle McKenzie and Josh Monk each recorded their first points of the season ... Power Plays: Providence - 3/10, Ohio State 2/6 ... official shots on goal: Providence 32, Ohio State 34 ... Attendance: 2,764.