Providence College Notches 3-1 Win Over New Hampshire
Senior forward Mark Jankowski posts goal and assist for Friars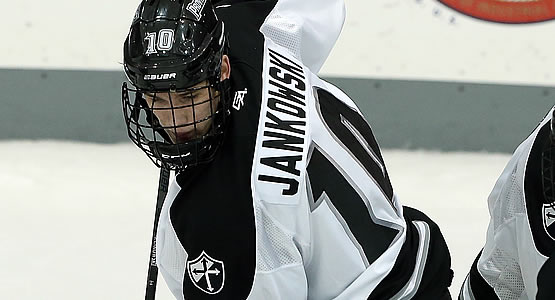 Senior forward Mark Jankowski had a goal and an assist for the Friars
| | | | | | | |
| --- | --- | --- | --- | --- | --- | --- |
| Prd | Time | Team | Score | Type | Scored By | Assists |
| 2nd | 3:38 | PRV | 1-0 | EV | Trevor Mingoia (8) | Mark Jankowski/14, Bryan Lemos/4 |
| 3rd | 2:33 | PRV | 2-0 | EV GW | Mark Jankowski (12) | Trevor Mingoia/18, Jake Walman/13 |
| 3rd | 11:15 | UNH | 1-2 | EV | Tyler Kelleher (7) | Andrew Poturalski/21, Cameron Marks/10 |
| 3rd | 19:35 | PRV | 3-1 | EV EN | Steven McParland (3) | Tom Parisi/11 |
| | | | | |
| --- | --- | --- | --- | --- |
| Scoring | 1st | 2nd | 3rd | Final |
| New Hampshire | 0 | 0 | 1 | 1 |
| Providence | 0 | 1 | 2 | 3 |
| | | | | |
| --- | --- | --- | --- | --- |
| Shots on Goal | 1st | 2nd | 3rd | SOG |
| New Hampshire | 10 | 6 | 10 | 26 |
| Providence | 11 | 19 | 11 | 41 |
| | | | |
| --- | --- | --- | --- |
| Team Stats and Records | PP | PIM | SHGF |
| New Hampshire (8-13-4) | 0/4 | 4/8 | 0 |
| Providence (17-4-4) | 0/3 | 5/10 | 0 |
| | | | | | | |
| --- | --- | --- | --- | --- | --- | --- |
| New Hampshire Goaltending | MIN | GA | 1 | 2 | 3 | Saves |
| Daniel Tirone (L, 6-12-4) | 59:31 | 2 | 11 | 18 | 9 | 38 |
| Empty Net | 0:29 | 1 | | | | |
| | | | | | | |
| --- | --- | --- | --- | --- | --- | --- |
| Providence Goaltending | MIN | GA | 1 | 2 | 3 | Saves |
| Nick Ellis (W, 16-4-4) | 60:00 | 1 | 10 | 6 | 9 | 25 |
PROVIDENCE, R.I. - Mark Jankowski tallied the eventual game-winning goal in the third period and Trevor Mingoia added a goal and an assist as the fourth-ranked Providence College men's hockey team skated past New Hampshire, 3-1, at Schneider Arena on Friday night.
The success at home this season continues for the Friars as they improve to 9-0-2 on home ice and 17-4-4 (8-2-3 HEA) with the win. UNH drops its seventh straight to fall to 8-13-4 (2-7-4).
Nick Ellis made stopped 25-of-26 attempts to earn his 16th victory of the win, while Danny Tirone surrendered two goals on 40 shots in the loss.
The teams battled through a scoreless first, but not without a couple of prime scoring chances for both teams. Jankowski found himself free at the top of circles on two occasions, but Tirone got a piece of both of them to keep the Friars at bay.
UNH looked poised to strike first late in the period as Jamie Hill's re-direct chip sailed over Ellis' pad, but skidded just past the left post.
The Friars amped up the pressure in the second frame, outshooting the Wildcats by a 19-6 margin including several shifts spent in the UNH defensive zone. Trevor Mingoia finally broke one through Tirone at 3:38 when he hammered home a rebound off a Jankowski shot for his eighth of the season. The senior forced Tirone into a turnover behind the net and centered to Jankowski, whose shot deflected right to Mingoia for the putback into the net.
Jankowski gave the Friars a much needed insurance tally early in the third with slick cut the top of the slot and wrist shot through traffic that snuck under the glove of Tirone.
The Wildcats made things interesting with under 10 minutes to play on Tyler Kelleher's finish off a cross-crease pass from Andrew Poturalski to cut the Friar lead to 2-1.
With Tirone out of the net in favor of the extra attacker, Steve McParland's dogged work along the boards and half-ice shot in the empty cage sealed it for the Friars with 25 seconds remaining.
Up next, the Friars and Wildcats will tangle once again tomorrow night for the back-end of the weekend doubleheader.
HOW THEY SCORED
1-0 (PC) Goal scored by Trevor Mingoia (Jankowski, Lemos): Forced turnover behind the net, centered to Jankowski, and then hammered home the rebound.
2-0 (PC) Goal scored by Mark Jankowski (Mingoia, Walman): Cut to the middle, wrister under the glove of Tirone.
2-1 (UNH) Goal scored by Tyler Kelleher (Poturalski, Marks): Cross-crease pass from Poturalski to Kelleher.
3-1 (PC) Empty net goal scored by Steven McParland (Parisi): Shot from center ice.
NOTES
Mingoia's has recorded five goals and six assists in his last seven games ... The Friars are 15-0-4 when leading after 40 minutes this season ... Providence extends its regular season unbeaten streak at home to 16 games dating back to last season (14-0-2) ... Tom Parisi has posted five assists in his last six games ... Jankowski led the way with six shots on goal, Jake Walman followed with five shots and added an assist ... Rhode Island native Bryan Lemos chipped in with an assist for his fifth point of the season ... Jankowski, Walman, and Mingoia each have a team-high 26 points this season ... Power Plays: Providence - 0/3, New Hampshire 0/4 ... official shots on goal: Providence 41, New Hampshire 26 ... Attendance: 2,992.​