Friday, December 11, 2015
Massachusetts Falls To Union In Overtime, 4-3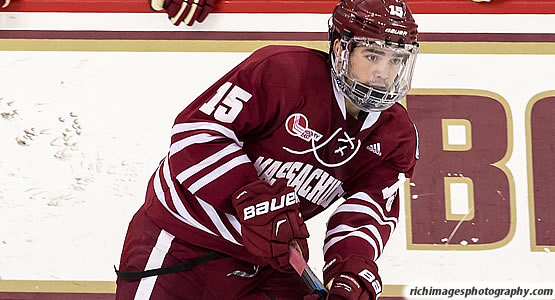 Junior forward Ray Pigozzi scores two goals for Minutemen
| | | | | | | |
| --- | --- | --- | --- | --- | --- | --- |
| Prd | Time | Team | Score | Type | Scored By | Assists |
| 1st | 0:49 | UMA | 1-0 | EV | Ray Pigozzi (6) | Ben Gallacher/7 |
| 1st | 13:32 | UNI | 1-1 | EV | Spencer Foo (7) | Ryan Scarfo/3, J.C. Brassard/1 |
| 1st | 18:08 | UNI | 2-1 | EV | Ryan Scarfo (9) | Matt Wilkins/7, Brett Supinski/6 |
| 2nd | 15:26 | UNI | 3-1 | EV | Mike Vecchione (5) | Spencer Foo/6, Sebastian Vidmar/3 |
| 3rd | 5:12 | UMA | 2-3 | EV | Ray Pigozzi (7) | Austin Plevy/8, Dennis Kravchenko/11 |
| 3rd | 8:01 | UMA | 3-3 | EV | Shane Walsh (12) | Steven Iacobellis/10 |
| OT | 4:51 | UNI | 4-3 | EV GW | Sebastian Vidmar (2) | Mike Vecchione/6 |
| | | | | | |
| --- | --- | --- | --- | --- | --- |
| Scoring | 1st | 2nd | 3rd | OT | Final |
| Union | 2 | 1 | 0 | 1 | 4 |
| Massachusetts | 1 | 0 | 2 | 0 | 3 |
| | | | | | |
| --- | --- | --- | --- | --- | --- |
| Shots on Goal | 1st | 2nd | 3rd | OT | SOG |
| Union | 11 | 10 | 14 | 1 | 36 |
| Massachusetts | 4 | 11 | 7 | 3 | 25 |
| | | | |
| --- | --- | --- | --- |
| Team Stats and Records | PP | PIM | SHGF |
| Union (6-6-4) | 0/3 | 6/23 | 0 |
| Massachusetts (6-8-4) | 0/5 | 4/8 | 0 |
| | | | | | | | |
| --- | --- | --- | --- | --- | --- | --- | --- |
| Union Goaltending | MIN | GA | 1 | 2 | 3 | OT | Saves |
| Alex Sakellaropoulos (W, 5-4-4) | 64:51 | 3 | 3 | 11 | 5 | 3 | 22 |
| | | | | | | | |
| --- | --- | --- | --- | --- | --- | --- | --- |
| Massachusetts Goaltending | MIN | GA | 1 | 2 | 3 | OT | Saves |
| Nic Renyard (L, 4-6-4) | 64:51 | 4 | 9 | 9 | 14 | 0 | 32 |
AMHERST, Mass. - Massachusetts hockey rallied from a 3-1 deficit in the third period, but Union stole the 4-3 victory, scoring the game-winning goal with nine seconds remaining in overtime on Friday night at the Mullins Center. The loss leaves the Minutemen at 6-8-4 on the year, while the Dutchmen improve to 6-6-4 on the season.
Junior Ray Pigozzi netted two for UMass on the evening for his first career multi-goal game, while he also surpassed his career single-season high with his sixth and seventh tallies of the 2015-16 campaign. Senior Shane Walsh scored for a third straight contest, his team-leading 12th goal of the season, and sophomore Dennis Kravchenko added his squad-best 11th assist of the year.
UMass jumped out to an early 1-0 lead just 49 seconds into the contest. After blocking a shot, senior Ben Gallacher chipped a pass up the ice, setting up Pigozzi with a breakaway that led to his sixth goal of the season.
However, Union managed to tie the score at 1-1 in a four-on-four situation midway through the opening period. After receiving the puck from Ryan Scarfo on the rush, Spencer Foo drove to the net and lifted a shot over netminder Nic Renyard at the 13:32 mark.
Before the close of the frame, the Dutchmen took a 2-1 lead after capitalizing on a UMass turnover. Brett Supinski sent a pass to Matt Wilkins down low and Wilkins found Ryan Scarfo for the one-timer at the opposite post 18:08 into the period.
Union expanded its advantage to 3-1 late in the second. Amidst a scramble in front of the net, Mike Vecchione knocked the puck home at the 15:26 mark.
The Minutemen then mounted a comeback in the third period. Pigozzi's second of the night came 5:12 into the stanza as Kravchenko centered the puck from behind the net and freshman Austin Plevy connected with Pigozzi on a pass across the slot.
Walsh netted the equalizer at 8:01, tying the score at 3-3. After UMass gained possession following a big hit in the neutral zone, junior Steven Iacobellis fed Walsh for a quick wrister from the right wing.
However, the Dutchmen responded with the game winner 4:51 into overtime. Following a UMass faceoff win to Renyard's right, Sebastian Vidmar stole the puck and drove to the net for his second of the season.
Union ended the contest with a 36-25 shot advantage and neither side cracked the scores heet on the power play with the Dutchmen going 0-for-3 and UMass 0-for-5.
Renyard totaled 32 saves for the Minutemen, while Alex Sakellaropoulos stopped 22 in net for Union.
UMass will be back in action with an exhibition game against the U.S. National Junior Team next Friday, Dec. 18, at 7 p.m. in the Mullins Center.