Saturday, February 13, 2016
New Hampshire And Vermont Skate To 2-2 Tie
Sophomore forward Shane Eiserman scores game-tying goal for Wildcats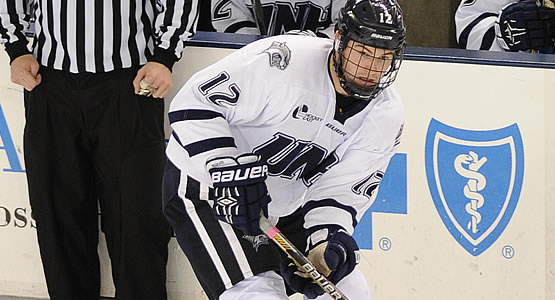 Sophomore forward Shane Eiserman scored the game-tying goal for the Wildcats
| | | | | | | |
| --- | --- | --- | --- | --- | --- | --- |
| Prd | Time | Team | Score | Type | Scored By | Assists |
| 1st | 10:26 | VER | 1-0 | EV | Mitch Ferguson (2) | Trey Phillips/2, Conor O'Neil/4 |
| 2nd | 8:08 | VER | 2-0 | PP | Chris Muscoby (2) | Mario Puskarich/17, Alexx Privitera/10 |
| 2nd | 10:41 | UNH | 1-2 | PP | Andrew Poturalski (22) | Matias Cleland/19, Michael McNicholas/5 |
| 3rd | 5:18 | UNH | 2-2 | EV GT | Shane Eiserman (2) | Jamie Hill/7, John Furgele/11 |
| | | | | | |
| --- | --- | --- | --- | --- | --- |
| Scoring | 1st | 2nd | 3rd | OT | Final |
| Vermont | 1 | 1 | 0 | 0 | 2 |
| New Hampshire | 0 | 1 | 1 | 0 | 2 |
| | | | | | |
| --- | --- | --- | --- | --- | --- |
| Shots on Goal | 1st | 2nd | 3rd | OT | SOG |
| Vermont | 10 | 7 | 12 | 1 | 30 |
| New Hampshire | 11 | 13 | 6 | 1 | 31 |
| | | | |
| --- | --- | --- | --- |
| Team Stats and Records | PP | PIM | SHGF |
| Vermont (12-16-3) | 1/3 | 6/20 | 0 |
| New Hampshire (10-15-5) | 1/4 | 4/19 | 0 |
| | | | | | | | |
| --- | --- | --- | --- | --- | --- | --- | --- |
| Vermont Goaltending | MIN | GA | 1 | 2 | 3 | OT | Saves |
| Packy Munson (T, 8-6-1) | 64:45 | 2 | 11 | 12 | 5 | 1 | 29 |
| Empty Net | 0:15 | 0 | | | | | |
| | | | | | | | |
| --- | --- | --- | --- | --- | --- | --- | --- |
| New Hampshire Goaltending | MIN | GA | 1 | 2 | 3 | OT | Saves |
| Daniel Tirone (T, 8-14-5) | 65:00 | 2 | 9 | 6 | 12 | 1 | 28 |
DURHAM, N.H. - Andrew Poturalski (Wiliamsville, N.Y.) and Shane Eiserman (Newburyport, Mass.) both scored a goal to erase a two-goal deficit and lift the University of New Hampshire men's hockey team into Saturday night's 2-2 tie against the University of Vermont at the Whittemore Center. The game marked the 1,000th for Dick Umile as head coach of the Wildcats.
Date: February 13, 2016 (7 p.m.)
Score: University of New Hampshire 2, University of Vermont 2
New Records: Vermont (12-16-3, 6-9-3 HE) // New Hampshire (10-15-5, 4-9-5 HE)
Location: Whittemore Center Center (Durham, N.H.)
Attendance: 5,018 (6,501 capacity)

Goal Scorers
Vermont - Mitch Ferguson (1), Chris Muscoby (1)
New Hampshire - Shane Eiserman (1), Andrew Poturalski (1)
Goaltenders
Vermont - Packy Munson (8-6-1) 29 saves (11 | 12 | 5 | 1 - 64:45)
UNH - Danny Tirone (8-14-5) 28 saves (9 | 6 | 12 | 1 - 65:00)
Next Game: Feb. 19 vs. Boston University (8:30 p.m.) at Whittemore Center // GET TICKETS HERE
WHAT HAPPENED
Vermont took a 1-0 lead at 10:26 of the first period. Conor O'Neil's shot from the right wing careened around the boards to Trey Phillips at the left point. Phillips sent a pass across the high slot to Mitch Ferguson, whose low shot sailed inside the right post.
UVM extended the advantage to 2-0 on Chris Muscoby's power-play goal at 8:08 of the second stanza. Alexx Privitera initiated the scoring sequence with a pass from the slot to Mario Puskarich at the top of the right circle. Puskarich slipped the puck to the high slot, where Muscoby's screened slapshot eluded Danny Tirone (Trumbull, Conn.).
UNH pulled within one goal, 2-1, with a power-play goal of its own at 10:41. Andrew Poturalski (Williamsville, N.Y.) looped from the left circle to the slot, where he eluded a defender before wristing a shot into the cage. Matias Cleland (Longmont, Colo.) was credited with an assist.
The Wildcats were outshot 12-6 in the third period but scored the only goal in the stanza to level the score and send the game into overtime. The puck slipped off the stick of Jamie Hill (Glassboro, N.J.) on his wraparound attempt at the left post but Shane Eiserman (Newburyport, Mass.) was in position to jam the puck into the net. John Furgele (Glen Mills, Pa.) was credited with the secondary assist.
TEAM NOTES
This marked the 1,000th game UNH head coach for Dick Umile. He is the fifth active coach and 12th coach in NCAA men's hockey history to reach that milestone. Now in his 25th year, Umile has compiled a record of 570-328-101 (.621 win percentage).
Poturalski extended his point streak to seven games. He has nine points (4-5-9) in that span.
PENALTIES
Vermont: 7 penalties - 25 minutes
New Hampshire: 5 penalties - 21 minutes
SPECIAL TEAMS
Vermont: 1-for-3
New Hampshire: 1-for-4
NEW HAMPSHIRE LEADERS
Points (1): Matias Cleland, Shane Eiserman, Jamie Hill, Michael McNicholas, Andrew Poturalski, John Furgele
Goals (1): Shane Eiserman, Andrew Poturalskie
Assists (1): Matias Cleland, John Furgele, Jamie Hill, Michael McNicholas
Shots (5): Andrew Poturalski
Blocked Shots (2): Cameron Marks
VERMONT LEADERS
Points (1): Mitch Ferguson, Chris Muscoby, Conor O'Neil, Trey Phillips, Alexx Privitera, Mario Puskarich
Goals (1): Chris Muscoby, Mitch Ferguson
Assists (1): Conor O'Neil, Trey Phillips, Alexx Privitera, Mario Puskarich
Shots (4): Brendan Bradley, Mike Lee, Chris Muscoby, Mario Puskarich
Blocked Shots (1): Kevin Irwin Mike Lee, Alexx Privitera, Craig Puffer, Dan Senkbeil,