McAvoy Sends Boston University Past North Dakota, 4-3, In Double Overtime
Sophomore defenseman Charlie McAvoy scores at 11:48 of second overtime for Terriers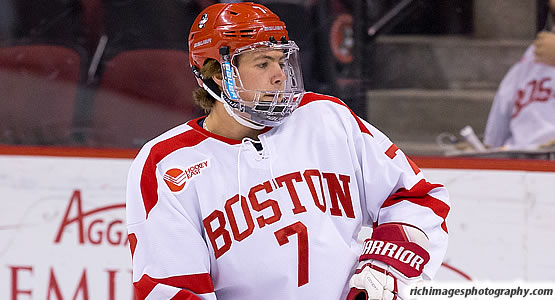 Sophomore defenseman Charlie McAvoy scored at 11:48 of the second overtime for the Terriers
| | | | | | | |
| --- | --- | --- | --- | --- | --- | --- |
| Prd | Time | Team | Score | Type | Scored By | Assists |
| 1st | 17:04 | NDK | 1-0 | EV | Rhett Gardner (8) | Joel Janatuinen/11, Brock Boeser/18 |
| 2nd | 2:05 | BU | 1-1 | EV | Doyle Somerby (1) | Charlie McAvoy/21, Patrick Curry/8 |
| 3rd | 0:28 | BU | 2-1 | EV | Bobo Carpenter (14) | Clayton Keller/23, Jordan Greenway/21 |
| 3rd | 4:24 | BU | 3-1 | EV | Jakob Forsbacka Karlsson (14) | Patrick Harper/23, Nick Roberto/9 |
| 3rd | 12:14 | NDK | 2-3 | EV | Ludvig Hoff (4) | Trevor Olson/9, Dixon Bowen/4 |
| 3rd | 15:34 | NDK | 3-3 | EV | Christian Wolanin (6) | Trevor Olson/10, Ludvig Hoff/12 |
| OT2 | 11:48 | BU | 4-3 | EV GW | Charlie McAvoy (5) | Clayton Keller/24, Patrick Harper/24 |
| | | | | | | |
| --- | --- | --- | --- | --- | --- | --- |
| Scoring | 1 | 2 | 3 | O1 | O2 | Final |
| North Dakota | 1 | 0 | 2 | 0 | 0 | 3 |
| Boston University | 0 | 1 | 2 | 0 | 1 | 4 |
| | | | | | | |
| --- | --- | --- | --- | --- | --- | --- |
| Shots | 1 | 2 | 3 | O1 | O2 | SOG |
| North Dakota | 9 | 16 | 21 | 5 | 8 | 59 |
| Boston University | 9 | 9 | 5 | 0 | 6 | 29 |
| | | | |
| --- | --- | --- | --- |
| Team Stats and Records | PP | PIM | SHGF |
| North Dakota (21-16-3) | 0/6 | 2/4 | 0 |
| Boston University (24-11-3) | 0/2 | 6/12 | 0 |
| | | | | | | | | |
| --- | --- | --- | --- | --- | --- | --- | --- | --- |
| North Dakota Goaltending | MIN | GA | 1 | 2 | 3 | O1 | O2 | Saves |
| Cam Johnson (L, 20-13-3) | 91:48 | 4 | 9 | 8 | 3 | 0 | 5 | 25 |
| | | | | | | | | |
| --- | --- | --- | --- | --- | --- | --- | --- | --- |
| Boston University Goaltending | MIN | GA | 1 | 2 | 3 | O1 | O2 | Saves |
| Jake Oettinger (W, 21-10-3) | 91:48 | 3 | 8 | 16 | 19 | 5 | 8 | 56 |
ARGO, N.D - Freshman Clayton Keller found sophomore Charlie McAvoy at the foot of the right circle in the 12th minute of double overtime to lead the No. 6 Boston University men's ice hockey team to a thrilling 4-3 victory over No. 10 North Dakota in the opening round of the NCAA West Regional on Friday.
THE RUNDOWN
Score: #6 Boston University 4, #10 North Dakota 3 (2OT)
Records: BU (24-11-3), North Dakota (21-16-3)
Location: Scheels Arena - Fargo, N.D.
HOW IT HAPPENED
- Freshman Jake Oettinger recorded 56 saves, including 21 in the third period alone, to keep the Terriers in the game.
- BU broke a 1-1 tie with goals from sophomores Bobo Carpenter and Jakob Forsbacka Karlsson in the first five minutes of the third period but the Fighting Hawks battled back with goals just over three minutes apart to send the game to overtime.
- A North Dakota goal 3:48 into overtime was overturned due to the play being offsides.
- The Fighting Hawks went 66 minutes without taking a penalty until Gage Ausmus hooked Keller on a breakaway 51 seconds into the second overtime.
- The ensuing power play only lasted 45 seconds before BU's Jordan Greenway was sent off for goaltender interference but the Terriers were able to get back to full strength thanks to their penalty kill finishing off a perfect 6-for-6 performance for the game.
- At 8:12 of the second overtime, Keller skated along the outer edge of the left circle and spotted McAvoy before flinging a cross-ice pass right to the defenseman's stick. McAvoy buried the chance and ended the game, lifting BU to the thrilling victory.
- UND's Rhett Gardner opened the scoring with 2:56 remaining in the first period.
- With his first goal of the season, senior captain Doyle Somerby knotted the game at 1-all just 2:05 into the middle stanza.
GAME NOTES
- Keller earned two assists and extended his point streak to nine games (6g, 8a).
- Freshman Patrick Harper also picked up a pair of assists while senior Nick Roberto, sophomore Jordan Greenway and freshman Patrick Curry each earned one helper.
- BU went 0-for-2 on the power play but killed off all six of UND's chances with the man advantage.
- Cam Johnson recorded 25 saves for the Fighting Hawks, who held a 59-29 advantage in shots.
- The game lasted 91:48, marking BU's longest contest since a season-ending loss to Providence in the third and decisive game of the 2001 Hockey East quarterfinals on March 11, 2001.
UP NEXT
- The Terriers move on to the regional final and will face the winner of Minnesota Duluth/Ohio State at 6 p.m. ET on Saturday.
- The game will be televised live on ESPNU.