UConn And Merrimack Skate To 2-2 Tie
Sophomore defenseman Joseph Masonius scores game-tying goal for Huskies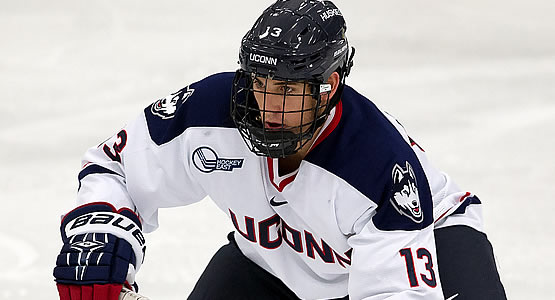 Sophomore defenseman Joseph Masonius scored the game-tying goal for the Huskies
| | | | | | | |
| --- | --- | --- | --- | --- | --- | --- |
| Prd | Time | Team | Score | Type | Scored By | Assists |
| 2nd | 6:43 | MER | 1-0 | EV | Hampus Gustafsson (11) | Brett Seney/13, Sami Tavernier/5 |
| 2nd | 8:10 | MER | 2-0 | PP | Jared Kolquist (3) | Brett Seney/14, Sami Tavernier/6 |
| 2nd | 13:02 | CON | 1-2 | EV | David Drake (3) | Jesse Schwartz/4, Evan Richardson/14 |
| 3rd | 19:27.8 | CON | 2-2 | EV EA GT | Joseph Masonius (2) | Tage Thompson/9, Spencer Naas/5 |
| | | | | | |
| --- | --- | --- | --- | --- | --- |
| Scoring | 1st | 2nd | 3rd | OT | Final |
| Connecticut | 0 | 1 | 1 | 0 | 2 |
| Merrimack | 0 | 2 | 0 | 0 | 2 |
| | | | | | |
| --- | --- | --- | --- | --- | --- |
| Shots on Goal | 1st | 2nd | 3rd | OT | SOG |
| Connecticut | 8 | 18 | 11 | 1 | 38 |
| Merrimack | 8 | 11 | 15 | 7 | 41 |
| | | | |
| --- | --- | --- | --- |
| Team Stats and Records | PP | PIM | SHGF |
| Connecticut (10-10-7) | 0/4 | 4/8 | 0 |
| Merrimack (10-13-4) | 1/3 | 5/10 | 0 |
| | | | | | | | |
| --- | --- | --- | --- | --- | --- | --- | --- |
| Connecticut Goaltending | MIN | GA | 1 | 2 | 3 | OT | Saves |
| Rob Nichols (T, 4-5-4) | 64:03 | 2 | 8 | 9 | 15 | 7 | 39 |
| Empty Net | 0:57 | 0 | | | | | |
| | | | | | | | |
| --- | --- | --- | --- | --- | --- | --- | --- |
| Merrimack Goaltending | MIN | GA | 1 | 2 | 3 | OT | Saves |
| Collin Delia (T, 4-5-1) | 64:23 | 2 | 8 | 17 | 10 | 1 | 36 |
| Empty Net | 0:37 | 0 | | | | | |
NORTH ANDOVER, Mass. - A late extra-attacker goal helped the University of Connecticut erase a two-goal deficit and force overtime, as the Merrimack College men's ice hockey team was forced to settle for a 2-2 tie against the Huskies on Friday night at Lawler Rink.
The Basics
Score: Merrimack 2, Connecticut 2
Records: Merrimack (10-13-4, 4-7-4 HEA) | Connecticut (10-10-7, 6-6-3 HEA)
Location: Lawler Rink | North Andover, Mass.
Attendance: 2549
Game Duration: 2:26
How It Happened
- Following a scoreless first period that featured only 16 combined shots, Merrimack broke through 6:43 into the second frame, as senior Hampus Gustafsson (Ljungby, Sweden) punched home his team-leading 11th tally from the left crease to give the hosts the lead. Freshman Sami Tavernier (Morzine, France) chipped the puck off the glass and out of the defensive zone to junior Brett Seney (London, Ontario), who set up Gustafsson for the go-ahead strike.
- The Warriors also drew a power play during that sequence and capitalized about 90 seconds later, as junior Jared Kolquist (Hermantown, Minn.) finished off a tic-tac-toe passing sequence with a one-timer from the back post to make it 2-0. Both Seney and Tavernier each picked up their second assists of the game.
- But UConn cut the deficit in half at the 13:02 mark of the second after David Drake snuck in a wrist shot from the near circle, and that score went unchanged going into the third.
- Merrimack had its most opportunistic period in the third, piling up15 shots on goal against the Huskies, but netminder Rob Nichols - who posted a 39-save performance - would turn them all away to keep the visitors within a goal.
- That open window of opportunity would come back to haunt the hosts, as Joseph Masonius' buried an extra-attacker marker with 33 seconds to play, as the Huskies forced overtime with their late heroics.
- Merrimack had seven more shots in overtime, but Nichols turned them all away to send each team home with a point in the league standings.
Notes & Notables
- After going eight straight games without a power play goal, Merrimack now has at least one in seven of its last nine games.
- Merrimack and UConn have now skated to three straight ties and four in their last five games; even more incredible, no team has won by more than a goal in each of the last six games (each side is 1-1-4 in that span).
Merrimack Lineup
Seney| Gustafsson | Tavernier
Hennig| L. Larsson | LeBlanc
Babcock | A. Larsson | Tibbet
Petti | Kramer | Irvine
Biega | Carle
Kolquist | Kovacevic
Solow | Cook
Delia
Vogler
Pantano
Game Leaders (MC // UCONN)
Points: Seney/Tavernier (2) // Six players (1)
Goals: Gustafsson/Kolquist (1) // Drake/Masonius (1)
Assists: Seney/Tavernier (2) // Four players (1)
Shots: Seney/Jeff Solow (3) // Spencer Naas (6)
Faceoffs Won: Hampus Gustafsson (10) // Letunov/Tage Thompson (7)
Saves: Collin Delia (36-for-38) // Rob Nichols (39-for-41)
Facts and Figures (MC // UCONN)
Power Plays: 1-3 // 0-4
Penalties: 5 Penalties - 10 Minutes // 4 Penalties - 8 Minutes
Faceoffs: 34 // 28
SOG: 8-8 // 11-18 // 15-11 // 7-1 // 41-38
Up Next
After Merrimack and UConn wrap up the season series tomorrow afternoon at the XL Center (3 p.m. puck drop), the Warriors will head to Conte Forum for a Friday (Feb. 10) night matchup against Boston College. Puck drop is set for 6 p.m., and the game will be broadcast live on regional affiliate NESN and on other networks across the country via American Sports Network.