Thursday, January 12, 2017
UConn Huskies Skate Past Maine Black Bears, 6-3
Sophomore forward Max Kalter posts goal and two assists for Huskies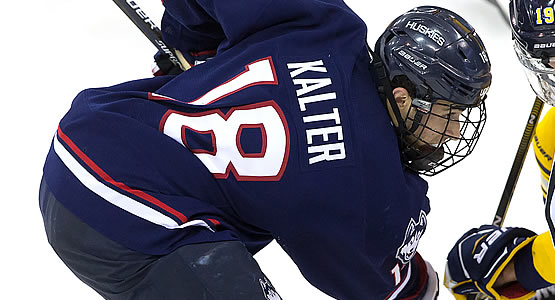 Sophomore forward Max Kalter had a goal and two assists for the Huskies
| | | | | | | |
| --- | --- | --- | --- | --- | --- | --- |
| Prd | Time | Team | Score | Type | Scored By | Assists |
| 1st | 7:57 | MNE | 1-0 | EV | Rob Michel (5) | Cam Brown/19, Brendan Robbins/7 |
| 1st | 11:47 | CON | 1-1 | EV | Spencer Naas (12) | Benjamin Freeman/8, Kasperi Ojantakanen/8 |
| 1st | 15:34 | CON | 2-1 | PP | Max Kalter (3) | Maxim Letunov/14, Philip Nyberg/3 |
| 2nd | 6:32 | MNE | 2-2 | EV | Brendan Robbins (2) | Cam Brown/20, Blaine Byron/12 |
| 2nd | 13:31 | CON | 3-2 | EV | Tage Thompson (13) | Max Kalter/12, David Drake/3 |
| 2nd | 15:02 | MNE | 3-3 | EV | Nolan Vesey (5) | Patrick Shea/8 |
| 2nd | 19:42 | CON | 4-3 | PP GW | Wyatt Newpower (2) | Maxim Letunov/15 |
| 3rd | 14:19 | CON | 5-3 | EV | Kasperi Ojantakanen (3) | Brian Morgan/6, Wyatt Newpower/3 |
| 3rd | 19:03 | CON | 6-3 | EV EN | Tage Thompson (14) | Max Kalter/13, Joseph Masonius/6 |
| | | | | |
| --- | --- | --- | --- | --- |
| Scoring | 1st | 2nd | 3rd | Final |
| Maine | 1 | 2 | 0 | 3 |
| Connecticut | 2 | 2 | 2 | 6 |
| | | | | |
| --- | --- | --- | --- | --- |
| Shots on Goal | 1st | 2nd | 3rd | SOG |
| Maine | 7 | 11 | 8 | 26 |
| Connecticut | 6 | 16 | 16 | 38 |
| | | | |
| --- | --- | --- | --- |
| Team Stats and Records | PP | PIM | SHGF |
| Maine (7-11-3) | 0/4 | 3/6 | 0 |
| Connecticut (9-7-6) | 2/3 | 4/8 | 0 |
| | | | | | | |
| --- | --- | --- | --- | --- | --- | --- |
| Maine Goaltending | MIN | GA | 1 | 2 | 3 | Saves |
| Matt Morris (L, 1-4-0) | 59:34 | 5 | 4 | 14 | 14 | 32 |
| Empty Net | 0:26 | 1 | | | | |
| | | | | | | |
| --- | --- | --- | --- | --- | --- | --- |
| Connecticut Goaltending | MIN | GA | 1 | 2 | 3 | Saves |
| Adam Huska (W, 5-4-3) | 59:41 | 3 | 6 | 9 | 8 | 23 |
| Empty Net | 0:19 | 0 | | | | |
BRIDGEPORT, Conn. - The UConn men's hockey team got goals from five different players including a pair from sophomore Tage Thompson (Orange, Conn.) on the way to a 6-3 Hockey East win over Maine on Thursday night from the Webster Bank Arena in Bridgeport, Conn. UConn improved to 9-7-6 overall and 5-3-2 in Hockey East with the win.
Sophomore Max Kalter (Highland Park, Ill.) finished with a career-high three points, coming on a goal and two assists. Freshman goaltender Adam Huska (Zvolen, Slovakia) made 23 saves and kept Maine off the scoreboard in the third period on the way to his fifth victory in net this season.
UConn finished with a 38-26 edge on shots and was 2-for-3 on the power play. Maine had four power play chances but came up empty on the night. The Huskies matched their season-high for goals scored in the win (6-0 vs. Alabama Huntsville, 10/7).
The Huskies carried a 2-1 lead into the first intermission thanks to first period goals by junior Spencer Naas (Minnetonka, Minn.) and Kalter. Maine tied the game twice in the second period before freshman defenseman Wyatt Newpower (Hugo, Minn.) gave the Huskies the lead for good with a power play goal at 19:42.
UConn killed off a 5-on-3 Maine power play in the third and junior Kasperi Ojantakanen (Helsinki, Finland) made it 5-3 on the scoreboard with his third on the year at 14:19. Thompson put the cap on the win with an empty net goal at 19:03.
Maine got 31 saves from senior Matt Morris in goal. Sophomore Brendan Robbins had a goal and an assist in the loss.
QUOTES:
Head Coach Mike Cavanaugh - ""You know, we talked before the game about perseverance, and I thought tonight was a pretty good example of that. We got down 1-0, came back and made it 2-1. And then they tied it 2-2, we made it 3-2. They tied it 3-3 and then we got our big goal, Wyatt's goal, at the end of the second period to make it 4-3. I was very happy with the way we played in the third period, I thought we played a pretty solid period. OJ's goal was a big goal to put us up 5-3. Overall I was happy with our effort because I think (Maine) is a pretty good team. Throw their record out the window, in the league, it's a pretty good team: physical, skate hard, they make plays - they make fantastic plays for goals. We're going to have to be better on Saturday."
NOTES:
The Huskies take a slim, 3-2-3 edge in the all-time series. UConn is unbeaten in their last six meetings with Maine (3-0-3).
Thompson's two-goal night marks his fifth multi-goal game this season and the eighth of his career. UConn has never lost (7-0-1) when Thompson scores two or more. It also marked his seventh multi-point game this year, and 15th of his career.
Naas scored a goal in his fourth-straight game, one game shy of the longest streak of his career. He had a five-game streak during his freshman season. Over his last four games he has five goals and an assist. Over his last eight, he as eight points (7g/1a).
Kalter extended his point streak to four-straight games. He had his third multi-point game of the season and fourth of his career. Kalter has seven points over his last four games (2g/5a).
Letunov's two assists give him a team-leading 15 on the season. It was his eighth multi-point game this year and 17th of his career. UConn is 6-1-1 this season when Letunov has two or more points.
Freshman defenseman Philip Nyberg (Linkoping, Sweden) picked-up his third assist in his fourth game with the Huskies.
1st Period:
Maine jumped out 1-0 at 7:53 as Michel got a one-touch, redirect right in front of Huska off a feed from Cam Brown on the right wing.
The Huskies tied it at 1-1 at 11:47 as Naas buried a one-timer right in front, coming off a feed from freshman Benjamin Freeman (Falmouth, Maine) from behind the net. It was Naas' 12th on the season.
UConn took a 2-1 lead into the break, scoring on their first- power play chance of the night. Kalter posted up in front of Morris at the right post. Letunov fired on net from the right circle and Kalter was able to deflect the puck past the Maine goaltender for his third of the season.
2nd Period
Maine twice pulled the game even in the second period as Brendan Robbins knotted it at 2-2 at 6:32 with his second of the season. Thompson put UConn back in front with his 13th goal of the year at 13:31, burying a wrist shot off a rebound. The Black Bears tied it back at 3-3 at just under two minutes later as Nolan Vesey took a feed off a face-off and buried his fifth of the season.
The Huskies struck just before the end of the second, scoring their second power play goal of the night. Letunov shoveled the puck to Newpower who beat the defender and ripped a wrist shot, bar down at 19:42 to provide what would be the game-winner.
3rd Period:
UConn killed off a 5-on-3 when David Drake (Naperville, Ill.) was sent off for holding followed by a too many men on the ice call at 6:22. The Huskies and Huska kept Maine at bay, limiting the Black Bears to just one shot on goal during the stretch.
The Huskies extended their lead to 5-3 at 14:10 as Ojantakanen buried a rebounded from the right circle for his third on the year. Thompson put the finishing touches on the win with an empty netter from deep in the UConn zone with 57 seconds left for his team-leading 14th goal.
Up Next:
UConn and Maine will be back at it on Saturday afternoon from Fenway Park in the 2017 Capitol One Frozen Fenway. Opening face-off is at 1:30 pm.