Thompson Scores Twice To Lead UConn Past UMass Lowell, 3-2
Sophomore forward Tage Thompson nets two goals for Huskies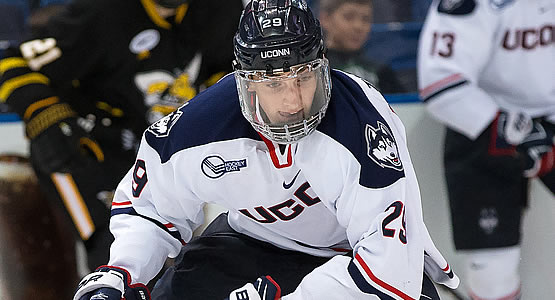 Sophomore forward Tage Thompson scored two goals for the Huskies
| | | | | | | |
| --- | --- | --- | --- | --- | --- | --- |
| Prd | Time | Team | Score | Type | Scored By | Assists |
| 1st | 1:57 | CON | 1-0 | EV | Spencer Naas (6) | Justin Howell/1 |
| 1st | 5:34 | UML | 1-1 | EV | Colin O'Neill (1) | Ryan Lohin/7, Dylan Zink/12 |
| 1st | 12:20 | CON | 2-1 | EV | Tage Thompson (9) | Maxim Letunov/8, Miles Gendron/4 |
| 1st | 15:27 | UML | 2-2 | EV | Colin O'Neill (2) | Tyler Mueller/3, Joe Gambardella/13 |
| 2nd | 10:32 | CON | 3-2 | PP GW | Tage Thompson (10) | Maxim Letunov/9, Brian Morgan/4 |
| | | | | |
| --- | --- | --- | --- | --- |
| Scoring | 1st | 2nd | 3rd | Final |
| Connecticut | 2 | 1 | 0 | 3 |
| UMass Lowell | 2 | 0 | 0 | 2 |
| | | | | |
| --- | --- | --- | --- | --- |
| Shots on Goal | 1st | 2nd | 3rd | SOG |
| Connecticut | 10 | 7 | 4 | 21 |
| UMass Lowell | 14 | 9 | 10 | 33 |
| | | | |
| --- | --- | --- | --- |
| Team Stats and Records | PP | PIM | SHGF |
| Connecticut (5-6-5) | 1/4 | 5/10 | 0 |
| UMass Lowell (8-5-2) | 0/5 | 4/8 | 0 |
| | | | | | | |
| --- | --- | --- | --- | --- | --- | --- |
| Connecticut Goaltending | MIN | GA | 1 | 2 | 3 | Saves |
| Adam Huska (W, 3-3-2) | 60:00 | 2 | 12 | 9 | 10 | 31 |
| | | | | | | |
| --- | --- | --- | --- | --- | --- | --- |
| UMass Lowell Goaltending | MIN | GA | 1 | 2 | 3 | Saves |
| Tyler Wall (L, 8-4-1) | 58:42 | 3 | 8 | 6 | 4 | 18 |
| Empty Net | 1:18 | 0 | | | | |
LOWELL, Mass. - Freshman forward Colin O'Neill (Odenton, Md.) notched his first two career goals as the UMass Lowell men's hockey team (8-4-2, 4-2-0 HEA) faced a 3-2 setback against UConn (4-6-5, 2-3-1 HEA) in Hockey East Action Friday night in front of 5,464 fans at the Tsongas Center.
"We just didn't come out with the effort we were looking for tonight," said Head Coach Norm Bazin. "We got caught chasing the game tonight and we have to get ahead of it. We responded to their two goals by coming back twice but we couldn't get the third."
The Huskies' Spencer Naas gave his squad their first lead of the night, 1-0, as his wrist shot broke open the scoring just two minutes into the game. The River Hawks later retaliated with a goal of their own, thanks to O'Neil who tallied his first career goal to knot the score, 1-1, at 5:34 in the first.
UConn's Tage Thompson broke the 1-1 tied half way thru the first frame with a breakaway shot that got away from the pads of Wall and bounced into the back of the net. Despite trailing, 2-1, UMass Lowell continued its offensive pressure to set up O'Neil for the equalizer and his second goal of the night.
Thompson later struck again in the second period to provide the Huskies with their third and final lead of the contest, 3-2.
The River Hawks saw their best chances to tie the score once more in the final period. The home team outshot their opponents, 10-4, in the final 20 minutes of play. UMass Lowell played out the last 78 seconds with a 6-on-4 man up advantage but failed to find the back of the net as UConn's Adam Huska finished the night with 31 saves.
Freshman goaltender Tyler Wall (Leamington, Ont.) racked up 18 saves of his own as he falls to 8-3-1 on the year.
UMass Lowell will conclude their two-game series at UConn Saturday, December 3 at the XL Center in Hartford, Conn. The contest is slated to begin at 3:30 p.m.