Saturday, February 18, 2017
Hennig Goal Lifts Merrimack Into 4-4 Tie With Maine
Junior forward Jace Hennig scores two goals for Warriors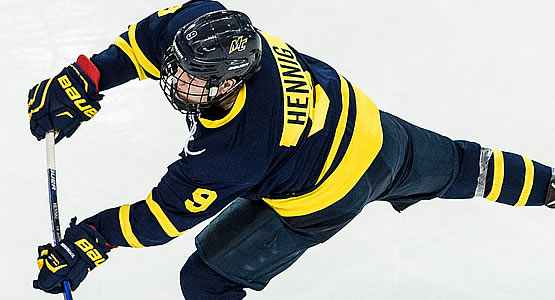 Junior forward Jace Hennig scored two goals for the Warriors
| | | | | | | |
| --- | --- | --- | --- | --- | --- | --- |
| Prd | Time | Team | Score | Type | Scored By | Assists |
| 1st | 7:16 | MNE | 1-0 | PP | CÚdric Lacroix (5) | Eric Schurhamer/8, Patrick Shea/11 |
| 1st | 15:04 | MNE | 2-0 | EV | Blaine Byron (16) | Brendan Robbins/11, Patrick Holway/8 |
| 2nd | 7:12 | MER | 1-2 | PP | Sami Tavernier (6) | Brett Seney/19, Johnathan Kovacevic/13 |
| 2nd | 9:03 | MER | 2-2 | PP | Jace Hennig (6) | Ludvig Larsson/8, Chris LeBlanc/9 |
| 2nd | 11:33 | MNE | 3-2 | PP | Rob Michel (8) | Cam Brown/31, Matt Morris/1 |
| 3rd | 7:34 | MER | 3-3 | EV | Ludvig Larsson (7) | Chris LeBlanc/10, Jonathan Lashyn/5 |
| 3rd | 7:48 | MNE | 4-3 | EV | Ryan Smith (4) | - |
| 3rd | 9:32 | MER | 4-4 | EV GT | Jace Hennig (7) | Alex Carle/8 |
| | | | | | |
| --- | --- | --- | --- | --- | --- |
| Scoring | 1st | 2nd | 3rd | OT | Final |
| Maine | 2 | 1 | 1 | 0 | 4 |
| Merrimack | 0 | 2 | 2 | 0 | 4 |
| | | | | | |
| --- | --- | --- | --- | --- | --- |
| Shots on Goal | 1st | 2nd | 3rd | OT | SOG |
| Maine | 14 | 7 | 5 | 1 | 27 |
| Merrimack | 13 | 18 | 11 | 3 | 45 |
| | | | |
| --- | --- | --- | --- |
| Team Stats and Records | PP | PIM | SHGF |
| Maine (10-18-4) | 2/6 | 7/14 | 0 |
| Merrimack (13-13-6) | 2/5 | 7/14 | 0 |
| | | | | | | | |
| --- | --- | --- | --- | --- | --- | --- | --- |
| Maine Goaltending | MIN | GA | 1 | 2 | 3 | OT | Saves |
| Matt Morris (T, 1-5-1) | 65:00 | 4 | 13 | 16 | 9 | 3 | 41 |
| | | | | | | | |
| --- | --- | --- | --- | --- | --- | --- | --- |
| Merrimack Goaltending | MIN | GA | 1 | 2 | 3 | OT | Saves |
| Collin Delia (T, 7-5-3) | 64:37 | 4 | 12 | 6 | 4 | 1 | 23 |
| Empty Net | 0:23 | 0 | | | | | |
NORTH ANDOVER, Mass. - Two goals from junior Jace Hennig (Port Moody, British Columbia) helped erase an early two-goal deficit and help the Merrimack College men's ice hockey secure a three-point weekend, as the Warriors skated to a 4-4 tie against Maine in the final home game of the regular season on Saturday night at Lawler Rink.
The Basics
Score: Merrimack 4, Maine 4
Records: Merrimack (13-13-6, 7-7-6 HEA) | Maine (10-18-4, 4-14-2 HEA)
Location: Lawler Rink | North Andover, Mass.
Attendance: 2549
Game Duration: 2:38
How It Happened
- Before the game, Merrimack honored its three members of the Class of 2017 in Hampus Gustafsson (Ljungby, Sweden) Jonathan Lashyn (Saskatoon, Saskatchewan) and Chris LeBlanc (Winthrop, Mass.).
- Similarly to Friday's start, Maine grabbed the first goal of Saturday's contest while on the power play after Cedric Lacroix pushed in a puck from in front of the crease to give the visitors a 1-0 advantage at the 7:16 mark.
- The Black Bears doubled their lead with just under five minutes left in the first on a play that started from their own zone; Patrick Holway chipped the puck off the glass and out to the neutral zone to Brendan Robbins, who carried it into the corner and fed Blaine Byron who finished the play from the crease to make it 2-0.
- Penalties began to pile up in the middle frame, as nine combined whistles were called against both sides. The Warriors capitalized on their first two power plays in succession, as freshman Sami Tavernier (Morzine, France) one-timed home a shot from the top of the near circle to get the hosts on the board.
- Then, after another Maine penalty put the hosts back on the power play, Hennig found the puck at the back post and jammed it home to tie things at 9:03 of the second.
- But Maine's Rob Michel would score on a 4-on-3 situation at 11:33 to cap off the furious scoring sequence, sending Merrimack into the second intermission down a goal.
- Both sides exchanged another lightning-quick scoring sequence halfway through the third; first, sophomore Ludvig Larsson (Malmo, Sweden) saw the puck bounce onto his stick near the crease and scored from the hash at 7:34, but Maine's Ryan Smith picked off a clearing pass and scored from the right point to give the lead right back to the Black Bears 14 seconds later.
- Hennig's weekend heroics would continue, though, after he tipped in a shot from sophomore Alex Carle (Anchorage, Alaska) at 9:32 to level the game at 4-4 and send it to overtime.
- Merrimack had a handful of chances over the remainder of regulation and outshot Maine, 3-1, in overtime and saw an opportunity at the buzzer miss wide of the net to give both sides a point in the league standings.
Notes & Notables
- Merrimack's unbeaten streak moved to eight games (5-0-3), its longest such streak since a 10-game unbeaten stretch to start the 2011-12 season.
- A day after setting a new season-high in shots on goal (44), Merrimack topped that mark again with 45 against the Black Bears on Saturday.
- Tavernier now leads the team with 10 points (2g, 7a) since Jan. 24.
- Merrimack improved to 2-11-3 when trailing after 40 minutes this season.
- The Warriors are now 12-0-2 when scoring three or more goals in a game.
Merrimack Lineup
Seney | Gustafsson | Tavernier
Hennig | L. Larsson | LeBlanc
Babcock | A. Larsson | Tibbet
Petti | Drevitch | Irvine
Biega | Carle
Kolquist | Kovacevic
Lashyn | Cook
Delia
Vogler
Pantano
Game Leaders (MC // ME)
Points: Hennig/LarssonLeBlanc (2) // Ten players (1)
Goals: Hennig (2) // Four players (1)
Assists: LeBlanc (2) // Six players (1)
Shots: Hennig/Larsson (5) // Cam Brown/Blaine Byron (4)
Faceoffs Won: Hampus Gustafsson (15) // Byron (12)
Saves: Collin Delia (23-for-27) // Matt Morris (41-for-45)
Facts and Figures (MC // ME)
Power Plays: 2-5 // 2-6
Penalties: 7 Penalties - 14 Minutes // 7 Penalties - 14 Minutes
Faceoffs: 38 // 35
SOG: 13-14 // 18-7 // 11-5 // 3-1 // 45-27
Up Next
Merrimack concludes the regular season with a two-game road trip against the University of Vermont next weekend (Feb. 24-25). Puck drop each night from Gutterson Fieldhouse is 7 p.m.