Vermont Sweeps Playoff Series With 5-1 Win Over Maine
Rob Hamilton, Brendan Bradley and Mario Puskarich all record goal and assist for Catamounts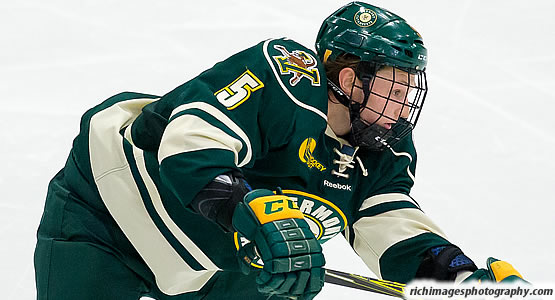 Senior defenseman Rob Hamilton had a goal and an assist for the Catamounts
| | | | | | | |
| --- | --- | --- | --- | --- | --- | --- |
| Prd | Time | Team | Score | Type | Scored By | Assists |
| 1st | 6:33 | VER | 1-0 | EV | Brendan Bradley (6) | Liam Coughlin/7 |
| 1st | 17:52 | VER | 2-0 | PP GW | Rob Hamilton (8) | Brian Bowen/14, Mario Puskarich/15 |
| 2nd | 6:55 | MNE | 1-2 | PP | Rob Michel (9) | Blaine Byron/23, Cam Brown/35 |
| 2nd | 14:36 | VER | 3-1 | PP | Mario Puskarich (12) | Brendan Bradley/13, Brian Bowen/15 |
| 2nd | 14:48 | VER | 4-1 | EV | Craig Puffer (11) | Brady Shaw/10, Jarrid Privitera/11 |
| 3rd | 19:38 | VER | 5-1 | PP EN | Matt Alvaro (8) | Drew Best/4, Rob Hamilton/10 |
| | | | | |
| --- | --- | --- | --- | --- |
| Scoring | 1st | 2nd | 3rd | Final |
| Maine | 0 | 1 | 0 | 1 |
| Vermont | 2 | 2 | 1 | 5 |
| | | | | |
| --- | --- | --- | --- | --- |
| Shots on Goal | 1st | 2nd | 3rd | SOG |
| Maine | 9 | 17 | 11 | 37 |
| Vermont | 12 | 8 | 9 | 29 |
| | | | |
| --- | --- | --- | --- |
| Team Stats and Records | PP | PIM | SHGF |
| Maine (11-21-4) | 1/2 | 5/10 | 0 |
| Vermont (20-11-5) | 3/5 | 2/4 | 0 |
| | | | | | | |
| --- | --- | --- | --- | --- | --- | --- |
| Maine Goaltending | MIN | GA | 1 | 2 | 3 | Saves |
| Matt Morris (L, 2-6-1) | 40:00 | 4 | 10 | 6 | 0 | 16 |
| Rob McGovern | 18:21 | 0 | 0 | 0 | 8 | 8 |
| Empty Net | 1:39 | 1 | | | | |
| | | | | | | |
| --- | --- | --- | --- | --- | --- | --- |
| Vermont Goaltending | MIN | GA | 1 | 2 | 3 | Saves |
| Stefanos Lekkas (W, 18-8-5) | 60:00 | 1 | 9 | 16 | 11 | 36 |
BURLINGTON, Vt. - Stefanos Lekkas stopped 36 shots to post his 18th win of the season as the 6-seed Catamounts coasted to a 5-1 win over 11-seed Maine on Saturday night to sweep the Hockey East First Round at Gutterson Fieldhouse.
UVM improved to 20-11-5 (10-7-4 HEA), winning 20 games for the third time in the last four seasons. 14th-ranked Vermont will face 3-seed Boston College at Conte Forum next weekend in the best-of-three Hockey East Quarterfinals for the third straight season.
Maine closed its season at 11-21-4 (5-15-2 HEA) and went winless (0-3-1) in four tries against Vermont this season.
The Catamounts opened the scoring at 6:33 of the opening period when the Black Bears failed to break out of their zone. Liam Coughlin poked the puck free to Brendan Bradley, who collected with an open lane to the net and deked Matt Morris (16 saves) to beat him with a backhand short side.
Near the end of the first, the Catamounts doubled their lead on their first power play chance of the night. Brian Bowen broke up a Maine clearing attempt and chipped the puck down the right wing boards. After another failed Black Bear clearance, Rob Hamilton turned into the low slot to fire a low wrist shot past Morris for his fifth power play goal of the season.
Maine answered back on a power play of its own seven minutes into the second as Blaine Byron laid a pass into the left circle for Rob Michel's one-timer past Lekkas.
UVM quickly changed momentum with under six minutes remaining in the second with a pair of goals in just 12 seconds. Bradley found Mario Puskarich cutting through the slot to beat Morris with a backhander at 14:36 for Vermont's second power play goal of the contest. After the ensuing faceoff, Brady Shaw turned from behind the net and found Craig Puffer in the right slot for a one-timer into the left corner for a 4-1 advantage.
"After they scored we didn't get too flustered and focused on getting the next one," said Puskarich. "Any time you score back-to-back shifts it takes quite a bit of momentum from the other team and we took it to them at that point."
UVM kept Maine at bay throughout the third period, and Drew Best fed Matt Alvaro for an empty netter with 22 seconds remaining in regulation to seal the sweep.
Lekkas won for the 18th time in his rookie campaign, surpassing Joe Fallon's total of 17 during his freshman season in 2004-05.
"He doesn't play like a freshman," head coach Kevin Sneddon said of Lekkas. "He rises to the occasion. He has for us all year and I thought he played spectacular this weekend. He was our MVP for sure and that should give him a lot of confidence going into the BC series."
Vermont and Boston College will face off in a best-of-three quarterfinal series in Chestnut Hill for the third straight season next weekend (March 10-12). Game times will be announced by BC. The last two quarterfinal series have each gone three games with UVM winning in 2015 and the Eagles taking Game 3 in overtime last year.
Live video of the series is available on a pay-per-view basis through HockeyEastOnline.TV. Single games are $9.95 and a tournament package is available for $59.95. Pre-game radio coverage begins 30 minutes prior to each game on WVMT 620-AM and UVMathletics.com/Listen with Alastair Ingram on the call.