Tuesday, January 31, 2017
Northeastern Wins Wild Game At Massachusetts, 6-5
Sophomore forward Adam Gaudette has two goals and assist for Huskies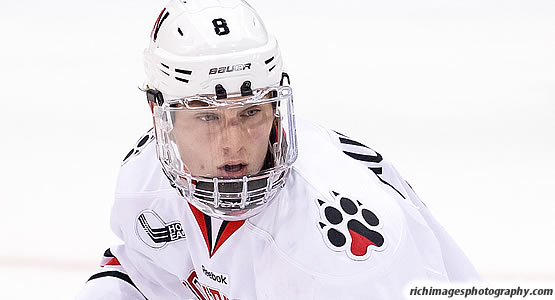 Sophomore forward Adam Gaudette had two goals and an assist for the Huskies
| | | | | | | |
| --- | --- | --- | --- | --- | --- | --- |
| Prd | Time | Team | Score | Type | Scored By | Assists |
| 1st | 0:52 | NOE | 1-0 | EV | Matt Filipe (5) | - |
| 1st | 2:57 | UMA | 1-1 | EV | Joseph Widmar (1) | Ryan Badger/2, Jake McLaughlin/5 |
| 1st | 7:09 | NOE | 2-1 | PP | Garret Cockerill (6) | Jeremy Davies/7, Dylan Sikura/26 |
| 1st | 9:20 | UMA | 2-2 | EV | Jack Suter (2) | Austin Plevy/9, Ivan Chukarov/6 |
| 1st | 12:59 | UMA | 3-2 | PP | Jake McLaughlin (1) | Ray Pigozzi/3, Shane Bear/4 |
| 2nd | 2:04 | NOE | 3-3 | EV | Adam Gaudette (14) | Matt Filipe/7, Lincoln Griffin/5 |
| 2nd | 3:06 | UMA | 4-3 | EV | Steven Iacobellis (6) | Niko Hildenbrand/2, Ray Pigozzi/4 |
| 2nd | 12:08 | NOE | 4-4 | PP | Adam Gaudette (15) | Dylan Sikura/27, Jeremy Davies/8 |
| 3rd | 4:52 | NOE | 5-4 | EV DP | Jeremy Davies (6) | Adam Gaudette/24, Zach Aston-Reese/20 |
| 3rd | 6:42 | NOE | 6-4 | PP GW | Dylan Sikura (17) | Garret Cockerill/17, Jeremy Davies/9 |
| 3rd | 10:07 | UMA | 5-6 | EV | Steven Iacobellis (7) | Ray Pigozzi/5, Niko Hildenbrand/3 |
| | | | | |
| --- | --- | --- | --- | --- |
| Scoring | 1st | 2nd | 3rd | Final |
| Northeastern | 2 | 2 | 2 | 6 |
| Massachusetts | 3 | 1 | 1 | 5 |
| | | | | |
| --- | --- | --- | --- | --- |
| Shots on Goal | 1st | 2nd | 3rd | SOG |
| Northeastern | 6 | 14 | 9 | 29 |
| Massachusetts | 12 | 15 | 8 | 35 |
| | | | |
| --- | --- | --- | --- |
| Team Stats and Records | PP | PIM | SHGF |
| Northeastern (11-10-5) | 3/5 | 6/12 | 0 |
| Massachusetts (5-20-2) | 1/5 | 6/12 | 0 |
| | | | | | | |
| --- | --- | --- | --- | --- | --- | --- |
| Northeastern Goaltending | MIN | GA | 1 | 2 | 3 | Saves |
| Ryan Ruck (W, 11-9-4) | 59:42 | 5 | 9 | 14 | 7 | 30 |
| Empty Net | 0:18 | 0 | | | | |
| | | | | | | |
| --- | --- | --- | --- | --- | --- | --- |
| Massachusetts Goaltending | MIN | GA | 1 | 2 | 3 | Saves |
| Nic Renyard | 22:04 | 3 | 4 | 0 | 0 | 4 |
| Ryan Wischow (L, 4-14-2) | 36:35 | 3 | 0 | 12 | 7 | 19 |
| Empty Net | 1:21 | 0 | | | | |
AMHERST, Mass. - Sophomore forward Adam Gaudette had two goals and an assist as Northeastern skated to a 6-5 win against Massachusetts on Tuesday evening at Mullins Center. THE BASICS:
RESULT: Northeastern 6, Massachusetts 5
LOCATION: Mullins Center (Amherst, Mass.)
RECORDS: Massachusetts (5-20-2, 2-12-1 HEA); Northeastern (11-10-5, 5-8-3 HEA)
THE LEAD: University of Massachusetts hockey matched its highest scoring output of the season, but three power-play goals helped Northeastern outlast the Minutemen, 6-5 on Tuesday night at the Mullins Center. Dylan Sikura netted the game-winner for the Huskies on a 5-on-3 power play opportunity 6:42 into the third period.
FIRST PERIOD:
Matt Filipe opened the scoring for Northeastern, capitalizing on a UMass turnover and burying a shot from the slot just 52 seconds into the contest. The Minutemen answered at the 2:57 mark. Sophomore Ryan Badger picked up the puck off a rebound from freshman Jake McLaughlin's initial shot and sent it to Joseph Widmar for a tap-in at the post for his first of the season. At 7:09, the Huskies regained the lead when Garret Cockerill scored with the man advantage, but UMass responded with two more goals in the frame to hold a 3-2 edge at the intermission. Freshman Jack Suter redirected a centering pass from sophomores Austin Plevy and Ivan Chukarov at the 9:20 mark and Jake McLaughlin fired home his first collegiate tally on the power play 12:59 into the frame with senior Ray Pigozzi and freshman Shane Bear collecting the assists.
SECOND PERIOD:
Northeastern's Adam Gaudette picked a corner to tie things up 2:04 into the second period only to have senior Steven Iacobellis answer with a rebound goal from linemates Niko Hildenbrand and Pigozzi just 62 seconds later to give UMass the 4-3 edge. Gaudette added his second of the night, though, on the power play at the 12:08 mark to level the score at 4-4.
THIRD PERIOD:
The Huskies managed a pair of goals from Jeremy Davies and Sikura less than two minutes apart to pull in front, 6-4 early in the third. Iacobellis brought UMass back to within one with his second of the night from Pigozzi and Hildenbrand at 10:07, but the Minutemen were unable to rally despite a late power play and pulling Ryan Wischow for an extra attacker with 1:21 to go in the contest.
FROM COACH CARVEL:
"For us to score five goals, I thought we did a great job to create offense. To score a power-play goal was a nice change of pace, but ultimately their power play was the difference in the game and our goaltending was subpar. We needed to have more saves tonight. That combination ended up hurting us."
INSIDE THE NUMBERS:
- UMass out-shot its opponent for a second straight contest, finishing with a 35-29 edge in shots. Northeastern went 3-for-5 on the power play, while the Minutemen were 1-for-5.
- Iacobellis logged his fifth multi-goal game of his career, his first since UMass' 5OT win at Notre Dame in 2015, as his two tallies tied a single-game career high. His second of the night marked his 30th of his career as he now sits just outside the top-25 all-time on the UMass scoring list (26th, 82 points).
- Freshmen combined for six of the Minutemen's 15 points in the contest on two goals and four assists. In addition to registering his first collegiate goal, McLaughlin also logged his first career multi-point game (1g, 1a). Hildenbrand had his first career multi-point game (2a), as well.
- Pigozzi's three helpers in the contest tied both his single-game career high in points and assists. He is now tied for 24th in UMass history in career assists.
- Chukarov's assist was his sixth of the year, marking a new season high for the sophomore who had five in 36 games as a freshman in 2015-16.
UP NEXT: UMass will next travel to No. 3 Boston University for a Hockey East matchup at Agganis Arena on Fri., Feb. 3, at 7:30 p.m.