Providence College Clips UMass Lowell, 4-3
Junior forward Brian Pinho and freshman forward Josh Wilkins each post two assists for Friars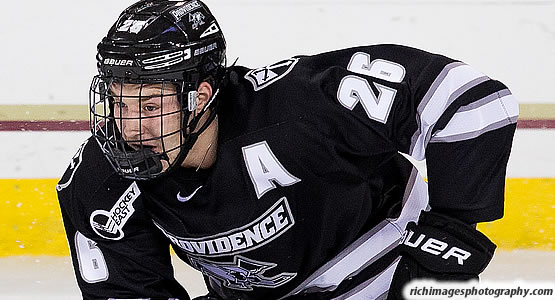 Junior forward Brian Pinho had two assists for the Friars
| | | | | | | |
| --- | --- | --- | --- | --- | --- | --- |
| Prd | Time | Team | Score | Type | Scored By | Assists |
| 1st | 3:13 | UML | 1-0 | EV | Kenny Hausinger (5) | Ryan Lohin/10, Tommy Panico/4 |
| 1st | 8:48 | UML | 2-0 | EV | Ryan Dmowski (5) | - |
| 1st | 13:32 | PRV | 1-2 | PP | Scott Conway (8) | Erik Foley/10 |
| 2nd | 7:08 | PRV | 2-2 | PP | Vimal Sukumaran (5) | Josh Wilkins/11, Brandon Duhaime/7 |
| 3rd | 7:58 | PRV | 3-2 | EV | Kasper Björkqvist (2) | Brian Pinho/15, Jacob Bryson/10 |
| 3rd | 9:58 | PRV | 4-2 | EV GW | Vincent Desharnais (2) | Brian Pinho/16, Josh Wilkins/12 |
| 3rd | 13:52 | UML | 3-4 | PP | Dylan Zink (8) | Chris Forney/6, John Edwardh/10 |
| | | | | |
| --- | --- | --- | --- | --- |
| Scoring | 1st | 2nd | 3rd | Final |
| Providence | 1 | 1 | 2 | 4 |
| UMass Lowell | 2 | 0 | 1 | 3 |
| | | | | |
| --- | --- | --- | --- | --- |
| Shots on Goal | 1st | 2nd | 3rd | SOG |
| Providence | 5 | 10 | 5 | 20 |
| UMass Lowell | 10 | 7 | 8 | 25 |
| | | | |
| --- | --- | --- | --- |
| Team Stats and Records | PP | PIM | SHGF |
| Providence (11-8-4) | 2/5 | 5/10 | 0 |
| UMass Lowell (15-6-3) | 1/4 | 7/14 | 0 |
| | | | | | | |
| --- | --- | --- | --- | --- | --- | --- |
| Providence Goaltending | MIN | GA | 1 | 2 | 3 | Saves |
| Hayden Hawkey (W, 11-8-4) | 60:00 | 3 | 8 | 7 | 7 | 22 |
| | | | | | | |
| --- | --- | --- | --- | --- | --- | --- |
| UMass Lowell Goaltending | MIN | GA | 1 | 2 | 3 | Saves |
| Tyler Wall (L, 14-5-1) | 58:21 | 4 | 4 | 9 | 3 | 16 |
| Empty Net | 1:39 | 0 | | | | |
LOWELL, Mass. - The No. 5 UMass Lowell hockey team (15-6-3, 7-4-1 HEA) was edged, 4-3, by Hockey East foe Providence (11-8-4, 3-6-2 HEA) Friday evening at the Tsongas Center in front of 6,013 fans.
"It was not the result we were looking for," said Head Coach Norm Bazin. "I like the way we started and I like the fact that we got up early. We got out of the gate well in the first, but it went down hill from there."
UMass Lowell finished the tilt with a 25-20 shot advantage, while seven different River Hawks recorded points in the outing.
UMass Lowell's offensive came out strong as the River Hawks captured a quick, 2-0, lead just nine minutes into the opening faceoff. Freshman forward Kenny Hausinger (Anchorage, Alaska) gave the home team their first tally of the night, sending freshman forward Ryan Lohin's (Chadds Ford, Pa.) pass into the back of the night at 3:13. One was not enough, as the River Hawks increased their lead, 2-0, at 8:48 thanks to sophomore forward Ryan Dmowski (East Lyme, Conn.) who buried a shot top shelf on a break away. Hausinger and Dmowski each notched their fifth goal of the season, totaling eight and five points, respectively, on the year.
Scott Conway and the power play unit later cut the Friars deficit to one at 13:32 in the first period. UMass Lowell carried a 2-1 lead after the first 20 minutes of play, including a 10-5 edge in shots.
The second period swayed in favor of the visitor's, as Providence converted on its second power play opportunity of the contest to knot the score, 2-2, at 7:08m in the lone score of the period.
Providence's offensive continued to roll as the team notched its third and fourth consecutive goals in the third frame. Kasper Björkqvist gave his squad their first lead of the night, 3-2, at 7:58, before Vincent Desharnais extended the Friars lead to 4-2 with a poke past the pads of goaltender Tyler Wall (Leamington, Ont.)
Senior defenseman Dylan Zink (Madison, Wis.) brought the River Hawks back with in one after sending a slap shot from just inside the blue, through traffic and into the back of the net. The squad produced several opportunities to even the score in regulation but Providence's defense stood tall to seal the 4-3 win. Zink's goal broke the Div. I school record for career goals by a River Hawk defenseman, surpassing Maury Edwards (28).
UMass Lowell wraps up its two-game stint against the Friars with a 7 p.m. night cap at Providence on Saturday, January 21.