Saturday, February 4, 2017
Five-Goal Third Period Helps UMass Lowell Down New Hampshire, 8-2
Junior forward Jake Kamrass scores two goals for River Hawks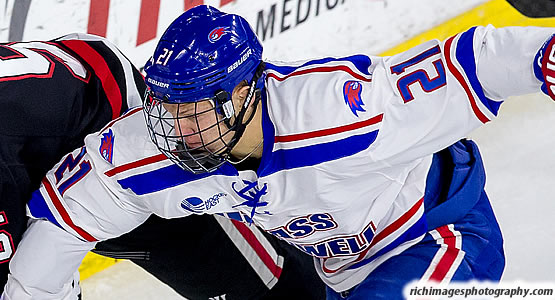 Junior forward Jake Kamrass scored two goals for the River Hawks
| | | | | | | |
| --- | --- | --- | --- | --- | --- | --- |
| Prd | Time | Team | Score | Type | Scored By | Assists |
| 1st | 8:01 | UNH | 1-0 | PP | Michael McNicholas (10) | Matias Cleland/26, Tyler Kelleher/30 |
| 1st | 8:54 | UML | 1-1 | EV | Jake Kamrass (11) | Nick Marin/1, Dylan Zink/18 |
| 1st | 15:33 | UML | 2-1 | PP | Mattias Göransson (5) | Michael Kapla/20, Joe Gambardella/25 |
| 2nd | 8:53 | UML | 3-1 | PP GW | Joe Gambardella (12) | Mattias Göransson/13, C.J. Smith/16 |
| 2nd | 18:41 | UNH | 2-3 | PP | Matias Cleland (2) | Tyler Kelleher/31, Michael McNicholas/19 |
| 3rd | 2:36 | UML | 4-2 | PP | C.J. Smith (16) | John Edwardh/12, Michael Kapla/21 |
| 3rd | 3:44 | UML | 5-2 | EV | Ryan Lohin (7) | Kenny Hausinger/5, Colin O'Neill/2 |
| 3rd | 7:11 | UML | 6-2 | EV | Nick Master (3) | Nick Marin/2, Mattias Göransson/14 |
| 3rd | 18:27 | UML | 7-2 | EV | Nick Marin (1) | Chris Forney/9, Nick Master/8 |
| 3rd | 19:54 | UML | 8-2 | EV | Jake Kamrass (12) | Nick Master/9 |
| | | | | |
| --- | --- | --- | --- | --- |
| Scoring | 1st | 2nd | 3rd | Final |
| New Hampshire | 1 | 1 | 0 | 2 |
| UMass Lowell | 2 | 1 | 5 | 8 |
| | | | | |
| --- | --- | --- | --- | --- |
| Shots on Goal | 1st | 2nd | 3rd | SOG |
| New Hampshire | 10 | 8 | 5 | 23 |
| UMass Lowell | 6 | 22 | 16 | 44 |
| | | | |
| --- | --- | --- | --- |
| Team Stats and Records | PP | PIM | SHGF |
| New Hampshire (11-13-4) | 2/4 | 5/10 | 0 |
| UMass Lowell (17-9-3) | 3/5 | 4/8 | 0 |
| | | | | | | |
| --- | --- | --- | --- | --- | --- | --- |
| New Hampshire Goaltending | MIN | GA | 1 | 2 | 3 | Saves |
| Daniel Tirone (L, 11-11-4) | 47:11 | 6 | 4 | 21 | 0 | 25 |
| Adam Clark | 12:49 | 2 | 0 | 0 | 11 | 11 |
| | | | | | | |
| --- | --- | --- | --- | --- | --- | --- |
| UMass Lowell Goaltending | MIN | GA | 1 | 2 | 3 | Saves |
| Tyler Wall (W, 16-8-1) | 60:00 | 2 | 9 | 7 | 5 | 21 |
LOWELL, Mass.- A five-goal third period surged the UMass Lowell men's hockey team to an 8-2 victory against Hockey East rival New Hampshire on Saturday evening in front of 6,477 fans at the Tsongas Center in Hockey East play.
UMass Lowell contributed five different goal scorers in a five-goal final frame, setting season highs for goals in a single period (5) and most goals in a game (8).
With the win, the River Hawks improve to 17-9-3 overall and 9-7-1 in conference play, while the Wildcats fall to 11-13-6 overall and 6-7-3.
"We played a vastly different game than we played last night," said Head Coach Norm Bazin. "Last night we fought through some adversity and tonight we were the benefits of puck luck and a good third period. Both of those things came through for us and we were able to get a few goals and that is something that feels good in the locker room right now."
Freshman classmates Nick Marin (Shrewsbury, Mass.) and Mattias Goransson (Slottsborn, Sweden) notched a game-high three points (1g, 2a) apiece in the outing. Marin's three points where the first of his career, netting his first career goal in the third period. Additionally, freshman goaltender Tyler Wall (Leamington, Ont.) picked up 21 saves en route to his 16th career win.
The Wildcats struck first with a power play goal at 8:01 in the first period, following a pair of miscues by the home team. Forward Michael McNicholas made the best of the team's five-on-three-opportunity, as he poked one past Wall for the 1-0 score.
UMass Lowell soon tallied the equalizer less than 60 seconds later. Senior defenseman Dylan Zink (Madison, Wis.) led the charge down ice after forcing a Wildcat turnover and dishing it off to junior forward Jake Kamrass (Atlanta, Ga.) who netted the equalizer, 1-1. The remainder of the period favored the River Hawks as they found the back of the net once more at 15:33. Goransson and the power play unit shined to give the team its first lead of the night, 2-1, while marking his fifth score of the season.
The two squads traded goals in the second period as the tilt remained a close one score game entering the final period. The River Hawks first added to their lead, 3-1, with a special team's point by senior forward Joe Gambardella (Staten Island, N.Y.) at 8:53, before New Hampshire's Matias Cleland made it a 3-2 contest at 18:41 before the final intermission.
The River Hawks produced their best offensive period of the year with five goals in the third period, including three goals in a five-minute span. Junior forward C.J. Smith (Des Moines, Iowa) kicked things off with a tally at 2:36, followed by a pair of goals from forwards Ryan Lohin (Chadds Ford, Pa.) and Nick Master (Broomall, Pa.) at 3:44 and 7:11, respectively, to make it a 6-2 contest. Marin and Kamrass rounded out the scoring in the final two minutes as the River Hawks rolled to a final 8-2 score.
The River Hawks return to action with a two-game home slate next weekend at the Tsongas Center. UMass Lowell will host Hockey East foe Boston University on Friday, February 10 at 7:15 p.m. before entertaining Massachusetts on Saturday, Feb. 11 in a 7 p.m. tilt.