Six-Goal First Period Pushes UMass Lowell Past New Hampshire, 8-2
Junior forward C.J. Smith and freshman forward Kenny Hausinger each post two goals and assist for River Hawks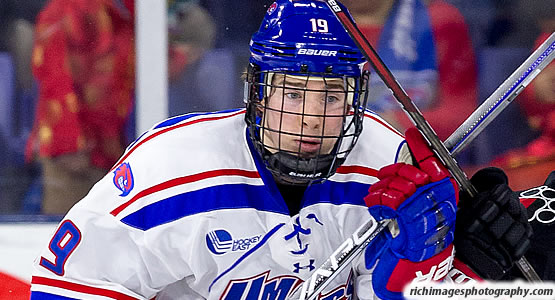 Junior forward C.J. Smith had two goals and an assist for the River Hawks
| | | | | | | |
| --- | --- | --- | --- | --- | --- | --- |
| Prd | Time | Team | Score | Type | Scored By | Assists |
| 1st | 3:36 | UML | 1-0 | PP | John Edwardh (17) | Dylan Zink/24, Chris Forney/11 |
| 1st | 5:36 | UNH | 1-1 | EV | Marcus Vela (4) | Jamie Hill/3, Shane Eiserman/8 |
| 1st | 8:48 | UML | 2-1 | EV | Kenny Hausinger (8) | Ryan Lohin/14 |
| 1st | 12:24 | UML | 3-1 | EV GW | Kenny Hausinger (9) | C.J. Smith/26, Dylan Zink/25 |
| 1st | 12:53 | UML | 4-1 | EV | C.J. Smith (19) | John Edwardh/17, Joe Gambardella/30 |
| 1st | 15:21 | UML | 5-1 | SH | Colin O'Neill (4) | Connor Wilson/8 |
| 1st | 18:32 | UML | 6-1 | EV | C.J. Smith (20) | John Edwardh/18, Joe Gambardella/31 |
| 2nd | 13:22 | UML | 7-1 | EV | Colin O'Neill (5) | Mattias Göransson/16, Kenny Hausinger/7 |
| 2nd | 17:30 | UML | 8-1 | PP | Tyler Mueller (2) | Nick Master/11, Mattias Göransson/17 |
| 3rd | 7:38 | UNH | 2-8 | EV | Tyler Kelleher (24) | - |
| | | | | |
| --- | --- | --- | --- | --- |
| Scoring | 1st | 2nd | 3rd | Final |
| New Hampshire | 1 | 0 | 1 | 2 |
| UMass Lowell | 6 | 2 | 0 | 8 |
| | | | | |
| --- | --- | --- | --- | --- |
| Shots on Goal | 1st | 2nd | 3rd | SOG |
| New Hampshire | 7 | 15 | 6 | 28 |
| UMass Lowell | 13 | 13 | 5 | 31 |
| | | | |
| --- | --- | --- | --- |
| Team Stats and Records | PP | PIM | SHGF |
| New Hampshire (15-20-5) | 0/3 | 6/12 | 0 |
| UMass Lowell (24-10-3) | 2/4 | 5/10 | 1 |
| | | | | | | |
| --- | --- | --- | --- | --- | --- | --- |
| New Hampshire Goaltending | MIN | GA | 1 | 2 | 3 | Saves |
| Daniel Tirone (L, 15-18-5) | 60:00 | 8 | 7 | 11 | 5 | 23 |
| | | | | | | |
| --- | --- | --- | --- | --- | --- | --- |
| UMass Lowell Goaltending | MIN | GA | 1 | 2 | 3 | Saves |
| Tyler Wall (W, 23-9-1) | 55:35 | 2 | 6 | 15 | 4 | 25 |
| Christoffer Hernberg | 4:25 | 0 | 0 | 0 | 1 | 1 |
LOWELL, Mass. -- A six-goal first period aided the No. 4 UMass Lowell Hockey team (24-10-3, 14-7-1 HEA) to an 8-2 victory against New Hampshire (15-20-5, 7-11-4 HEA) in the decisive third game of the Hockey East Quarterfinals on Sunday afternoon at the Tsongas Center in front of 3,145 fans.
With the win, the River Hawks will advance to their fifth straight Hockey East Semifinal game, marking their 18th overall semifinal appearance. UMass Lowell will square off against Notre Dame on Friday, March 17th (5pm) at the TD Garden in Boston, Mass. The River Hawks are 3-1 all-time against the Fighting Irish in the Hockey East Tournament and 1-0 all-time in semifinal games.
"We are ecstatic we are moving on to the Garden," said Head Coach Norm Bazin. "We played a very good hockey team and things seemed to go our way today. We got some puck luck and we didn't have to chase the game. Overall, it was a good game for us."
Freshman goaltender Tyler Wall (Leamington, Ont.) recorded 25 saves en route to his 23rd win of his freshman campaign. His 23 wins ranks first in the nation among freshman goaltenders.
Junior forwards John Edwardh (Calgary, Alberta) and C.J. Smith (Des Moines, Iowa), along with freshman forward Kenny Hausinger (Anchorage, Alaska) paced all River Hawks with three points a piece. Overall, 12 different UMass Lowell players tallied points in the outing, seven of which notched multi-point games.
UMass Lowell skated into the first intermission boasting a five-goal advantage, 6-1, following a season-best six goal performance. The squads six tallies marked the most in a single period since UMass Lowell notched six goals against Brown on January 25 1994.
The first period saw four different River Hawk goal scorers, including a pair of goals a piece from Hausinger and Smith.
Edwardh and the power play unit kicked things off with an early goal just three minutes into the first frame. New Hampshire quickly knotted the game, 1-1, with a tally from Marcus Vega nearly two minutes later.
UMass Lowell took care of business from there, stringing together five consecutive goals in the final 11 minutes of the opening period. At 8:48 Hausinger grabbed his first score of the game with a slap shot off a face off before recording his second goal of the period to give his team a 3-1 edge at 12:24. The forward finished the contest with a season-high two goals and three points.
The River Hawks' offensive continued to roll thanks to additional goals by Smith, and freshman forward Colin O'Neil (Odenton, Md.). After collecting a loose rebound, Smith posted his 19th goal of the season, increasing the home teams lead to four, before O'Neil tacked on one of his own, making it 5-1. Smith rounded out the first period scoring with her second of the game at 17:30 to provide the River Hawks with a five-goal cushion.
The offensive continued to pound the Wildcat zone, as the home team added a duo of goals in the second. O'Neil kicked off the scoring this time with a poke at 13:22 to mark his second mult-goal game of the season. Junior defenseman Tyler Mueller (Regina Sask.) rounded out the River Hawks scoring with a power play goal at 17:30 for an 8-1 score.
New Hampshire was able to get one back with a tally in the third period to cut the deficit, 8-2, but it was too late as UMass Lowell's six-goal cushion secured the squad's victory.