Boston University Upends Cornell In NCAA Northeast Regional Opener, 3-1
Sophomore goaltender Jake Oettinger makes 30 saves for Terriers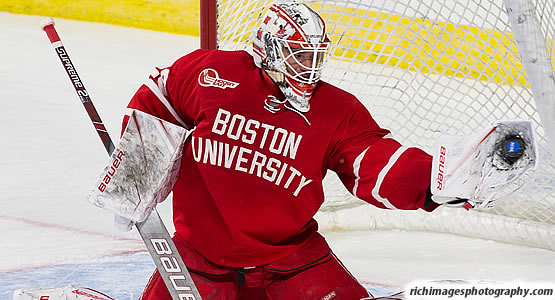 Sophomore goaltender Jake Oettinger made 30 saves for the Terriers
| | | | | | | |
| --- | --- | --- | --- | --- | --- | --- |
| Prd | Time | Team | Score | Type | Scored By | Assists |
| 2nd | 7:27 | COR | 1-0 | EV | Trevor Yates (13) | Cam Donaldson/10, Morgan Barron/13 |
| 2nd | 8:03 | BU | 1-1 | EV | Shane Bowers (17) | Brandon Hickey/8, Bobo Carpenter/14 |
| 3rd | 4:39 | BU | 2-1 | EV GW | David Farrance (3) | Brady Tkachuk/22, Drew Melanson/13 |
| 3rd | 19:43.6 | BU | 3-1 | EV EN | Logan Cockerill (8) | Bobo Carpenter/15 |
| | | | | |
| --- | --- | --- | --- | --- |
| Scoring | 1st | 2nd | 3rd | Final |
| Boston University | 0 | 1 | 2 | 3 |
| Cornell | 0 | 1 | 0 | 1 |
| | | | | |
| --- | --- | --- | --- | --- |
| Shots on Goal | 1st | 2nd | 3rd | SOG |
| Boston University | 8 | 12 | 4 | 24 |
| Cornell | 9 | 13 | 9 | 31 |
| | | | |
| --- | --- | --- | --- |
| Team Stats and Records | PP | PIM | SHGF |
| Boston University (22-13-4) | 0/1 | 1/2 | 0 |
| Cornell (25-6-2) | 0/1 | 1/2 | 0 |
| | | | | | | |
| --- | --- | --- | --- | --- | --- | --- |
| Boston University Goaltending | MIN | GA | 1 | 2 | 3 | Saves |
| Jake Oettinger (W, 21-12-4) | 60:00 | 1 | 9 | 12 | 9 | 30 |
| | | | | | | |
| --- | --- | --- | --- | --- | --- | --- |
| Cornell Goaltending | MIN | GA | 1 | 2 | 3 | Saves |
| Matthew Galajda (L, 21-5-2) | 58:57 | 2 | 8 | 11 | 2 | 21 |
| Empty Net | 1:03 | 1 | | | | |
WORCESTER, Mass. - Boston University's freshman class accounted for all three goals, including David Farrance's game-winner with 15:21 left in regulation, to lift the No. 13 Terriers to a 3-1 victory over No. 4/3 Cornell in the opening game of the NCAA Northeast Regional on Saturday at the DCU Center.
The top-seeded Big Red opened the scoring 7:27 into the second period but BU responded just 36 seconds later on a redirect in front by freshman Shane Bowers.
Farrance scored the game-winner from the left circle, freshman Logan Cockerill added an empty-netter and sophomore Jake Oettinger (30 saves) backstopped a strong defensive effort to secure the win.
BU will face No. 10 Michigan, the region's No. 2 seed, on Sunday following the Wolverines' 3-2 triumph over No. 8 Northeastern in the second game on Saturday.
HOW IT HAPPENED
- Farrance one-timed a pass from classmate Brady Tkachuk through traffic and into the net to break a 1-1 tie at 4:39 of the third.
- BU sealed the win when Cockerill got the puck from junior Bobo Carpenter and skated through the neutral zone before firing into an empty net with 17 seconds left to play.
- Trevor Yates opened the scoring when he flung a shot from the top of the right circle over Oettinger's right shoulder at 7:27 of the middle stanza.
- Moments later, senior captain Brandon Hickey flung a backhand from above the left dot towards the net, where Bowers was there for an equalizer off an impressive redirect.
- The BU defense limited scoring chances for the Big Red the rest of the way before securing a spot in the regional finals for the third time in the past four seasons.
GAME NOTES
- BU now owns the longest unbeaten streak in the country at eight games (7-0-1).
- This was the the seventh time this season that BU won a game in which it allowed the first goal.
- Cornell held a 31-24 shot advantage and got a 21-save effort from freshman Matthew Galajda.
- Carpenter picked up two assists for a game-high two points.
- Each team committed only one penalty and both penalty-kill units were successful.
- BU is one of only three schools to have made the regional finals at least three times in the past four seasons (Denver, Minnesota Duluth).
UP NEXT
- BU will face No. 10 Michigan, a 4-2 winner over No. 8 Northeastern, on Sunday (March 25) in the regional final at 4 p.m. for a spot in the Frozen Four.
- The teams have met in the NCAA tournament on eight previous occasions with each team winning four times.
- The Terriers and Wolverines met last season for a two-game series in Ann Arbor on Nov. 11-12. The teams split with BU posting a 4-2 to rebound from a 2-0 loss in the opener.
- Sunday's game will be televised on ESPN2.