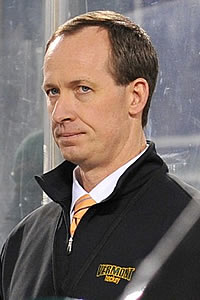 Head Coach:
Kevin Sneddon
Associate Head Coaches:
Kevin Patrick and Kyle Wallack
Assistant Coach:
Kyle Reynolds
Athletic Trainer:
Matt Bain
Dir. of Hockey Operations:
Jeff Hill
Equipment Manager:
Luke Nestor
Strength and Conditioning:
Justin Smith
SID/Media:
Alastair Ingram, Director of Media Relations and Sports Information
Phone:
802-656-1109
E-Mail:
alastair.ingram@uvm.edu
Arena:
Gutterson Field House
Opened:
1963
Dimensions:
200 X 90
Arena Capacity:
4,007
Directions:
From I-89: Take Exit 14W into Burlington and stay in far right lane. Just past stop light (at Sheraton), bear right at East Avenue / Spear Street exit, and stay in lane for Spear Street. Take immediate left around jug handle, proceeding through the traffic light and onto Spear Street. Drive approximately 1/4 mile to Patrick Gym entrance, on your right.
Click here for Vermont Ticket Information
Official Vermont Hockey Website
Athletics Website:
UVMAthletics.com
Hockey-specific Twitter:
@UVMmhockey
Hockey-specific Facebook:
facebook.com/UVMmhockey
Hockey-specific Instagram:
UVMmhockey
Athletics Twitter:
@UVMathletics
Athletics Facebook:
facebook.com/UVMathletics
Athletics Instagram:
UVMathletics
Athletics YouTube:
UVMathletics
Live Audio Streaming:
CatamounTV.com
Live Video Streaming:
CatamounTV.com