CONNECTICUT DOWNS PROVIDENCE, 3-2, IN FIRST WHEA SEMIFINAL
~Huskies advance to WHEA Title Game on Sunday for second time in school history~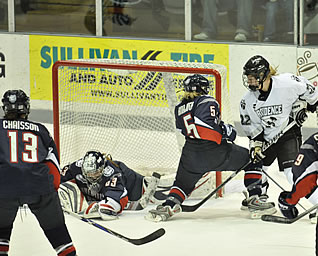 Alexandra Garcia had 32 saves for the Huskies
WAKEFIELD, Mass. -- A three-goal first period propelled the fifth-seeded Connecticut Huskies to a 3-2 win over top-seed Providence in the Women's Hockey East Semifinals at Schneider Arena on Saturday afternoon.
Sophomore Alexandra Garcia (Pointe-Claire, Quebec) withstood a barrage of shots in goal for Connecticut, turning aside 32 shots, including 28 in the final two periods, as the Huskies advanced to the Hockey East championship game for the second time in conference history.
Freshman Kate Bacon (Chanhassen, Minn.) and junior Jean O'Neill (Strafford, Pa.) lit the lamp for the Friars, while sophomore goaltender Genevieve Lacasse (Scarborough, Ontario) stopped 20 shots in net.
Connecticut came out fast in the opening frame and built an advantage Providence could not ultimately overcome. Freshman Lisa Stathopulos (Toronto, Ontario) continued her offensive tear with the game's opening goal at 4:18 of the first period. Stathopulos, who recorded a goal and an assist vs. Northeastern in the quarterfinals, took a centering pass from junior Jennifer Chaisson (Cumberland, Ontario) and one-timed it into the cage for the early lead.
The senior duo of Michelle Binning (Oshawa, Ontario) and Amy Hollstein (Pembroke, Mass.) took over for UConn from there, feeding each other for a pair of goals in a four-minute stretch to conclude the first. Binning found Hollstein at 13:34 to make it 2-0, before Hollstein returned the favor at 17:30.
The Friars turned the tide in the second period, outshooting UConn by a 19-2 margin. Garcia held Providence off the scoresheet until the waning moments of the stanza when Bacon buried her fourth of the season at 17:45. Following a shot by senior Arianna Rigano (Malden, Mass.), Bacon found the loose puck in front and shoveled a backhand over the outstretched glove of Garcia.
The Friars continued to pound the UConn net in the third in a desperate attempt to even the scoreline. Providence was presented a golden opportunity to cut into the deficit with a lengthy two-man advantage in the middle of the period, but the Huskies' penalty kill limited the Friars' opportunities. The Friars finally did break through for the second time at 14:07 as O'Neill (Strafford, Pa.) slotted a shot through the pads of Garcia. Sophomore Abby Gauthier (Lynn, Mass.) initiated the play with a centering pass from behind the net, which O'Neill one-timed along the ice to cut UConn's lead to 3-2.
Garcia and the Huskies' defense held the fort for the final six minutes, including a one-minute stretch with Lacasse out of the net in favor of an extra attacker. After outshooting Providence 15-4 in the first period, the Huskies were outshot by a 30-8 margin over the final two frames.
UConn advances to its first Hockey East championship game since 2005 and will face the winner of the New Hampshire/Boston University semifinal game on Sunday at 12:30 p.m. at Schneider Arena. The NCAA Selection Show will be streamed live online on Sunday at 7:30 p.m., at which point the eight-team field for the 2010 Tournament will be revealed.
---
Women's Hockey East Semifinals (March 6, 2010)
Connecticut Post-Game Press Conference Transcript
Head Coach Heather Lindstad
"I thought the gameplan was very similar to last weekend, in coming out and establishing ourselves and our gameplan in the first period. We got back on our heels a little bit in the second period, but I thought we did very well in the third period, certainly after killing the five-on-three. I think we had the momentum and we felt really good about ourselves."
(On the team's three goals in the game)
"We have good team speed when we establish ourself on our forecheck. Throughout the season, when we don't score you know why we don't score. It's because we're passive on our forecheck. For whatever reason, we sit back a little bit. One of the things we've done when we score a lot is get in on teams and really pressure their (defense) and get a lot of pucks to their goal."
#21 Kelly Horan, Freshman, Right Wing
(On killing the five-on-three in the third period)
"Like Coach says, there's only pressure in tires (laughs), but you're looking for a blocked shot when you're out there on a five-on-three at the top. You have to know the rotation. Our penalty kill has been good all year. I felt fine about it."
#13 Jennifer Chaisson, Junior, Center
(On the team's philosophy)
"In between periods, the seniors and Coach (Lindstad) basically emphasize just staying with our system. We got away from that a little bit in the second period but we tried to focus, just get a deep forecheck and try to get some shots off and kind of get the momentum going."
#25 Cristin Allen, Senior, Left Defense
(On the speed of the game)
"I don't think it's that we don't outskate them. I think we can outskate any team as long as we want to. We have to come in with a good mindset and I don't think there's a team that can keep up with us in the nation if we move the puck well. If we stay within our system, we're a very good team."
---
Women's Hockey East Semifinals (March 6, 2010)
Providence College Post-Game Press Conference Transcript
Head Coach Bob Deraney
"I thought you saw a classic Women's Hockey East hockey game. You saw two tremendously talented teams that are very deep, that are very resilient and put on a tremendous showcase of what Women's Hockey East is capable of. I think there were two penalties called in the entire game and I thought the officiating was outstanding. They allowed the players to play. I couldn't be prouder of my team but you have to give credit to the University of Connecticut. They played extremely well today. They got out to a quick start and were able to hold off a furious comeback by us."
(On the 2009-10 season)
"This year there wasn't a moment that I came to the rink that I couldn't wait to get here. Every moment when I stepped on the ice I knew they would inspire me with their play. You witnessed two periods of unbelievable character by our team. They displayed it all year long. Their hard work and dedication sets them apart this year from the past few years. Not to sell them short, because some of those teams made it to the final. I haven't been around a group of young student-athletes like I have this group. They're all in, the morals, ethics and values go back to the old days that we always dreamed about. You talk about society now and the youth of America and how they're soft and this group gives you hope. I don't mean to be philosophical but you asked me what sets them apart. I'd be proud to call every one of them my daughters with the way they conduct their business. That's the difference, why this one hurts probably more than any of the others. This group deserved a better fate, but you get what you deserve. UConn deserved to win."
#21 Alyse Ruff, Junior Forward
(On trailing 3-0 after the first period)
"I think at times we come out a bit slow. It takes us a little bit just to find our footing. Once we're able to do that and play as a team, we're all over them as you saw in the end, over the last two periods. You can't come out slow initially, because it really hurts us. As you saw, it was a great fight all the way to the end and we scored two goals. I think that's a great accomplishment of us, even though we did eventually lose. It's a great thing that we were able to come back that far even though a win would have been nice. That's what we ultimately wanted."
(On the slow start and the team's comeback)
"I think it was initially just being a little bit nervous and wanting to win so badly, maybe doing a little too much and not quite focusing on what we wanted to do. Once we figured out that we needed to get shots off and crash the net, as Coach Deraney always says, the game was going to be won in front of their net and in front of our net. Whoever was able to win those battles and put the puck in the net was going to eventually win the game."