Boston University Wins Fourth Straight WHEA Title With 4-1 Win Over Boston College
Senior forward Marie-Philip Poulin has two goals and assist for Terriers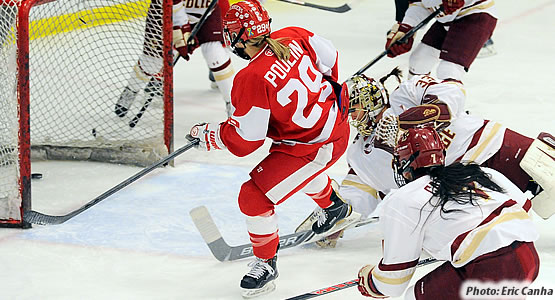 Senior forward Marie-Philip Poulin had two goals and an assist for the Terriers
| | | | | | | |
| --- | --- | --- | --- | --- | --- | --- |
| Prd | Time | Team | Score | Type | Scored By | Assists |
| 1st | 4:56 | BU | 1-0 | EV | Marie-Philip Poulin (26) | Sarah Lefort/27, Lillian Ribeirinha-Braga/15 |
| 2nd | 6:14 | BC | 1-1 | EV | Alex Carpenter (35) | Emily Pfalzer/34, Haley Skarupa/37 |
| 3rd | 2:40 | BU | 2-1 | EV GW | Marie-Philip Poulin (27) | Kayla Tutino/23 |
| 3rd | 12:31 | BU | 3-1 | PP | Maddie Elia (7) | Sarah Steele/5, Shannon Doyle/25 |
| 3rd | 18:36 | BU | 4-1 | EV EN | Sarah Lefort (23) | Marie-Philip Poulin/27 |
| | | | | |
| --- | --- | --- | --- | --- |
| Scoring | 1st | 2nd | 3rd | Final |
| Boston University | 1 | 0 | 3 | 4 |
| Boston College | 0 | 1 | 0 | 1 |
| | | | | |
| --- | --- | --- | --- | --- |
| Shots on Goal | 1st | 2nd | 3rd | SOG |
| Boston University | 14 | 4 | 8 | 26 |
| Boston College | 10 | 11 | 12 | 33 |
| | | | |
| --- | --- | --- | --- |
| Team Stats and Records | PP | PIM | SHGF |
| Boston University (25-8-3) | 1/3 | 4/8 | 0 |
| Boston College (33-2-2) | 0/4 | 3/6 | 0 |
| | | | | | | |
| --- | --- | --- | --- | --- | --- | --- |
| Boston University Goaltending | MIN | GA | 1 | 2 | 3 | Saves |
| Victoria Hanson (W, 16-4-2) | 60:00 | 1 | 10 | 10 | 12 | 32 |
| | | | | | | |
| --- | --- | --- | --- | --- | --- | --- |
| Boston College Goaltending | MIN | GA | 1 | 2 | 3 | Saves |
| Katie Burt (L, 29-2-2) | 59:06 | 3 | 13 | 4 | 5 | 22 |
| Empty Net | 0:54 | 1 | | | | |
HYANNIS, Mass. - No. 2 Boston University captured its fourth consecutive Women's Hockey East Championship, and fifth in program history, today at the Hyannis Youth and Community Center. Led by two-game winning goals from senior forward Marie-Philip Poulin in the semifinal and final, the Terriers secured an automatic qualifier into the NCAA Tournament. It is the second year in a row that one skater has scored both the semifinal and final game-winning goal, after Maddie Elia clinched victory twice for BU in 2014.
Boston University claimed the Bertagna Trophy once again in a rematch of the 2014 title tilt, downing No. 1 Boston College, 4-1, for the second straight year. Poulin wasted no time in her final Hockey East game, staking her squad to a one-goal lead just 4: 56 into the first frame. BU junior forward Sarah Lefort corralled the puck deep in the attaching zone off a feed from Lillian Braga-Ribiernha. Poulin then caught a pass from Lefort as she came streaking down the middle of the ice before maneuvering around Eagle goaltender Katie Burt for the score. Poulin nearly pushed the Terriers to a two-goal advantage, but rang a hard shot off the crossbar with 20 seconds left in the period.
Alex Carpenter evened the game at one goal apiece at 6:14 of the middle stanza, tipping home a shot from Emily Pfalzer. Haley Skarupa carried the puck into the Terriers' zone, leaving a drop pass for Pfalzer at the right point. The Eagles defenseman fired a shot on net that nicked off of Carpenters stick before sailing past BU netminder Victoria Hanson.
Poulin reclaimed the lead for Brian Durocher's squad at 2:40 of the third period with what proved to be the game-winning goal. Kayla Tutino stole the puck off an Eagles defender's stick finding the Terrier captain in the slot. Poulin positioned her stick and tipped the puck past Burt for the tally. Elia extended the BU lead to two goals for the first time at 12:31, teaming up with Sarah Steele and Shannon Doyle to make it a 3-1 game in favor of Boston University. Brian Durocher's squad added an insurance empty-net goal off the stick of Lefort to claim the Bertagna Trophy.
Poulin was unanimously named MVP of the 2015 Women's Hockey East Tournament, setting new league records with six goals and six assists for 12 points. Joining Poulin on the All-Tournament Team was UConn junior goaltender Elaine Chuli, who stopped 122 shots in three games for the Huskies, defensemen Doyle and Pfalzer, and forwards Carpenter and Tutino.
Boston University and Boston College now await seeding in the national tournament, to be revealed tonight on NCAA.com at 7 p.m.