Boston College Heads To Women's Frozen Four With 5-1 Win Over Clarkson
Junior forward Alex Carpenter has two goals and assist for Eagles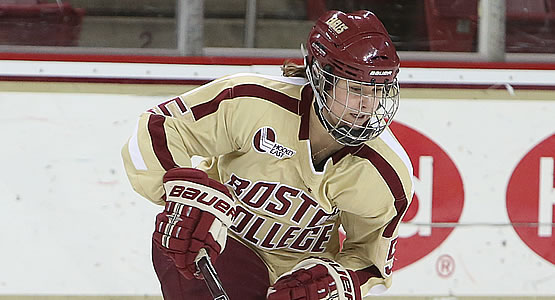 Junior forward Alex Carpenter had two goals and an assist for the Eagles
| | | | | | | |
| --- | --- | --- | --- | --- | --- | --- |
| Prd | Time | Team | Score | Type | Scored By | Assists |
| 1st | 11:28 | BC | 1-0 | EV | Alex Carpenter (36) | Haley Skarupa/38, Kenzie Kent/31 |
| 2nd | 0:23 | BC | 2-0 | EV GW | Alex Carpenter (37) | Haley Skarupa/39 |
| 2nd | 15:55 | BC | 3-0 | EV | Kristyn Capizzano (11) | Emily Field/20, Kaliya Johnson/8 |
| 3rd | 1:50 | CLK | 1-3 | EV | Daniella Matteucci (4) | Cayley Mercer/20 |
| 3rd | 13:58 | BC | 4-1 | EV | Haley Skarupa (31) | Alex Carpenter/44 |
| 3rd | 18:00 | BC | 5-1 | EV EN | Toni Ann Miano (4) | Haley Skarupa/40 |
| | | | | |
| --- | --- | --- | --- | --- |
| Scoring | 1st | 2nd | 3rd | Final |
| Clarkson | 0 | 0 | 1 | 1 |
| Boston College | 1 | 2 | 2 | 5 |
| | | | | |
| --- | --- | --- | --- | --- |
| Shots on Goal | 1st | 2nd | 3rd | SOG |
| Clarkson | 6 | 10 | 5 | 21 |
| Boston College | 11 | 7 | 13 | 31 |
| | | | |
| --- | --- | --- | --- |
| Team Stats and Records | PP | PIM | SHGF |
| Clarkson (24-11-3) | 0/2 | 5/10 | 0 |
| Boston College (34-2-2) | 0/4 | 3/6 | 0 |
| | | | | | | |
| --- | --- | --- | --- | --- | --- | --- |
| Clarkson Goaltending | MIN | GA | 1 | 2 | 3 | Saves |
| Shea Tiley (L, 24-11-3) | 59:32 | 4 | 10 | 5 | 11 | 26 |
| Empty Net | 0:28 | 1 | | | | |
| | | | | | | |
| --- | --- | --- | --- | --- | --- | --- |
| Boston College Goaltending | MIN | GA | 1 | 2 | 3 | Saves |
| Katie Burt (W, 30-2-2) | 60:00 | 1 | 6 | 10 | 4 | 20 |
Chestnut Hill, Mass. - No. 1 Boston College advances to its fifth Frozen Four with a 5-1 victory over #7 seed Clarkson in the NCAA Quarterfinal Saturday afternoon at Kelley Rink.
"I was really proud the way our kids played today. Through the week we talked about a few things to work on, and they hit the button right on the head. They did everything we asked them to do and it showed in that game. We started to play Boston College hockey again. I was really happy with the way they competed every shift, and they had to beacuse that Clarkson team is a very good team. I really commend our kids for what they did today," said head coach Katie King Crowley.
The first period opened with back and forth play as BC's first shot came from Alex Carpenter seven minutes into the first period.
Boston College found its rhythm midway through the opening stanza, as the Eagles began to possess the puck in Clarkson's zone.
Junior forwards Haley Skarupa and Carpenter worked the puck along the boards, and Carpenter came away with it, hitting a top shelf glove side goal with 8:32 to go in the first period.
BC took its 1-0 lead and a 11-6 shots on goal advantage into the first intermission.
It took just 23 seconds for the Eagles to get on the board in the second period. Junior forward Haley Skarupa found Carpenter at the Boston College blue line. Carpenter picked it up and took it into Clarkson's zone where she notched her second goal of the game and extended BC's lead to 2-0.
Sophomore Kristyn Capizzano followed up with more insurance to pull away from the Golden Knights, scoring her 11th goal of the season 16 minutes into the middle frame.
The Eagles held their three-goal lead into the second intermission.
The Clarkson offense responded to start the third period. Senior defenseman Daniella Matteucci cut the Boston College lead to 3-1, sneaking the puck by Katie Burt one minute and 50 seconds into the final frame.
BC tacked on two more goals to close out the contest, as Skarupa followed up on a rebound and freshman defenseman Toni Ann Miano sent home an empty-netter to seal the Eagles' 5-1 win over Clarkson.
Notes:
- Boston College will face the winner of #3 Harvard vs. Quinnipiac, who face off at 4 p.m. today
- The Eagles outshot the Golden Knights, 31-21
- BC is now 5-3 in the NCAA Quarterfinal round and 5-6 in the NCAA Tournament overall
- Haley Skarupa led the Eagles with a plus-four rating and four points on one goal and three assists
- Alex Carpenter, a Patty Kazmaier Top-3 Finalist, now has 81 points on 37 goals and 44 assists on the season
#2 Boston College will face the winner of #3 Harvard/Quinnipiac on Friday, March 20 in Minneapolis, Minn. at Ridder Arena.