Boston College Upends UConn, 3-1, In WHEA Semifinals
Juniors Kaliya Johnson, Haley Skarupa and Alex Carpenter score goals for Eagles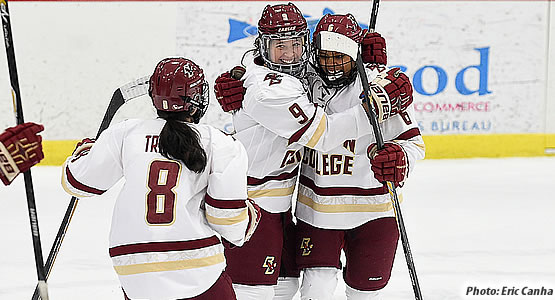 Junior defenseman Kaliya Johnson scored a goal for the Eagles
| | | | | | | |
| --- | --- | --- | --- | --- | --- | --- |
| Prd | Time | Team | Score | Type | Scored By | Assists |
| 2nd | 11:19 | BC | 1-0 | EV | Kaliya Johnson (2) | - |
| 3rd | 1:21 | BC | 2-0 | EV GW | Haley Skarupa (30) | Alex Carpenter/43, Toni Ann Miano/12 |
| 3rd | 6:20 | CON | 1-2 | EV | Kayla Campero (11) | Emily Snodgrass/9 |
| 3rd | 19:41.4 | BC | 3-1 | EV EN | Alex Carpenter (34) | Haley Skarupa/36 |
| | | | | |
| --- | --- | --- | --- | --- |
| Scoring | 1st | 2nd | 3rd | Final |
| Connecticut | 0 | 0 | 1 | 1 |
| Boston College | 0 | 1 | 2 | 3 |
| | | | | |
| --- | --- | --- | --- | --- |
| Shots on Goal | 1st | 2nd | 3rd | SOG |
| Connecticut | 7 | 5 | 8 | 20 |
| Boston College | 17 | 22 | 15 | 54 |
| | | | |
| --- | --- | --- | --- |
| Team Stats and Records | PP | PIM | SHGF |
| Connecticut (11-18-8) | 0/1 | 3/6 | 0 |
| Boston College (33-1-2) | 0/3 | 1/2 | 0 |
| | | | | | | |
| --- | --- | --- | --- | --- | --- | --- |
| Connecticut Goaltending | MIN | GA | 1 | 2 | 3 | Saves |
| Elaine Chuli (L, 8-12-5) | 58:56 | 2 | 17 | 21 | 13 | 51 |
| Empty Net | 1:04 | 1 | | | | |
| | | | | | | |
| --- | --- | --- | --- | --- | --- | --- |
| Boston College Goaltending | MIN | GA | 1 | 2 | 3 | Saves |
| Katie Burt (W, 29-1-2) | 60:00 | 1 | 7 | 5 | 7 | 19 |
HYANNIS, Mass. - Hayley Skarupa scored a goal and added an assist and Katie Burt made 19 saves as No. 1 Boston College downed No. 5 UConn, 3-1, today in the 13th annual Women's Hockey East semifinals at the Hyannis Youth and Community Center. With the victory, the Eagles move on to the sixth Hockey East championship game in program history, claiming one previous title in 2011.
At the other end of the ice, UConn goaltender Elaine Chuli kicked out 51 shots, the second-highest total in a semifinal game in league history, but the Huskies were unable to generate enough offense to keep the Eagles at bay. Chuli's 51 stops propelled her into fourth place on the career postseason saves list with 186 saves in nine games played.
Boston College head coach Katie Crowley and UConn head coach Chris MacKenzie, both finalists for Hockey East Coach of the Year, watched a tightly contested first period that saw scoring chances for each team. Despite 17 shots from the Eagles and seven from the Huskies, the goaltending prowess of Chuli and Burt prevented any shots from crossing the goal line.
BC defenseman Kaliya Johnson managed to beat Chuli halfway through the second stanza, firing a hard wrist shot past the junior netminder at 11:19 for an unassisted marker. Johnson trapped an attempted UConn clear at the right point and rifled a shot under Chuli's left pad.
Skarupa extended the Eagles' lead at 1:21 of the final frame, collecting a rebound to stake a two-goal lead. Tori Ann Milano put a shot on net from the blueline before Alex Carpenter picked up the rebound and found a wide-open Skarupa for the score. Kayla Campero halved the UConn deficit at 6:20. Emily Snodgrass picked off a cross-ice pass in the neutral zone and entered the attacking zone. Snodgrass cut across the ice, leaving a drop pass for Campero to fire over Burt's blocker.
Carpenter sealed the win for the Boston College with an empty-net goal at 19:41. Skarupa took aim from the redline, bouncing the puck off the left post and into the corner. Carpenter won a footrace to the puck, curling up along the wall before sending the puck into the goalmouth.
Boston College awaits the winner of No. 2 Boston University and No. 3 Northeastern. The two victors will then meet to determine the WHEA tournament champion tomorrow (March 8) at 1:30 p.m. in Hyannis. The game can be seen live on NESNplus and later in the evening on tape delay on NESN.