Saturday, February 14, 2015
Boston College Sweeps Maine With 4-1 Win
Junior forward Alex Carpenter scores two goals for Eagles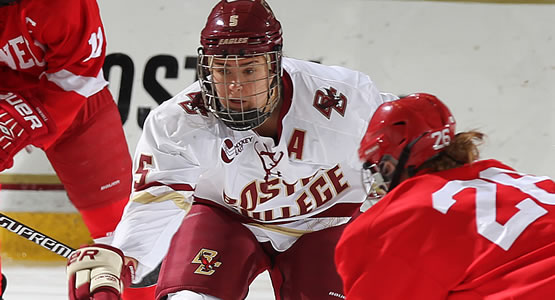 Junior forward Alex Carpenter scores two goals for Eagles
| | | | | | | |
| --- | --- | --- | --- | --- | --- | --- |
| Prd | Time | Team | Score | Type | Scored By | Assists |
| 2nd | 7:57 | BC | 1-0 | EV | Kate Leary (17) | Dana Trivigno/18, Megan Keller/15 |
| 2nd | 9:47 | BC | 2-0 | EV GW | Alex Carpenter (28) | Haley Skarupa/31, Kenzie Kent/27 |
| 2nd | 16:29 | BC | 3-0 | EV | Andie Anastos (11) | Kaliya Johnson/6, Megan Keller/16 |
| 2nd | 18:23 | MNE | 1-3 | EV | Brooke Stacey (4) | Katy Massey/2 |
| 3rd | 15:45 | BC | 4-1 | EV | Alex Carpenter (29) | Kenzie Kent/28, Emily Pfalzer/29 |
| | | | | |
| --- | --- | --- | --- | --- |
| Scoring | 1st | 2nd | 3rd | Final |
| Maine | 0 | 1 | 0 | 1 |
| Boston College | 0 | 3 | 1 | 4 |
| | | | | |
| --- | --- | --- | --- | --- |
| Shots on Goal | 1st | 2nd | 3rd | SOG |
| Maine | 3 | 6 | 4 | 13 |
| Boston College | 14 | 16 | 16 | 46 |
| | | | |
| --- | --- | --- | --- |
| Team Stats and Records | PP | PIM | SHGF |
| Maine (10-16-3) | 0/3 | 5/10 | 0 |
| Boston College (29-1-1) | 0/5 | 3/6 | 0 |
| | | | | | | |
| --- | --- | --- | --- | --- | --- | --- |
| Maine Goaltending | MIN | GA | 1 | 2 | 3 | Saves |
| Meghann Treacy (L, 9-15-2) | 60:00 | 4 | 14 | 13 | 15 | 42 |
| | | | | | | |
| --- | --- | --- | --- | --- | --- | --- |
| Boston College Goaltending | MIN | GA | 1 | 2 | 3 | Saves |
| Taylor Blake | 27:57 | 0 | 3 | 2 | 0 | 5 |
| Gabriella Switaj (W, 2-0-0) | 32:03 | 1 | 0 | 3 | 4 | 7 |
Chestnut Hill, Mass. - No. 1 Boston College women's hockey (29-1-1, 19-0-0 WHEA) downed Maine (10-16-3, 9-9-1 WHEA), 4-1, Saturday afternoon at Kelley Rink to complete its weekend sweep of the Black Bears. Two goals from Alex Carpenter and one each from Kate Leary and Andie Anastos led the Eagles to their 29th victory.
Boston College dominated the Black Bears' zone in the first period, piling on 14 shots in the opening frame. A number of Eagles threatened with dangerous chances, including senior forward Kate Leary who ricocheted a shot off the post, but BC could not get one past Maine goaltender Meghann Treacy.
The Eagles and Black Bears headed into the first intermission tied at zero.
The BC offense started clicking in the second period, producing three goals to pull away from Maine.
Freshman defenseman Megan Keller sent the puck up into the Black Bears' zone from behind the blue line to Dana Trivigno to set up the first goal of the game. Trivigno made a move to beat the defenseman and dished it to Leary, who scored her 17th goal of the season.
Junior forward Alex Carpenter broke a four-game scoring draught with a five-hole goal midway through the second to put the Eagles up, 2-0.
With just over three minutes to play in the second stazna, sophomore forward Andie Anastos redirected Kaliya Johnson's shot from the blue line for the Eagles' third goal of the period.
Maine's Brooke Stacey snuck one in past BC goaltender Gabriella Switaj before time expired to cut BC's lead to 3-1 after two periods.
BC's shooting did not let up in the third period, as Boston College compiled 16 shots on goal.
Carpenter was the lone Eagle to crack Treacy in the final frame with her second goal of the game to give BC a 4-1 victory.
Notes
- Senior Taylor Blake and freshman Gabriella Switaj split netminding duties in BC's 4-1 win over Maine
- The Eagles outshot the Black Bears, 46-13
No. 1 Boston College women's hockey is back in action as it hosts No. 7 Boston University on Thursday, Feb. 19 for senior night.