Friday, February 27, 2015
Boston College Tops Providence, 6-2
Sophomore forward Andie Anastos scores two goals and assist for Eagles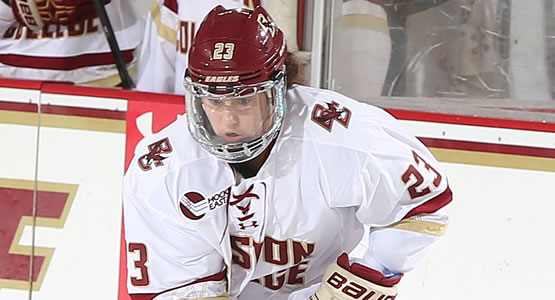 Sophomore forward Andie Anastos scored two goals and an assist for the Eagles
| | | | | | | |
| --- | --- | --- | --- | --- | --- | --- |
| Prd | Time | Team | Score | Type | Scored By | Assists |
| 1st | 6:07 | BC | 1-0 | EV | Kristyn Capizzano (9) | Andie Anastos/14, Emily Field/17 |
| 1st | 8:15 | BC | 2-0 | EV | Andie Anastos (13) | Emily Field/18 |
| 2nd | 6:02 | PRV | 1-2 | EV | Haley Frade (9) | Cassidy Carels/14, Kendra Goodrich/5 |
| 2nd | 15:48 | BC | 3-1 | EV GW | Alex Carpenter (32) | - |
| 2nd | 16:20 | BC | 4-1 | EV | Andie Anastos (14) | Emily Pfalzer/32, Kristyn Capizzano/10 |
| 3rd | 5:59 | BC | 5-1 | EV | Meghan Grieves (7) | Lexi Bender/23, Kali Flanagan/6 |
| 3rd | 9:09 | BC | 6-1 | EV | Meghan Grieves (8) | Alex Carpenter/41, Haley Skarupa/34 |
| 3rd | 17:54 | PRV | 2-6 | EV | Stephanie DeMars (2) | Lauren Klein/1, Brooke Boquist/5 |
| | | | | |
| --- | --- | --- | --- | --- |
| Scoring | 1st | 2nd | 3rd | Final |
| Providence | 0 | 1 | 1 | 2 |
| Boston College | 2 | 2 | 2 | 6 |
| | | | | |
| --- | --- | --- | --- | --- |
| Shots on Goal | 1st | 2nd | 3rd | SOG |
| Providence | 4 | 5 | 7 | 16 |
| Boston College | 19 | 10 | 12 | 41 |
| | | | |
| --- | --- | --- | --- |
| Team Stats and Records | PP | PIM | SHGF |
| Providence (6-24-4) | 0/4 | 3/6 | 0 |
| Boston College (31-1-2) | 0/3 | 4/8 | 0 |
| | | | | | | |
| --- | --- | --- | --- | --- | --- | --- |
| Providence Goaltending | MIN | GA | 1 | 2 | 3 | Saves |
| Allie Morse (L, 6-21-2) | 45:59 | 5 | 17 | 8 | 4 | 29 |
| Alanna Serviss | 14:01 | 1 | 0 | 0 | 6 | 6 |
| | | | | | | |
| --- | --- | --- | --- | --- | --- | --- |
| Boston College Goaltending | MIN | GA | 1 | 2 | 3 | Saves |
| Katie Burt (W, 27-1-2) | 60:00 | 2 | 4 | 4 | 6 | 14 |
Chestnut Hill, Mass. - No. 1 Boston College (31-1-2, 21-0-1 WHEA) downed #8 seed Providence (6-24-4, 5-16-1 WHEA), 6-2, in the first meeting of the Hockey East Quarterfinal series at Kelley Rink. Sophomore forward Andie Anastos and junior forward Meghan Grieves each had a pair of goals to lift the Eagles to victory.
Boston College struck first with a goal from sophomore forward Kristyn Capizzano six minutes into the opening frame. Anastos wrapped it around the net and fed it to Capizzano on the weak side, who netted her ninth goal of the year to make it 1-0, BC.
Two minutes later, Anastos stole the puck at the BC blue line and took it herself to extend the Boston College lead to 2-0.
The Eagles outshot Providence, 19-4 in the first period, and headed into the intermission maintaining their two-goal advantage.
The Friars chipped away at BC's lead to start the second frame. PC's Haley Frade got on the board with a spin move in front of the net six minutes into the middle stanza.
Junior forward Alex Carpenter retaliated with her 32nd goal of the year with four minutes to play in the second. Carpenter took advantage of PC goaltender Allie Morse, who was out of position after coming out for a puck, to make it 3-1, Eagles.
Less than a minute later, Anastos came through with her second goal of the game to enter the second intermission with a 4-1 lead.
Boston College pulled away from the Friars in the third period with two goals from junior forward Megan Grieves.
PC's Stephanie DeMars netted a last minute goal to bring the first Hockey East Quarterfinal game to a close with a 6-2 Eagle victory.
Notes:
- Boston College is now 4-0-0 against Providence this season, outscoring the Friars, 22-5
- The Eagles are now 3-2 all-time against PC in Hockey East Tournament games
- Senior defenseman Emily Pfalzer, with an assist on Andie Anastos' second period goal, is now just one point away from being the only blueliner in BC history to score 100 career points
- BC has outshot each opponent this season, edging the Friars in shots on goal, 41-16
- Three stars of the game: Andie Anastos (1), Meghan Grieves (2), Alex Carpenter (3)
Boston College and Providence clash for game two of the Hockey East Quarterfinal series tomorrow, Saturday, Feb. 28 at 7 p.m. at Kelley Rink.