Saturday, February 28, 2015
Boston College Advances To WHEA Semifinals With 8-0 Win Over Providence
Junior forward Dana Trivigno has two goals and assist for Eagles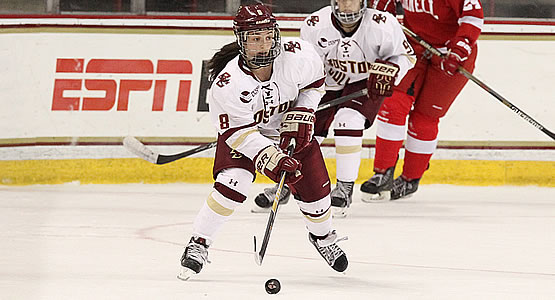 Junior forward Dana Trivigno had two goals and an assist for the Eagles
| | | | | | | |
| --- | --- | --- | --- | --- | --- | --- |
| Prd | Time | Team | Score | Type | Scored By | Assists |
| 1st | 2:31 | BC | 1-0 | EV GW | Dana Trivigno (14) | Tori Sullivan/16, Kate Leary/14 |
| 1st | 14:25 | BC | 2-0 | EV | Alex Carpenter (33) | Kenzie Kent/30, Megan Keller/19 |
| 1st | 19:44 | BC | 3-0 | PP | Haley Skarupa (29) | Alex Carpenter/42, Megan Keller/20 |
| 2nd | 17:29 | BC | 4-0 | EV | Emily Field (8) | Andie Anastos/15, Kristyn Capizzano/11 |
| 3rd | 1:25 | BC | 5-0 | EV | Dana Trivigno (15) | Tori Sullivan/17 |
| 3rd | 4:35 | BC | 6-0 | PP | Emily Pfalzer (8) | Haley Skarupa/35, Dana Trivigno/19 |
| 3rd | 4:55 | BC | 7-0 | EV | Danielle Doherty (3) | Meghan Grieves/4, Haley McLean/1 |
| 3rd | 18:53 | BC | 8-0 | EV | Kristyn Capizzano (10) | Emily Field/19, Emily Pfalzer/33 |
| | | | | |
| --- | --- | --- | --- | --- |
| Scoring | 1st | 2nd | 3rd | Final |
| Providence | 0 | 0 | 0 | 0 |
| Boston College | 3 | 1 | 4 | 8 |
| | | | | |
| --- | --- | --- | --- | --- |
| Shots on Goal | 1st | 2nd | 3rd | SOG |
| Providence | 5 | 8 | 2 | 15 |
| Boston College | 12 | 17 | 16 | 45 |
| | | | |
| --- | --- | --- | --- |
| Team Stats and Records | PP | PIM | SHGF |
| Providence (6-25-4) | 0/0 | 3/6 | 0 |
| Boston College (32-1-2) | 2/3 | 0/0 | 0 |
| | | | | | | |
| --- | --- | --- | --- | --- | --- | --- |
| Providence Goaltending | MIN | GA | 1 | 2 | 3 | Saves |
| Sarah Bryant (L, 0-4-2) | 44:35 | 6 | 9 | 16 | 4 | 29 |
| Alanna Serviss | 15:25 | 2 | 0 | 0 | 8 | 8 |
| | | | | | | |
| --- | --- | --- | --- | --- | --- | --- |
| Boston College Goaltending | MIN | GA | 1 | 2 | 3 | Saves |
| Katie Burt (W, 28-1-2) | 59:48 | 0 | 5 | 8 | 2 | 15 |
| Empty Net | 0:12 | 0 | | | | |
Chestnut Hill, Mass. - No. 1 Boston College women's hockey advances to the Hockey East semifinal with its 8-0 win over #8 seed Providence Saturday night at Kelley Rink. An explosive four-goal third period sealed the Eagles' weekend sweep of the Friars.
Boston College set the tone early with three goals in the opening frame. Junior forward Dana Trivigno put the Eagles up, 1-0, just over two minutes into the contest.
Junior forward Alex Carpenter added on as she lifted her 33rd goal of the season top shelf to make it 2-0, BC.
As time expired in the first period, junior forward Haley Skarupa capitalized on the Eagles' man advantage with a power play goal to send BC into the first intermission with a three-goal advantage.
Boston College dominated the Friar zone in the second period, outshooting PC, 17-8. Providence netminder Sarah Bryant held strong, denying an Eagle goal until late in the middle stanza.
The Eagles finally cracked Bryant with two minutes to play in the second. Senior forward Emily Field cleaned up a puck in front of the net to grind in her eighth goal of the season and give BC a 4-0 lead after two periods.
Four goals in the third period sealed BC's victory over the Friars.
Just over a minute into the final frame, Trivigno snuck the puck under Alana Serviss for her second goal of the game to extend the Maroon & Gold lead to 5-0.
Senior defenseman Emily Pfalzer fired in her 100th career point as an Eagle with a power play goal from the point.
Graduate forward Danielle Doherty and sophomore forward Kristyn Capizzano each added a goal to give Boston College a final winning score of 8-0.
Notes:
- Emily Pfalzer is the only defenseman in program history to reach 100 career points
- Freshman goaltender Katie Burt, with her 10th shutout of the season, is now tied for first on BC's single-season shutout list
- Boston College advances to its ninth Hockey East Tournament semifinals with its victory over PC
- The Eagles have outshot every opponent this season, edging Providence, 45-15, in shots on goal
- Freshmen Megan Keller and Tori Sullivan led BC with plus-three ratings on the night
- Three stars of the game: Emily Pfalzer (1), Dana Trivigno (2), Katie Burt (3)
BC will play in the Hockey East Semifinal on Saturday, Mar. 8 at the Hyannis Youth and Community Center.