Friday, February 27, 2015
Boston University Skates Past Vermont, 8-1
Junior forward Kayla Tutino scores four goals for Terriers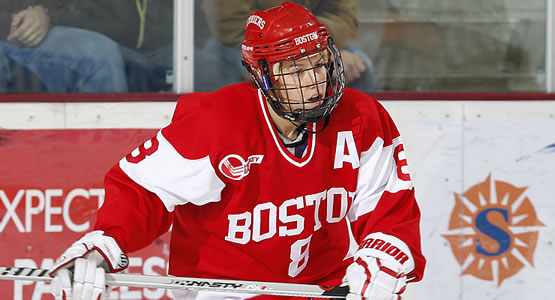 Junior forward Kayla Tutino scored four goals for the Terriers
| | | | | | | |
| --- | --- | --- | --- | --- | --- | --- |
| Prd | Time | Team | Score | Type | Scored By | Assists |
| 1st | 4:23 | BU | 1-0 | EV | Kayla Tutino (10) | Victoria Bach/10, Marie-Philip Poulin/22 |
| 1st | 6:55 | BU | 2-0 | EV GW | Kayla Tutino (11) | Sarah Lefort/22, Marie-Philip Poulin/23 |
| 1st | 10:07 | BU | 3-0 | EV | Rebecca Leslie (12) | Victoria Bach/11, Maddie Elia/11 |
| 1st | 15:19 | BU | 4-0 | PP | Kayla Tutino (12) | Shannon Doyle/19, Marie-Philip Poulin/24 |
| 1st | 16:06 | BU | 5-0 | EV | Rebecca Leslie (13) | Maddie Elia/12, Victoria Hanson/2 |
| 2nd | 3:04 | VER | 1-5 | EV | Amanda Pelkey (14) | Dayna Colang/14, Katherine Pate/5 |
| 2nd | 3:23 | BU | 6-1 | EV | Kayla Tutino (13) | Marie-Philip Poulin/25 |
| 2nd | 15:31 | BU | 7-1 | EV | Rebecca Russo (10) | Shannon Doyle/20 |
| 3rd | 19:11 | BU | 8-1 | EV | Dakota Woodworth (4) | Victoria Bach/12, Rebecca Russo/9 |
| | | | | |
| --- | --- | --- | --- | --- |
| Scoring | 1st | 2nd | 3rd | Final |
| Vermont | 0 | 1 | 0 | 1 |
| Boston University | 5 | 2 | 1 | 8 |
| | | | | |
| --- | --- | --- | --- | --- |
| Shots on Goal | 1st | 2nd | 3rd | SOG |
| Vermont | 8 | 5 | 10 | 23 |
| Boston University | 16 | 11 | 10 | 37 |
| | | | |
| --- | --- | --- | --- |
| Team Stats and Records | PP | PIM | SHGF |
| Vermont (15-18-2) | 0/2 | 2/4 | 0 |
| Boston University (22-8-3) | 1/2 | 2/4 | 0 |
| | | | | | | |
| --- | --- | --- | --- | --- | --- | --- |
| Vermont Goaltending | MIN | GA | 1 | 2 | 3 | Saves |
| Madison Litchfield (L, 12-14-2) | 60:00 | 8 | 11 | 9 | 9 | 29 |
| | | | | | | |
| --- | --- | --- | --- | --- | --- | --- |
| Boston University Goaltending | MIN | GA | 1 | 2 | 3 | Saves |
| Victoria Hanson (W, 13-4-2) | 59:57 | 1 | 8 | 4 | 10 | 22 |
| Empty Net | 0:03 | 0 | | | | |
BOSTON, Mass. - Junior Kayla Tutino tallied a tournament-record four goals and senior captain Marie-Philip Poulin added a tournament-record four assists as the No. 7 Boston University women's ice hockey team defeated Vermont, 8-1, in the first game of a best-of-three Hockey East quarterfinal series on Friday night at Walter Brown Arena.
It was all Terriers from the opening puck drop as they scored five times in the first period and never looked back. BU (22-8-3) also scored five goals in the first period against Vermont (15-18-2) when the teams last met on Jan. 25.
Tutino's hat trick came in a span of just over 10 minutes in the first period, with Poulin assisting on all three markers. Poulin later had the primary helper on Tutino's fourth strike of the contest. It was the second career hat trick for Tutino and only the third four-goal game in program history. Her linemates, Poulin and junior Sarah Lefort , own the other two historic performances.
Freshman Rebecca Leslie, playing in her first game since missing last weekend's Boston College series due to injury, potted a pair of first-period goals. Classmate Victoria Bach collected three assists while senior Shannon Doyle and sophomore Maddie Elia each chipped in a pair of helpers. Junior Rebecca Russo had a goal and an assist while classmates Sarah Lefort and Dakota Woodworth logged an assist and a goal, respectively.
Sophomore Victoria Hanson made 22 saves and also recorded her second assist of the season. Her previous point came in the Terriers' 9-2 win over UVM on Jan. 25. Ten of Hanson's 22 stops came in the final 20 minutes.
To put Tutino's performance in perspective, 2012 graduate Jenn Wakefield owns the Hockey East tournament record for most goals in one tournament with five. Tutino moves into a tie with four other players, including 2013 graduate Jenelle Kohanchuk, for second with four markers. Tutino also broke Wakefield's record for most goals in a quarterfinal game.
Poulin moved past 2013 graduate Isabel Menard for the all-time tournament scoring lead with 16 points (5g, 11a); Menard in just two seasons within Hockey East tallied 13 points (2g, 11a). Tutino is now tied for fifth on that list with 11 points (7g, 4a).
The Terriers took a 1-0 lead just 4:23 into the proceedings when Poulin dished the puck to Tutino and the junior joined Bach for a rush into the UVM zone. Tutino dropped a pass back for Bach before getting the puck back and beating Madison Litchfield (29 saves). She made it 2-0 at the 6:55 mark when she capitalized on a Lefort-generated rebound.
Leslie made it 3-0 after taking advantage of a rebound from a Bach bid just over the halfway juncture of the period. The lead turned to 4-0 at the 15:19 mark when Tutino tallied the Terriers' lone power-play marker of the game. The fifth goal came less than a minute later when Leslie took the puck from her own blue line, and after a third try, finally pushed the puck past Litchfield.
Tutino and Russo each lit the lamp in the second stanza before Woodworth fired home a shot with 48.1 seconds remaining in regulation to close the Terriers' account.
BU will look to close out the best-of-three series on Saturday when they host the Catamounts at 3 p.m. If the Terriers win they will advance to the Hockey East semifinals in Hyannis, Massachusetts. It will be the team's eighth straight trip to the league semifinals.