Saturday, February 28, 2015
Boston University Sweeps Series With 7-2 Win Over Vermont
Freshman forward Victoria Bach has goal and two assists for Terriers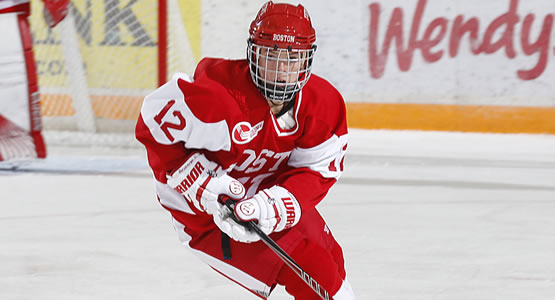 Freshman forward Victoria Bach had a goal and two assists for the Terriers
| | | | | | | |
| --- | --- | --- | --- | --- | --- | --- |
| Prd | Time | Team | Score | Type | Scored By | Assists |
| 1st | 1:08 | BU | 1-0 | EV | Victoria Bach (19) | - |
| 1st | 2:28 | BU | 2-0 | EV | Marie-Philip Poulin (22) | Sarah Lefort/23, Kayla Tutino/21 |
| 1st | 15:17 | BU | 3-0 | PP GW | Kayla Tutino (14) | Victoria Bach/13, Sarah Lefort/24 |
| 2nd | 1:17 | BU | 4-0 | EV | Rebecca Leslie (14) | Victoria Bach/14 |
| 3rd | 3:45 | VER | 1-4 | EV | Delia McNally (5) | - |
| 3rd | 9:54 | BU | 5-1 | EV | Samantha Sutherland (7) | Rebecca Russo/10 |
| 3rd | 13:16 | BU | 6-1 | EV | Samantha Sutherland (8) | Rebecca Russo/11, Shannon Doyle/21 |
| 3rd | 15:06 | VER | 2-6 | PP | Brittany Zuback (16) | Amanda Drobot/14, Taylor Willard/10 |
| 3rd | 19:02 | BU | 7-2 | PP | Shannon Stoneburgh (2) | Shannon Doyle/22, Rebecca Leslie/15 |
| | | | | |
| --- | --- | --- | --- | --- |
| Scoring | 1st | 2nd | 3rd | Final |
| Vermont | 0 | 0 | 2 | 2 |
| Boston University | 3 | 1 | 3 | 7 |
| | | | | |
| --- | --- | --- | --- | --- |
| Shots on Goal | 1st | 2nd | 3rd | SOG |
| Vermont | 3 | 6 | 11 | 20 |
| Boston University | 14 | 10 | 18 | 42 |
| | | | |
| --- | --- | --- | --- |
| Team Stats and Records | PP | PIM | SHGF |
| Vermont (15-19-2) | 1/4 | 6/12 | 0 |
| Boston University (23-8-3) | 2/4 | 6/12 | 0 |
| | | | | | | |
| --- | --- | --- | --- | --- | --- | --- |
| Vermont Goaltending | MIN | GA | 1 | 2 | 3 | Saves |
| Madison Litchfield (L, 12-15-2) | 60:00 | 7 | 11 | 9 | 15 | 35 |
| | | | | | | |
| --- | --- | --- | --- | --- | --- | --- |
| Boston University Goaltending | MIN | GA | 1 | 2 | 3 | Saves |
| Victoria Hanson (W, 14-4-2) | 59:51 | 2 | 3 | 6 | 9 | 18 |
| Empty Net | 0:09 | 0 | | | | |
BOSTON - Freshman Victoria Bach recorded her second straight three point game and six other Terriers tallied two points apiece as the No. 7 Boston University women's ice hockey team defeated Vermont, 5-1, on Saturday afternoon at Walter Brown Arena to sweep its Hockey East quarterfinal series and advance to the league semifinals for the eighth straight season.
BU (23-8-3) outscored Vermont (15-19-2), 15-3, over two games this weekend and improved to 7-0 all-time in the Hockey East quarterfinals. The Terriers have not lost a league playoff contest since 2011.
Bach notched her 19th goal of the season just 1:08 into the proceedings and assisted on the Terriers' other two goals in the opening frame. Junior Kayla Tutino, fresh off a four-goal effort on Friday night, scored again on Saturday and chipped in an assist. Three other juniors had two-point afternoons, as Sarah Lefort had two assists and Rebecca Russo provided the primary helper on back-to-back Samantha Sutherland strikes in the third period.
Senior Shannon Doyle dished out two assists and freshman Rebecca Leslie had her second consecutive one-goal, one-assist outing. Senior Shannon Stoneburgh also lit the lamp and was the sixth different Terrier to do so on Saturday. The last time BU had six different goal scorers was Nov. 6, 2013.
Sophomore Victoria Hanson, making her second career playoff appearance, stopped 18 shots to improve to 14-4-2 on the season. She owns a 1.38 goals-against average and a .948 save percentage in her last five starts (4-0-1).
Poulin potted her 22nd goal of the season just 1:20 after Bach made it a 1-0 game thanks to helpers from Tutino and Lefort. Tutino tied Jenn Wakefield's Hockey East record for goals in a tournament with her fifth in the last two games at the 15:17 mark to give the Terriers a 3-0 lead entering the first intermission.
Leslie lifted BU to a four-goal advantage 1:17 into the second stanza and that lead stood until Delia McNally brought UVM back within three at 3:45 of the third period. That was as close as UVM got, however, as Sutherland rattled off two straight goals to put BU ahead, 6-1.
Brittany Zuback converted on a power play with less than five minutes remaining in regulation before Stoneburgh tallied her second goal of the year on a power play with under a minute to play. BU was 2-of-4 on the power play and held UVM to a 1-of-4 performance.
The Terriers will find out their semifinal opponent following the conclusion of the remaining quarterfinal series on Sunday.