Saturday, February 21, 2015
MacDonnell Scores In Final Second Of Overtime As UConn Tops Maine, 2-1
Senior forward Sarah MacDonnell posts goal and assist for Huskies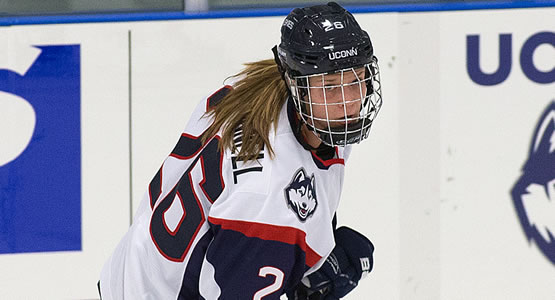 Senior forward Sarah MacDonnell had a goal and an assist for the Huskies
| | | | | | | |
| --- | --- | --- | --- | --- | --- | --- |
| Prd | Time | Team | Score | Type | Scored By | Assists |
| 2nd | 4:31 | MNE | 1-0 | EV | Hailey Browne (7) | Kelsey MacSorley/4, Jennifer More/6 |
| 3rd | 18:39 | CON | 1-1 | EV EA | Kayla Campero (9) | Sarah MacDonnell/18, Caitlin Hewes/10 |
| OT | 4:59 | CON | 2-1 | EV GW | Sarah MacDonnell (9) | Kayla Campero/10 |
| | | | | | |
| --- | --- | --- | --- | --- | --- |
| Scoring | 1st | 2nd | 3rd | OT | Final |
| Connecticut | 0 | 0 | 1 | 1 | 2 |
| Maine | 0 | 1 | 0 | 0 | 1 |
| | | | | | |
| --- | --- | --- | --- | --- | --- |
| Shots on Goal | 1st | 2nd | 3rd | OT | SOG |
| Connecticut | 4 | 9 | 8 | 4 | 25 |
| Maine | 13 | 16 | 10 | 2 | 41 |
| | | | |
| --- | --- | --- | --- |
| Team Stats and Records | PP | PIM | SHGF |
| Connecticut (8-17-8) | 0/1 | 3/6 | 0 |
| Maine (10-17-3) | 0/3 | 1/2 | 0 |
| | | | | | | | |
| --- | --- | --- | --- | --- | --- | --- | --- |
| Connecticut Goaltending | MIN | GA | 1 | 2 | 3 | OT | Saves |
| Elaine Chuli (W, 5-11-5) | 64:15 | 1 | 13 | 15 | 10 | 2 | 40 |
| Empty Net | 0:44 | 0 | | | | | |
| | | | | | | | |
| --- | --- | --- | --- | --- | --- | --- | --- |
| Maine Goaltending | MIN | GA | 1 | 2 | 3 | OT | Saves |
| Meghann Treacy (L, 9-16-2) | 64:59 | 2 | 4 | 9 | 7 | 3 | 23 |
ORONO, Maine --- The University of Maine women's ice hockey team falls to the Univerity of Connecticut 2-1 in overtime at Alfond Arena Saturday afternoon. Maine falls to 10-17-3 on the season, while Connecticut improves to 7-17-5.
Meghann Treacy (Lake Peakskill, New York) and Elaine Chuli combined to save all 17 shots on goal in the first period. Neither team had a power play opportunity.
The stalemate continued into the second period until Hailey Browne (Oakville, Ontario) found the back of the net at (4:31). Jennifer More (Deloraine, Manitoba) had her shot saved by Chuli but the rebound was left for Browne. She tipped home the loose puck to give the Black Bears a 1-0 lead. Kelsey MacSorley (Stratford, Ontario) also had an assist on the scoring play.
Connecticut went into desperation mode to tie the Black Bears. Chuli was pulled at (17:58) in the third period to give the Huskies an extra attacker. The strategy worked. Sarah MacDonnell fired a shot at Treacy that never reached the Maine goaltender. Kayla Campero deflected the puck into the net at (18:39) before Treacy could react. Caitlin Hewes had the secondary assist.
The teams remained tied until (4:59) in the overtime frame. Sarah MacDonnell won a face-off in the neutral zone for the Huskies. Kayla Campero collected the puck and passed it towards the goaltender's crease. MacDonnell hustled down the ice, beat the Maine defense, and one-timed the pass into the net for the 2-1 win.
Meghann Treacy saved 23 of 25 shots on goal, and Elaine Chuli saved 40 of 41 shots on goal. The Black Bears were 0-3 on the power play, while the Huskies scored zero goals in one opportunity.
The Black Bears return to action February 22nd at the Alfond Arena against the University of Connecticut. Puck drop is scheduled for 2:00 pm.