Friday, February 27, 2015
Connecticut Holds on Against Maine, 3-2
Senior forward Kayla Campero scores goal and assist for Huskies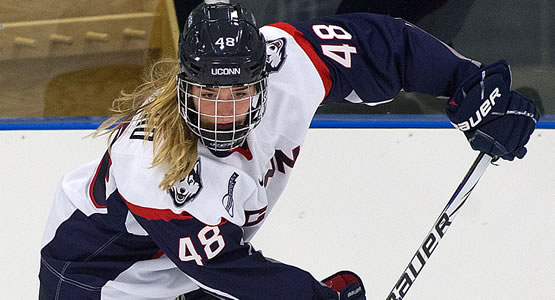 Senior forward Kayla Campero scored a goal and an assist for the Huskies
| | | | | | | |
| --- | --- | --- | --- | --- | --- | --- |
| Prd | Time | Team | Score | Type | Scored By | Assists |
| 2nd | 5:21 | CON | 1-0 | PP | Sarah MacDonnell (11) | Caitlin Hewes/13, Kayla Campero/11 |
| 3rd | 2:25 | CON | 2-0 | PP | Kayla Campero (10) | Sarah MacDonnell/19, Caitlin Hewes/14 |
| 3rd | 2:58 | MNE | 1-2 | EV | Emilie Brigham (8) | Audra Richards/8 |
| 3rd | 3:34 | CON | 3-1 | EV GW | Justine Fredette (3) | Cydnee Cook/5 |
| 3rd | 18:47 | MNE | 2-3 | EV EA | Audra Richards (9) | Emilie Brigham/10, Jillian Langtry/3 |
| | | | | |
| --- | --- | --- | --- | --- |
| Scoring | 1st | 2nd | 3rd | Final |
| Connecticut | 0 | 1 | 2 | 3 |
| Maine | 0 | 0 | 2 | 2 |
| | | | | |
| --- | --- | --- | --- | --- |
| Shots on Goal | 1st | 2nd | 3rd | SOG |
| Connecticut | 8 | 17 | 10 | 35 |
| Maine | 7 | 9 | 12 | 28 |
| | | | |
| --- | --- | --- | --- |
| Team Stats and Records | PP | PIM | SHGF |
| Connecticut (10-17-8) | 2/2 | 2/4 | 0 |
| Maine (10-19-3) | 0/2 | 2/4 | 0 |
| | | | | | | |
| --- | --- | --- | --- | --- | --- | --- |
| Connecticut Goaltending | MIN | GA | 1 | 2 | 3 | Saves |
| Elaine Chuli (W, 7-11-5) | 60:00 | 2 | 7 | 9 | 10 | 26 |
| | | | | | | |
| --- | --- | --- | --- | --- | --- | --- |
| Maine Goaltending | MIN | GA | 1 | 2 | 3 | Saves |
| Meghann Treacy (L, 9-17-2) | 58:57 | 3 | 8 | 16 | 8 | 32 |
| Empty Net | 1:03 | 0 | | | | |
ORONO, Maine --- The University of Maine women's ice hockey team lost to the University of Connecticut 3-2 at Alfond Arena Friday afternoon. Maine falls to 10-19-3 on the season, while Connecticut improves to 10-17-8.
Meghann Treacy (Lake Peakskill, New York) and Elaine Chuli combined to save all 15 shots on goal in the first period. Neither team had a power play opportunity in the frame.
The stalemate continued into the second period until Sarah MacDonnell took advantage of a power play opportunity (5:21). Caitlin Hewes had her orginal shot saved by Meghann Treacy of the Black Bears. MacDonnell slapped the loose rebound past the Maine netminder for the first goal of the day. Kayla Campero also had an assist on the UConn scoring play.
UConn added to their lead at (2:25) in the third period with another power play goal. Sarah MacDonnell passed on an open look to feed Kayla Campero, who was left alone in front of an open net. Campero slammed the puck home. Caitlin Hewes assisted on the second UConn goal of the night.
The Black Bears found the scoring column at (2:58) of the third period with a goal from Emilie Brigham (Anoka, Minnesota). Audra Richards (Maplewood, Minnesota) forced a turn over in the neutral zone and fired a shot on net that was saved by Chuli. Brigham took advantage of the long rebound and found the back of the net to make the score 2-1.
Justine Fredette answered back at (3:34) with a goal for the Huskies. A scrum in front of the net from a Cyndee Cook wrister led to a 3-1 lead for Connecticut. Fredette was in the right place at the right time and punched the bouncing puck over the crease.
Audra Richards tried to bring Maine back. Her goal at (18:47) pulled the Black Bears to within one, but it was not enough. Even with an extra attacker, Maine could only muster the single goal in the final minutes of the quarterfinal game. Emilie Brigham and Jillian Langtry (Fort Frances, Ontario) each were credited with an assist on the final goal of the game.
Meghann Treacy saved 32 of 35 shots on goal, and Elaine Chuli saved 26 of 28 shots on goal. The Black Bears were 0-2 on the power play, while the Huskies scored two goals on two power play opportunities.
The Black Bears return to action February 28th at the Alfond Arena against the University of Connecticut for game 2 of the Hockey East quarterfinal series. Puck drop is scheduled for 4:00 pm.