Sunday, February 15, 2015
Northeastern And UConn Skate To 2-2 Tie
Freshman forward Taytum Clairmont scores game-tying goal for Northeastern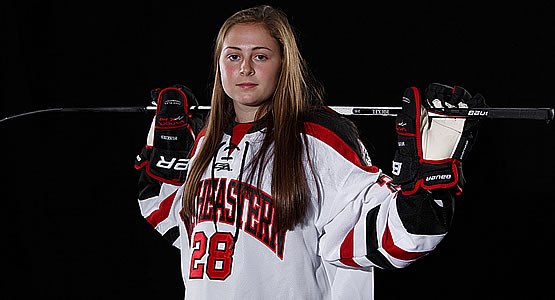 Freshman forward Taytum Clairmont scored the game-tying goal for Northeastern
| | | | | | | |
| --- | --- | --- | --- | --- | --- | --- |
| Prd | Time | Team | Score | Type | Scored By | Assists |
| 1st | 12:56 | CON | 1-0 | PP | Kayla Campero (8) | Sarah MacDonnell/17, Caitlin Hewes/9 |
| 2nd | 6:11 | NOE | 1-1 | PP | Hayley Masters (8) | Kendall Coyne/18, Jordan Krause/8 |
| 2nd | 16:51 | CON | 2-1 | PP | Sarah MacDonnell (8) | Kayla Campero/9, Leah Lum/12 |
| 3rd | 6:43 | NOE | 2-2 | PP GT | Taytum Clairmont (2) | Denisa Křížová/15 |
| | | | | | |
| --- | --- | --- | --- | --- | --- |
| Scoring | 1st | 2nd | 3rd | OT | Final |
| Northeastern | 0 | 1 | 1 | 0 | 2 |
| Connecticut | 1 | 1 | 0 | 0 | 2 |
| | | | | | |
| --- | --- | --- | --- | --- | --- |
| Shots on Goal | 1st | 2nd | 3rd | OT | SOG |
| Northeastern | 10 | 23 | 12 | 5 | 50 |
| Connecticut | 12 | 11 | 15 | 6 | 44 |
| | | | |
| --- | --- | --- | --- |
| Team Stats and Records | PP | PIM | SHGF |
| Northeastern (10-15-5) | 2/5 | 6/12 | 0 |
| Connecticut (7-17-8) | 2/6 | 5/10 | 0 |
| | | | | | | | |
| --- | --- | --- | --- | --- | --- | --- | --- |
| Northeastern Goaltending | MIN | GA | 1 | 2 | 3 | OT | Saves |
| Chloé Desjardins (T, 9-13-4) | 65:00 | 2 | 11 | 10 | 15 | 6 | 42 |
| | | | | | | | |
| --- | --- | --- | --- | --- | --- | --- | --- |
| Connecticut Goaltending | MIN | GA | 1 | 2 | 3 | OT | Saves |
| Annie Belanger (T, 3-6-3) | 65:00 | 2 | 10 | 22 | 11 | 5 | 48 |
STORRS, Conn. - In a back-and-forth contest with 94 combined shots on goal, the UConn women's hockey team picked up a Hockey East point with a 2-2 tie against Northeastern on Senior Day Sunday afternoon at Freitas Ice Forum. The draw moves UConn to 7-17-8 on the year and 3-11-5 in Hockey East play, while NU goes to 10-15-5 and 9-8-2 in league action.
All four goals of the game were scored on the power play, with Northeastern holding a 50-44 advantage in shots on goal overall. After being honored for Senior Day prior to the contest, Kayla Campero (Wallingford, Conn.) and Sarah MacDonnell (Quispamsis, New Brunswick) both recorded a goal and an assist. Other seniors honored were Rachel Farrel (Cheshire, Conn.), Rebecca Fleming (Newton, Mass.), Emily Snodgrass (Eagan, Minn.) and Emily Walsh (Burr Ridge, Ill.).
In goal, Annie Belanger was terrific for Connecticut with a career-high 48 saves. For NU, Chloe Desjardins turned aside 42 shots. UConn won the faceoff battle, 42-36, and blocked 21 shots compared to 11 for their opposing Huskies. Northeastern was 2-for-5 on the power play and UConn went 2-for-6.
Connecticut jumped on the board with a goal at 12:56 of the first period. During UConn's second power play of the contest, Caitlin Hewes (Stillwater, Minn.) worked the puck to MacDonnell in front for a shot that was saved. Campero crashed and was able to bury the rebound for eighth goal of the season.
At 6:11 of the second, Northeastern evened the contest when Hayley Masters sent a Kendall Coyne rebound home. Ten minutes later, MacDonnell punched in a Campero rebound on the power play after an initial feed from Leah Lum (Richmond, British Columbia). The Huskies in red and black again responded to tie, this time connecting on the power play at 6:43 of the third when Taytum Clairmont beat Belanger to the near post.
Neither team could find a winner in a tense third period, with UConn out-shooting NU 15-12 in the frame. During overtime, Snodgrass had a one-time bid in the low slot saved by Desjardins before the NU keeper deflected a MacDonnell chance at the right circle. Coyne made a breakaway bid for NU in the final minutes of the contest, but Belanger smothered the puck to preserve the tie.
UConn is back in action next weekend for a two-game set at Maine on Feb. 21 and 22 in Orono. Both contests are set for 2 p.m. puck drops.