Sunday, February 22, 2015
Coyne's Three Points Lead Northeastern Past New Hampshire, 3-1
Junior forward Kendall Coyne has two goals and assist for Huskies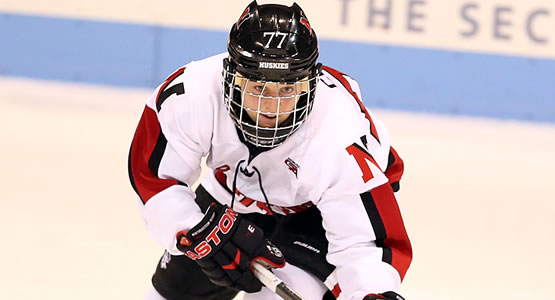 Junior forward Kendall Coyne had two goals and an assist for the Huskies
| | | | | | | |
| --- | --- | --- | --- | --- | --- | --- |
| Prd | Time | Team | Score | Type | Scored By | Assists |
| 2nd | 12:04 | NOE | 1-0 | EV | Kendall Coyne (23) | Denisa Křížová/16, Taytum Clairmont/9 |
| 2nd | 12:45 | NOE | 2-0 | EV GW | Melissa Haganey (4) | Kendall Coyne/22, Tori Hickel/6 |
| 3rd | 8:28 | UNH | 1-2 | EV | Margo Lund (2) | Amy Schlagel/5, Jonna Curtis/9 |
| 3rd | 19:42 | NOE | 3-1 | EV EN | Kendall Coyne (24) | - |
| | | | | |
| --- | --- | --- | --- | --- |
| Scoring | 1st | 2nd | 3rd | Final |
| New Hampshire | 0 | 0 | 1 | 1 |
| Northeastern | 0 | 2 | 1 | 3 |
| | | | | |
| --- | --- | --- | --- | --- |
| Shots on Goal | 1st | 2nd | 3rd | SOG |
| New Hampshire | 5 | 14 | 16 | 35 |
| Northeastern | 11 | 9 | 6 | 26 |
| | | | |
| --- | --- | --- | --- |
| Team Stats and Records | PP | PIM | SHGF |
| New Hampshire (9-21-3) | 0/2 | 1/2 | 0 |
| Northeastern (12-15-5) | 0/1 | 2/4 | 0 |
| | | | | | | |
| --- | --- | --- | --- | --- | --- | --- |
| New Hampshire Goaltending | MIN | GA | 1 | 2 | 3 | Saves |
| Ashley Wilkes (L, 1-5-0) | 58:41 | 2 | 11 | 7 | 5 | 23 |
| Empty Net | 1:19 | 1 | | | | |
| | | | | | | |
| --- | --- | --- | --- | --- | --- | --- |
| Northeastern Goaltending | MIN | GA | 1 | 2 | 3 | Saves |
| Chloé Desjardins (W, 11-13-4) | 60:00 | 1 | 5 | 14 | 15 | 34 |
BOSTON - Junior Kendall Coyne scored two goals and added an assist to help the Northeastern women's hockey team (12-15-5, 11-8-2 WHEA) to a 3-1 win over New Hampshire (9-21-3, 6-13-2 WHEA) on senior day Sunday at Matthews Arena.
Senior Chloe Desjardins capped a phenomenal weekend with 34 saves as Northeastern earned its seventh straight win over UNH. In three games vs. the Wildcats this season, Desjardins has stopped 95 of 97 shots, including a 28-save shutout on Oct. 30.
Sophomore Melissa Haganey also scored for Northeastern, while freshman Denisa Krizova extended her point-streak to four games with an assist on Coyne's first goal at the 12:04 mark of the second period.
After a scoreless first period, the Huskies struck for two goals in a span of 41 seconds to take a 2-0 lead midway through the second.
Krizova did the heavy lifting on the opener, scooping up a loose puck in the corner, before deking around a defender at the left of the UNH cage. Krizova then slipped a perfect backhand pass across the slot to Coyne, who one-timed a shot by Wildcats' netminder Ashley Wilkes (24 saves) to make it 1-0 Huskies at the 12:04 mark.
Northeastern doubled the lead less than a minute later when Haganey redirected a Coyne shot through the pads of Wilkes on a rush up the ice.
The Wildcats came out flying in the third and reduced the scoreline to 2-1 when Margo Lund one-timed a shot by Desjardins at point-blank range at the 8:28 mark.
Desjardins then preserved the scoreline with several big stops down the stretch, including a pair of pad saves on Amy Boucher at the left of the net.
In the final two minutes, UNH elected to pull Wilkes in favor of an extra attacker. The move did not pay dividends, however, as Coyne stripped the puck away in the Wildcats' zone and tucked the disc into the empty net with 18 seconds showing on the clock.
The win, coupled with Connecticut's victory over Maine, means that the No. 3 seed Huskies will host the No. 6 seed Wildcats in the Hockey East quarterfinals. The best-of-three series will commence on Friday, Feb. 27 at Matthews Arena at 7 p.m.
Game Notes
- Northeastern earned its seventh straight win over UNH.
- Coyne notched her second straight three-point game.
- Coyne has posted at least one point in nine straight games vs. UNH. - Krizova extended her point streak to four games (3-4-7 during that span).
- Desjardins improved to 6-1-0 all-time against UNH.
- The Huskies won on senior day for the fourth straight year.
- Prior to the game, NU honored seniors Chloe Desjardins, Chelsey Goldberg, Chelsiea Goll, Colleen Murphy and Lucie Povova on senior day.