Saturday, February 21, 2015
Litchfield, Baker Lead Vermont Past Providence, 3-2
Sophomore goaltender Madison Litchfield makes 35 saves for Catamounts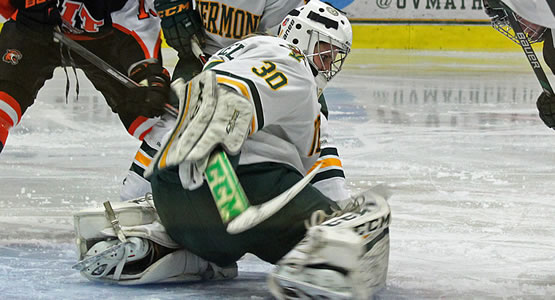 Sophomore goaltender Madison Litchfield made 35 saves for the Catamounts
| | | | | | | |
| --- | --- | --- | --- | --- | --- | --- |
| Prd | Time | Team | Score | Type | Scored By | Assists |
| 2nd | 14:21 | VER | 1-0 | EV | Amanda Pelkey (12) | Sarah Campbell/7, Dayna Colang/12 |
| 2nd | 14:40 | VER | 2-0 | PP | Amanda Drobot (3) | - |
| 3rd | 8:37 | PRV | 1-2 | PP | Brooke Simpson (7) | Haley Frade/14, Lexi Romanchuk/6 |
| 3rd | 15:37 | PRV | 2-2 | EV | Beth Hanrahan (15) | Haley Frade/15, Lexi Romanchuk/7 |
| 3rd | 18:57 | VER | 3-2 | EV GW | Bridget Baker (6) | Katherine Pate/4, Brittany Zuback/14 |
| | | | | |
| --- | --- | --- | --- | --- |
| Scoring | 1st | 2nd | 3rd | Final |
| Vermont | 0 | 2 | 1 | 3 |
| Providence | 0 | 0 | 2 | 2 |
| | | | | |
| --- | --- | --- | --- | --- |
| Shots on Goal | 1st | 2nd | 3rd | SOG |
| Vermont | 7 | 15 | 13 | 35 |
| Providence | 9 | 12 | 16 | 37 |
| | | | |
| --- | --- | --- | --- |
| Team Stats and Records | PP | PIM | SHGF |
| Vermont (14-17-2) | 1/6 | 3/6 | 0 |
| Providence (6-22-4) | 1/3 | 6/12 | 0 |
| | | | | | | |
| --- | --- | --- | --- | --- | --- | --- |
| Vermont Goaltending | MIN | GA | 1 | 2 | 3 | Saves |
| Madison Litchfield (W, 11-13-2) | 60:00 | 2 | 9 | 12 | 14 | 35 |
| | | | | | | |
| --- | --- | --- | --- | --- | --- | --- |
| Providence Goaltending | MIN | GA | 1 | 2 | 3 | Saves |
| Allie Morse (L, 6-19-2) | 59:31 | 3 | 7 | 13 | 12 | 32 |
| Empty Net | 0:29 | 0 | | | | |
PROVIDENCE, R.I. - After a two-goal third period to tie the game, the Providence College women's ice hockey team fell to the University of Vermont Catamounts by a score of 3-2, as the Catamounts scored at 18:57 of the third period on Saturday, Feb. 21 at Schneider Arena, in the team's annual Skating Strides game. Providence's record now stands at 6-22-4 overall and 5-14-1 in WHEA while Vermont improves to 14-17-2 and 5-14-1 in WHEA.
After a scoreless first period, Vermont broke the tie at 14:21 of the second period when Amanda Pelkey scored. Pelkey carried the puck through the offensive zone and skated through the slot before firing off a backhand shot that beat Providence junior goaltender Allie Morse (Cottage Grove, Minn.) for a 1-0 lead. Dayna Colang and Sarah Campbell both assisted on the goal.
The Catamounts extended their lead to 2-0 at 14:40 when defenseman Amanda Drabot netted an unassisted power play goal.
Senior Brooke Simpson (Boxborough, Mass.) netted the Friars first goal at 8:37 of the third period. While on the power-play, Simpson sent a high shot over Vermont goaltender Madison Litchfield after a loose rebound from a shot by senior Haley Frade (Marion, Mass.). Simpson's seventh goal of the season was also assisted by junior Lexi Romanchuk (San Jose, Calif.).
Providence tied the game when senior Beth Hanrahan (Poolesville, Md.) scored at 15:37 of the third period. After a passing play from Frade and Romanchuk, Hanrahan carried the puck through the offensive zone and sent a shot from the face-off circle that beat Litchfield high.
Vermont regained the lead at 18:57 of the third to negate the Friars comeback effort. Katherine Pate took a shot that Bridget Baker deflected, from the slot, for a 3-2 advantage in the late stages of the period. Brittany Zuback also recorded an assist on the game winner.
Morse finished the game stopping 32 shots from the Catamounts while Litchfield made 35 saves in the win for Vermont. Providence finished the game with a 37-35 edge in shots on goal.
Both teams notched a power play goal in the game as the Friars went 1-for-3 while Vermont went 1-for-6.
Providence and Vermont will play each other again tomorrow, Sunday, Feb. 22 at Schneider Arena. The Friars final regular season game, which will include a ceremony honoring the team's six seniors, is scheduled for 2:00pm.